Head Coach Pat Shurmur
Opening Statement: Redskins week. First, I'll start off with some of the significant injuries. As you know, Saquon (Barkley) will be out for an extended period here. He's getting a second opinion on his ankle. Most of the information you already know. I'm not breaking anything. Tae Davis is in the concussion protocol, and then (Alec) Ogletree with the hamstring. They didn't practice today. Then Russell Shepard with the foot, and Olsen Pierre just had some soreness from the game. Those are the injuries of note.
We're getting ready to play. I watched the game (Monday night). I think Washington tried to do all of the right things. The game was much closer than you might see by the score. They're a good football team that we're getting ready to play. I think Jay (Gruden) does a great job on offense. There were a lot of things… the pressure got to them just a little bit, but they were trying to do the right things against the coverage they were facing. I have a lot of respect for what (Coach Gruden) does on offense. Then on defense, they have a lot of very talented players that present problems in the front, as well as in the secondary. Then their (special) teams are very solid every year. I have a lot of respect for this group. We split with them last year. It's going to be a challenge for us as they come to play us this Sunday. With that, I'll take your questions.
Q: With Saquon, is that just standard operating procedure, or is it something that was concerning about the first one?
A: No. That's typical of what you see these days. Most often, guys get second opinions. They're just not as public as this one is.
Q: Is he considering surgery at all?
A: I don't really have anything to add. You take in all of the information and we'll see what happens.
Q: When you lose your most dynamic offensive player, how does it impact everything going forward in terms of your preparation?
A: Well, we just keep going. We put Wayne Gallman in there, then we get ready to go and get the offense ready to play. That's the reality in this league. It's not cliché, it's not coach speak. But it really is next man up. You don't cancel the games because one of your guys is not there.
Q: What is different about Wayne Gallman's abilities and how you'll run certain offensive plays with him?
A: He's kind of a twitchy guy. He does a good job of getting it up in the hole. He has good collision balance. He's improved catching the football. He's pretty good with our pass protection. He's a good all-around player, and he's going to be asked to do more.
Q: You talked about the pressure that the Bears put on Washington. Obviously, you don't have Khalil Mack on your roster, but do you feel like you have the tools to do the same thing?
A: If you go by last week's game, I thought we were more disruptive with the pass rush, especially in the second half. I thought our edge players last week had their best game. Well, really their best half in terms of getting pressure. That's what you need to have happen. Dexter Lawrence had his best game, which kind of creates pressure on the inside. We'll just continue to get those guys better, and try to put the pressure we need on Case (Keenum). I have a lot of respect for Case. I was with him the one year we were in Minnesota, we went 13-3 and had the Minneapolis Miracle thingy. I have a lot of respect for Case. I know when Teddy (Bridgewater) and Sam (Bradford), when those guys got hurt and Case was there, he stepped in and he was a warrior. He was a significant reason why the Vikings that year won as many games as they did. I certainly know that he can play extremely well, because I've seen it firsthand.
Q: What, if anything, changes for Daniel (Jones) now that the opposition has an entire game, real, live, regular season action to look at?
A: I don't think it changes. I think the big thing for him is to just stay in the moment. Keep planning and preparing to play the next opponent like he does. He has to play well, and the players around him have to play well.
Q: Is it more of a challenge because not only is the mobility and everything on tape, but Jay (Gruden) obviously did work on him pre-draft, so he knows him pretty well. What's the challenge going from Sunday to this week?
A: We just have to stay in the moment and do the things we think work against the Redskins and try to put him in the best position we can to help him have success. Jay did a lot of work on him. We all did as offensive guys, as play-callers and quarterback guys. We all did all of our work on all of the quarterbacks, and so we're all aware what we think their strengths and weaknesses are.
Q: Have you noticed anything new from the game until now to suggest that Daniel had a lot of success in the first game? Anything you've noticed from him and his demeanor, the way he carries himself or anything like that?
A: You're asking if he has a big head? Is that what you're asking? No. No. Not at all. I see the same player I saw last week preparing to play his first game.
Q: Do you see a change in his level of confidence?
A: I think it's hard to see by his demeanor if he's not confident about anything. That was what was great and on display last week was his toughness and his poise. Those are things we saw ahead of last week's game. You just have to build on it. We all know this is a game of consistency. Sometimes it's four, sometimes it's six, sometimes it's seven, sometimes it's eight days, you play another one and you have to be at your best. He's aware of that. He played a lot of football in college for a really, really fine coach (David Cutcliffe). He understands the process, and that's part of his charm, too.
Q: They have a rookie quarterback on the bench who didn't play a lot of football in college. Dwayne Haskins obviously only played the one year. How much stock did you put into that experience when making that decision with Daniel as a three-year guy? Did you feel like he was much more ready than the other quarterbacks in the draft?
A: We felt like Daniel was the guy for us. We really, really liked Dwayne Haskins and what he had done in college. We had a very, very high opinion of him, and we spent a lot of time on him. We chose Daniel, but that doesn't mean that we didn't think very, very highly of Dwayne Haskins.
Q: Between now and Sunday, how will you address the running back position? Do you feel like you have to add someone behind Gallman?
A: Yeah, well we're going to. We've got Jon Hilliman on our practice squad. He's getting work at this point. It's like any position. You're constantly looking for what's the best fit. Sometimes it's a short-term answer, and then maybe as we move forward, there might be a longer-term. We'll just have to see.
Q: Last week, Nate Solder really struggled with Shaq Barrett. This week, Ryan Kerrigan comes in. He's pretty much a Giants killer. He has 10 career sacks against the Giants.
A: Thanks for reminding me. I was with the Eagles. He sacked us a lot, too. Every place I've been, he's sacked us. He sacked us in Minnesota, he sacked us everywhere.
Q: He seems to kick it up even more against the Giants. When you game plan now, is that a concern for you? Do you have to game plan for him?
A: Yeah. Obviously, we're always aware of the guys that create the pressure. Obviously, he's been a very fine player for a very long time. Yeah, we're aware of it, and we have to block him. There are tactics that will be revealed, but for the most part, everybody when they're one-on-one will have to do a good job of blocking their guy.
Q: When you spoke on Monday, it sounded like you were just caught up on Russell Shepard. Is that something that can be a long-term injury?
A: We'll have to see. I don't know that right now. It's a foot issue. But I can't tell you exactly.
Q: Is he here or does he have to go get tests?
A: He's here right now. You're talking about Russell Shepard, right? Yeah, he's here.
Q: Is there anything ball security-wise with Daniel that concerns you and you can work on with him with specific drills?
A: The one time, he got tomahawked when he was getting ready to throw it. The ball security things, you can work on. Certainly, you're always looking to step up in the pocket and do those things. He's getting ready to launch a post and the protection kind of… As they learn and get a feel for the full rush and all that, then they tend to step up just a little bit more. The ball security issues, certainly there is no excuse for it. We always work the drills, the two hands on the ball. Drills I learned back from… They had quarterback drills from my Green Bay and 49ers days, and before they had computers, they were just copied. By the time I had gotten them, they were copied so many times that the papers were tipped. But it had all of those original drills with the ball security, two hands on the ball, things that we work on continually, and it's something that's primary for the quarterback position.
Q: He completed 73% of his passes against pressure. I think his quarterback rating was like 132 against the blitz. How impressive is that, and how important is that for a quarterback to be that successful when teams bring extra pressure?
A: It's very important because typically that's happening in those third down situations. They're not just going to stand back there and let you throw it. We realize that. It's good. There are certain things that he did well. We have to just continue to build on them. It's a one-game sample size. We're back to work trying to do Wednesday things, trying to get ready to play the Redskins.
Q: You had (Darius) Slayton on the field on that last drive, he made a big catch. What gave you the confidence because obviously he hadn't really had much experience to that point?
A: Well, we believe in him. The only thing that's held him back to this point has been his injury, his hamstring. We got to the point, 'Hey, you play receiver. Get out there. Let's go.' He was part of that group.
Q: One of the reasons why you like Sterling (Shepard) so much is his blocking as a receiver. Can Slayton be that kind of blocker, too? We saw the one he had on (Evan) Engram's touchdown.
A: Yeah, I think so. He was running a route there. The awareness, as the ball cut behind him, to turn and block… Listen. Unless you're the quarterback, and it even happened once for him when we ran a reverse, blocking is part of your job description. It just is if you're on offense. It seems pretty simple. So the receivers, there are times when they have to block the perimeter. The types of run you're seeing now, the reduced, condensed-type formations in our league where they have to block more in the core. It's just part of what they have to all do.
Q: Having coached Landon Collins last season, what do you expect from him Sunday?
A: I think he's a tough, physical guy. Last year, I gained an appreciation for Landon. He was a captain, and so we met every Wednesday morning. I got to know him pretty well. He was a valued member of our team. Now he plays for someone else, and we wish him well, just like anybody that leaves. But what I expect is for him to come and play hard and try to fight for his team.
Q: How much is he one player that you have to game plan around?
A: We have to certainly be aware of where he is. We have to know where he's at. We have an idea of where he's probably going to show up, but they change things up each week, so I don't know. Every week, you have something a little bit different. We just have to trust our rules and try to find him.
QB Daniel Jones
Q: Now that you've looked at the film, what are some of the things you feel you need to improve upon going into Sunday's game?
A: I think the main thing is ball security. I can't afford to turn the ball over twice like that in critical points in the game. I think that's the first thing. There are other things, specific to plays, that I look to correct and learn from, but I'm excited to do that.
Q: To play four quarters of football, what do you take from it and what did you learn from it?
A: I think these wins, (with) any game in the NFL, and people talk about it all of the time, these games are going to come down to four quarters. Everyone is good in the NFL and you're going to have to compete and try to play a four-quarter game. We weren't perfect, by any stretch, but I thought we competed for four quarters and that's what helped us win.
Q: How important is it for you to follow-up and follow-through with what you started?
A: Yeah, it's extremely important. I think, like I said, there is a whole lot that I need to clean up to do better. I'll focus on that, I'll lock in on those things this week and hopefully play better on Sunday. I'm looking forward to that.
Q: It's your chance to play your first game at home. What's that like for you?
A: Yeah, I'm excited. I'm excited to run out there in front of Giants fans and play my first game here. That'll be fun. We had some good support down there in Tampa Bay, and I am certainly very appreciative of that, but it'll be fun to run out here.
Q: Has life changed for you? Do you feel like a celebrity?
A: (laughter) Not really, no. It's the same thing. I go home and then I come into work every day. But no, I don't feel like it's changed a whole lot.
Q: Are you aware of how much you are leading every sports show? Is your phone blowing up more? Knowing it's not going to change you at all, are you aware with how big you've become outside?
A: Yeah, I mean I think you're aware to some extent. Certainly, with family and friends, they will keep you aware from communicating with them. But like you said, I'm trying to focus on this week, focus on what we're doing here and making sure that I'm preparing myself to play as well as I can this week.
Q: We see you here, we talk to you at press conferences, we see you at practices, but we saw a really fiery personality in that game in the huddles with the cameras capturing you. Is that your game personality? What did we see there?
A: I'm just trying to compete. I think everyone when they get into the game is going to feel a little bit different and get into it. I think I'm pretty consistent with that. I think, like anyone, I am competitive and certainly try to do what I can to win, so I try to be consistent.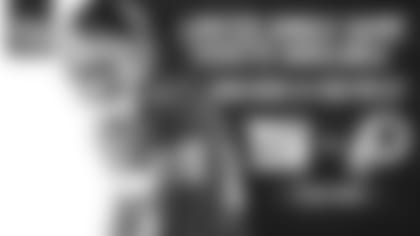 Limited tickets on sale for Giants vs. Redskins
See the Giants take on the Redskins on Sunday, Sept. 29 at 1:00 PM ET
Q: How will things change for you without Saquon (Barkley)?
A: He's certainly a huge piece of our offense, a huge piece of what we've done, without a doubt. I certainly hate to lose him, but I'm very confident in Wayne (Gallman) stepping up. He's done a great job through the season and I know he'll play well. We have full confidence. We have a lot of playmakers all over the field, so I don't think it really changes anyone's job, necessarily. I think we are confident in who we have.
Q: Did you gain any confidence winning your first game and playing like you did? People say you're a confident guy, but did that help?
A: Yeah, I think so. Winning always helps that. But like I said, while we won, there are a number of things that we need to work on and that I need to clean up. We'll focus on that also, but it's always easier to do that when you win.
Q: I'm sure you remember the initial reaction by some of the Giants fans when you were drafted. Are you surprised with how quickly the tide has turned after one NFL start?
A: I'm not sure I'm trying to focus on that too much, really. I certainly appreciate the support and I'm appreciative of all of the fans. I'm just trying to keep it going, try to stack a few wins together. Like I said, I'm appreciative of the support.
Q: Were you pleased with your decisions on when to run and how those plays turned out?
A: I think so. I think for the most part they were good decisions. I thought maybe a couple times I could have done a better job finding space in the pocket and getting rid of the ball. I'll certainly work on that.
Q; How many times have you seen that play again since Sunday, the touchdown run?
A: A few times. We watched it on film, so I've seen it a few times.
Q: When you put on the TV or when you happen to have the TV on, have you seen it?
A: Yeah, I think I saw it maybe once on TV.
Q: You didn't change the channel?
A: (laughter) No, I didn't change it.
Q: How much did you get to know (Washington Redskins Quarterback) Dwayne Haskins in the pre-draft process, and what were your impressions of him?
A: I got to know him a little bit at the Combine, and then out in Los Angeles for the rookie premiere event. I enjoyed getting to know him. I thought he was a nice guy, and I look forward to seeing him on Sunday.
Q: Between Sunday and now, was there anyone you heard from that took you back a little bit, congratulating you or anything like that?
A: Not really. Mostly it was friends and family, people from home, people from Duke, or people I have been in contact with, for the most part. I'm very appreciative of that support and grateful for those people.
Q: What do you think the fans can expect from this football team going forward right now with you at the helm?
A: I think just that we are going to compete and fight as hard as we can. Like I've said, we did enough to win, but we certainly have a lot of things to correct and I think that's where our focus is right now as a team. Each week, the goal is to be a better team and to play better. Hopefully that's what fans see when they see us play as a team— constantly improving and constantly competing.
Q: Do you expect to play better?
A: I do, yeah. I think all of us do. I think collectively and individually we expect to play better.
Q: If the Bucs weren't fully aware of your speed and ability to take off, they and the rest of the league know now. Does that have to enter your mind that there is not going to be an element of surprise when it comes to your running ability?
A: I don't think so. I think you make those decisions based on the specific play and how it unfolds, and what you see and feel. If their plan changes, maybe ours will a little bit. I don't think it necessarily changes a whole lot.
Q: When you watched it back, the touchdown at the end, was any part of you surprised that there really was that big of a hole, and as Tampa said after the game, that their defenders' backs were all to you?
A: I don't know if I was necessarily surprised. I thought we did a great job upfront, when you're watching it, just clearing out the middle. The guys up front opened up a huge pocket and a huge window that I was able to see. I don't know if I was surprised, but in a situation like that, the defense can be susceptible to that. I thought we did a good job picking up the stunt.
Q: Against Buffalo, you guys had 25% in third down efficiency. This past week, you had 46%. What's the main reason for the difference?
A: I don't know, I feel like each play is specific to the look. I thought we did a good job just executing what was called. I thought we got a few looks that we were expecting, and we were able to execute. I don't know if there was necessarily any huge difference, just executing.
RB Wayne Gallman
Q: How do you view this opportunity with Saquon out?
A: I view it as a big opportunity, an opportunity I've had since I came into the league. It's unfortunate for my brother to go out, but this is what I've prepared for, this is what I have been preparing for, so I'm ready for it.
Q: What do you bring to the table?
A: Hopefully I can show you that. I'm not going to talk too much about it. I know I can do whatever is needed to help this offense win.
Q: Have you talked to Saquon in the last few days?
A: Of course, after the game, yesterday, he's in good spirits. He just wants to be better, he wants to be healthy. No one likes to sit out, he's alright.
Q: What makes you know that you are prepared for this opportunity?
A: Just practice and preparation. I've been in the games at times, and also just from last game doing what we did, staying in the moment, it's an opportunity, I just have to take hold of it.
Q: Now knowing that you are the only guy here, what kind of mindset do you have?
A: I finally get to get some touches (laughing). That's my mindset. It's all fun and games when it comes down to it. It's another team we have to beat, another rivalry that we have. It's a big game we have to win, so I have to be prepared.
Q: Is it hard to be compared and have to fill in for someone like Saquon?
A: I don't worry about all that. I'm me and you guys are going to see that.
Q: Do you think you can thrive on the opportunity to carry the ball more than three or four times?
A: We have a great offensive line, so I'm pretty sure there will be a lot of opportunities.
Q: Now it's you and Daniel Jones, what excites you about that?
A: He might be pulling the ball and running some. Daniel can run, so that might affect the defense in some way.
Q: Is this one of those situations where you are in a position that you didn't think you would be in?
A: It's not so much as I thought, I never knew it would be coming. I knew at some point he could get hurt and I always have to be ready. Same thing with me in preseason, I got hurt and the other guys had to play, Rod (Smith) had to play. They had to step in and do their thing. Really, for me, it's just focusing and making sure I know what I need to do to help this team win a football game.
Q: You have played a lot of football in your career, why is this moment not too big for you?
A: It's not so big because I have been preparing for three years for it. I was with Shane and Orleans and we split time together. Last year was big for me, a big learning experience, learning my role in the offense behind Saquon. Now, just taking what I've learned, I get to go out there and run the ball a couple times.
Q: What is it like being on the practice field with Daniel Jones as your starting quarterback?
A: The same as how it's been with Eli, just out there with a great guy that has a great future ahead of him.
Q: The mobility changes the game?
A: Yeah, I had that back with Deshaun (Watson) at Clemson and I can see how that affects defenses when you have a running quarterback. Moving forward, I'm excited to see how this offense is going to work around Daniel.
Q: Is it fun to get back to that a little bit?
A: It is, it's really fun. I'm glad I get to have this opportunity.
Q: How does it affect defenses to have a mobile quarterback?
A: You are not going to have a quarterback that's just in the pocket. You have to be right on all cylinders because you have a guy that can use his legs and also me out of the backfield. He can extend plays.
Q: Do you see them freeze a little bit more?
A: They will have to adapt around that. I know Eli doesn't run like that, we haven't had a running quarterback for a long time, so having Daniel just presents a new a standard for us and how dangerous he is.
TE Evan Engram
On playing against Landon Collins:
A: It definitely made me a better player versus man coverage and things like that, so it's going to be exciting playing against him. I saw him a couple weeks ago and definitely always wish him the best. It'll be fun this weekend.
A: There's a treatment facility up here. I guess they had a couple days off and he came back in the time and got some treatment.
A: Yeah, I caught up with him, he's doing well. It was before the season kind of started, so it'll definitely be good to see him again.
Q: How do you think your experience against him, and vice versa, will play to your advantage, his advantage, and also maybe the strategy of what you throw at each other?
A: It's football. Each play has a life of its own, so you never know what we're going to see until the game starts. But like I said, going against him made me a better player versus man and things like that, different coverages, so no matter what coverage they're in and no matter who I see in man, I'm definitely going to go out there and try to do my job and win each rep.
Q: He's made it clear for months that he's pissed at the organization for everything that happened, and that he's going to come out here and try to take out the anger—what sort of anger do you expect from him in terms of the aggression?
A: This sport brings out a lot of us on game days, so we're not really worried about that. Like I said, he's a good player and I always wish him the best, but like I said, it's going to be a challenge for us against their whole defense this week and we've got to control what we can control and go out and make plays.
Q: Did you guys hear that it came out a few weeks ago that a lot of former players were very critical of Dave (Gettleman)?
A: It really doesn't matter to us. They're going to voice their opinions, that's fine, whatever, but we're focused on us. We've got a lot of work to do and we're headed in the right direction, so there's really no point in even worrying about all that.
Q: Do you feel like, for the lumps you've taken as a team, coming off Sunday, this is a pivotal moment for this team going into this weekend?
A: No, I don't want to put too much into that. Like I said, it's one win, we still have a lot of opportunities left, a lot of games left to go out and repeat that. I don't want to sit here and say a lot where it feels so good and we're satisfied, no. We're going to continue to keep that hungry mindset, we're going to continue to fight like our life is on the line. So, it's definitely good to win and we enjoyed it, but we've got another task this week that we've got to get done, so we're focused on that.
Q: You've been around long enough to know that last Sunday's game isn't one that the Giants have come out on the right side of an awful lot. What can that do for a team, especially this early in a season?
A: It really just makes us hungrier. Like I said, that feeling is really addicting, and it adds motivation to us, so I think it makes us hungrier. We've been in positions where—last year we won game three after going 0-2, so like I said, it's important not to put too much into that. It's a new week, a new opponent, and it's just going to make us hungrier and motivate us more to go out there and do everything we can to repeat that.
Q: You also lost last year on a 63-yard field goal, and this year a 34-yard field goal was no good. Is there any sense--
A: You definitely like to see the ball bouncing our way. That's definitely a good feeling, but like I said, there were a lot of things in that game we could have done better, on all sides of the football. So, we want to try and get in positions where we don't have to even go through that feeling, but definitely good for the ball bouncing our way a little bit.
Q: What did you see from your rookie quarterback (Daniel Jones) when you stepped back on the practice field today?
A: I saw everything I saw in OTAs, training camp, and the preseason—I saw it, I just wasn't in there with him. It was definitely fun to be in that game and to go out there and, like I said in the week last week, go out there and make plays and make him comfortable, get his confidence going, get his rhythm going. It was cool to go out there and do all of that, and I'll continue to build on it.
Q: You've talked about how Saquon Barkley takes attention away from other players and opens things up. Now that you know he's not going to be around for a couple of weeks, how much of an obstacle is that going to be?
A: It's tough. You lose a special player like that, it's definitely tough to see it and go through it, but it's simple, guys need to step up. Whatever the defense throws at us, whatever they decide they want to kind of take away, the other aspect of the game, or the other aspect of the offense has to step up. So, I think we have the guys in this locker room to do it. We have the guys in that running back room come in and do their best and make their plays. We've just got to rally behind each other, believe in each other, and go out and get it done.
Q: What do you see from Landon Collins when you watch him on film?
A: They do a lot of stuff with him. I'm watching him more now than I did when he was here, just because (being on offense) it was kind of tough watching the defense play, but he's still a great player. He's definitely one of the leaders on their defense, and he's going to be flying around. So, he's flying around, coming in the box, making good plays, and doing what he does, so it's going to be a challenge. There are a lot of guys on that defense that are really talented, and with him being the leader there, he's going to have all of them ready.
Q: Do you expect him to be flying around in your direction?
Q: When a defensive player and an offensive player know each other so well, as you and Landon do, how do you suspect you've made your mark?
A: I don't really think either of us have an edge over anything. We're both guys that are going to put the work in all week, prepare as best as we can, and go out there and try and make plays. So, like I said, it's going to be a challenge against their entire defense. We've just got to make sure that we prepare the best we can, the best I can, and go out and make the plays.
Q: What makes you believe in Wayne (Gallman Jr.)?
A: Each and every day, he's coming in and doing everything he can. Even in the games when he gets his opportunity, when they come, he tries to make the most of it. He's a hard runner, he never goes down on the first hit, and he always finds a way to fight for yards. So, I think with his bigger role, his role increasing, he's going to put even more into his preparation. He's a brother of mine, I'm definitely going to be pushing him all week and get him ready for it. I know he will be ready.
Q: It's not easy to replace Saquon Barkley, is it?
A: Yeah, but like I said, there's no time to dwell on missing a guy. You've just got to step up and do the best you can.
WR Sterling Shepard
Q:  How do you follow up what you guys did last week and use it as momentum?
A: It's very important, we have an opportunity to go 2-2 and it starts by executing throughout the week. We had a great day of practice today and we have to take it up another notch tomorrow.
Q: How do you go forward without Saquon Barkley?
A: It's next-man-up mentality, I have confidence in Wayne. He's been toting the ball pretty good for us lately, and I don't see it going anywhere.
Q: When you look at Daniel Jones' first start, what kind of lift did he bring?
A: A huge lift, not only how vocal he is and how he uplifts all the other players, he's smart and he plays with a lot of poise. You can see that, and you usually don't see that out of a rookie.
Q: Even with the one start under his belt, where do you see the potential?
A: I see a lot of potential, but it starts with the guys around him. We have to do a great job of protecting him, making the catches, and getting open for him. We have to continue to do that and that's where the reps in practice come into play.
Q: How do you continue building on this and take that over to the Washington game?
A: You just start with it at practice, you have to bring the energy at practice every day. We had some success, so don't get too overhyped about it, we have to stay at the same level and amp up the play throughout the week.
Q: What kind of challenge are the Redskins this week?
A: They play a lot of one high man, so we have to do a great job this week of beating one high man. You have to beat your man and find a way to get open in zones as well, when they decide to go zone.
Q: Are you going to keep an eye out for Landon (Collins)?
A: I keep an eye out for everybody every week, it doesn't matter who it is.
Q: The opportunities that you got this week were plentiful, and just a chance to show yourself being healthy and being out there, what was that like?
A: It was pretty exciting. The week before, I had to sit there and watch my boys go out there and play without me, which hurts me. I was just happy to be back on the field making plays.
Q: What's it like playing against a guy like Landon who was such a big part of this team?
A: That's my brother, we also share the same agency, so I have known the guy for a while. I played against him in college. Like I said, that's my brother at the end of the day. When we step on the field, he knows what time it is. We do this all the time.
Q: You know what kind of competitor he is, you also know he has some hard feelings about some people here. Do you think he is going to bring anything different on the field Sunday?
A: I expect him to be him. That's going out there and playing hard. I'm not really too focused on whatever they have going on. I'm focused on what we have in the locker room and what we are going to do as an offense.
Buy tickets to see Daniel Jones' home debut on Sunday, Sept. 29.