FOXBOROUGH, Mass. – When Andre Brown broke his left fibula last Nov. 25 against Green Bay, he sat in the Giants' locker room and wept, knowing his breakout season was finished.
Brown suffered a fracture in the same leg Thursday night here against the New England Patriots in the final preseason game. But this time for Brown, there was no crying in football. He stood tall in front of group of reporters with a positive attitude and expressed confidence he will soon return to the field.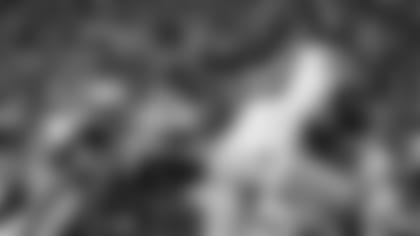 Photos: Giants vs. Patriots Gallery](http://www.giants.com/photos/photos/Gameday-Giants-vs-Patriots/2ba3bafa-262a-4926-ad76-a26f453a0d55)
"It's a little bump in the road," Brown said soon after the Giants finished their 1-3 preseason with a 28-20 loss to the Patriots in Gillette Stadium. "It's not that bad of a break. It's just a tiny little crack in there. We still have to do some more tests, but last time I broke it we knew immediately what the problem was."
Brown said this injury is not similar to the one he sustained nine months ago. Last year, he underwent surgery to attach a metal plate to the bone. This time, no operation is necessary.
"That's about the best part of it," Brown said. "I can jog on it, I got on my tippy toes with it. I didn't feel any pop or anything like that. That's definitely a positive."
Asked how his spirits were, Brown said, "Very high, very good."
Tom Coughlin said he did not think Brown's injury ends the running back's season. The coach endured a painful preseason as Brown was the fifth prominent player to suffer a significant injury in a game. Safety Stevie Brown is on injured reserve with a torn Achilles tendon, tackle David Diehl is in the midst of a six-week absence after thumb surgery and wide receiver Victor Cruz (heel) and center David Baas (knee) hope to return for the regular-season opener on Sept. 8 in Dallas.
In addition to Brown, safety Tyler Sash (concussion), tight end Adrien Robinson (foot) and linebacker Dan Connor (burner) were injured in New England.
Brown was hurt on a three-yard run on the first play after the two-minute warning in the second quarter. He ran up the middle and was tackled by defensive tackle Marcus Forston. Brown immediately left the field under his own power.
"I just caught a helmet straight on it," Brown said. "It felt a little strange."
After being examined by the Giants' medical staff, he was taken into the locker room for X-rays, which revealed the fractured.
Many of the Giants' front-line players were out of the game at that juncture, but Coughlin said he planned all week for Brown to be in there.
"We had scheduled it because I wanted him to have a number of snaps," Coughlin said. "I wanted him to quite frankly play better than he did the week before. There are two guys at that spot – David (Wilson) got basically the first quarter and Andre got a few downs there and he was playing to get his number of snaps."
The Giants were looking for Brown to have a big season. With the offseason departure of Ahmad Bradshaw, Brown was expected to team with Wilson to give the Giants a productive 1-2 punch at running back. Last season, Brown earned the first significant playing time of his career and led the Giants with eight rushing touchdowns - including a score in each of five consecutive games from Oct. 21 to Nov. 25 – while finishing second on the team with 73 carries for 385 yards.
Without Brown, the Giants could turn to the other backs currently on the roster – Ryan Torain, Da'Rel Scott and rookie Michael Cox – or look to see who is available, particularly after each team pares its roster from 75 to 53 players by 6 p.m. Saturday.
"We're definitely a great running back group to help pick up the slack," said Torain, who rushed for 14 yards on six carries vs. the Pats. "I most definitely know we can get the job done. We have to keep Dre in our prayers. Just be a team player and be ready when coach calls your number. We have to keep going forward."
Wilson led the Giants here with 37 rushing yards on six carries. Brown ran for 27 on eight attempts, while Scott gained 25 yards on four carries and Cox minus-2 on four tries. Scott scored the Giants' second touchdown on a six-yard pass from Curtis Painter in the third quarter.
"This was a game I had to show the organization I deserve to be here," Scott said. "When I got the opportunity I had to take advantage of it. The O-line did a great job, I give them all the credit."
When Brown went down in 2012, Scott couldn't step up, because he was on injured reserve with a knee injury. "It's extremely tough," Scott said. "I'm praying for him as much as I can. I've been through it, he's already been through it. To have to go through it again just (stinks). I hope he comes back soon."
Last year, that wasn't an option. Brown was placed on the new "designated to return" injured reserve list, and insisted he would have been healthy enough to play had the Giants reached the Super Bowl. The only list Brown wants to be on now is the 53-man roster.
"I would love to stay active," Brown said. "I feel I can come back from this within a couple of weeks. That's how small it is. I'm definitely looking at it as a positive. You guys that have been around here have seen me go through stuff like this and be a little down. But this time I'm not. I'm very positive and I'm looking forward to it." "I just missed my teammates," Rolle said. "I wanted to get out there and compete. I told them once I got healthy – it didn't matter if it was Game 1 of the regular season or Game 4 of the preseason – I was going to be out there with them."