EAST RUTHERFORD, N.J. – The Giants today welcomed back one of the most productive running backs in their history when they signed Brandon Jacobs, who played for the team from 2005-2011 and was part of two Super Bowl-winning teams.
---
RELATED NEWS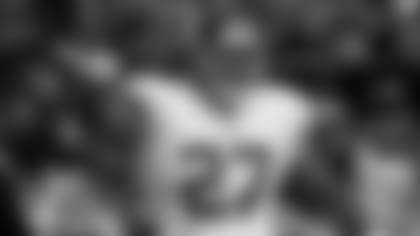 The Giants signed Jacobs after he performed impressively at a workout this morning. Jacobs is expected to be a veteran presence in a young backfield currently staffed by a second-year starter in David Wilson, a third-year backup in Da'Rel Scott and rookie Michael Cox. Wilson was replaced by Scott after fumbling twice in the Giants' season-opening loss on Sunday in Dallas.
"Whatever they need me to do," Jacobs said. "Whatever role they want me to play, I'll come in and do it. I know the offense. I know they've made some tweaks here and there, and I'll do whatever I have to do. I look forward to teaming up with David and Cox and Da'Rel and Dre (Andre Brown) whenever he gets back and try to make everybody around us better. We want to be the group that leads the team to victory.
"The Giants have given me a great opportunity. This is where I wanted to be. These are the coaches I want to play for and I wanted to come back with my teammates. This is the place I love most."
The Giants had an opening on their roster after waiving defensive end Adewale Ojomo yesterday. They return to action Sunday at home vs. the Denver Broncos.
"I'm ready to go," Jacobs said. "If I need to go Sunday, I can go Sunday. There's no issue. I'll be really excited. Now I just have to try to get Stevie Brown on the phone (so he can negotiate getting back his familiar No. 27 jersey)."
Jacobs, 6-4 and 265 pounds, joined the Giants as a fourth-round draft choice in 2005. He played in exactly 100 regular-season games for the team, with 48 starts. Jacobs is the Giants' franchise leader with 56 rushing touchdowns. He is fourth in team history with 4,898 rushing yards. Jacobs, who topped 1,000 yards rushing in both 2007 and 2008, had 1,078 regular-season rushing attempts and averaged 4.5 yards a carry. He also caught 80 passes for 730 yards and four touchdowns.
Jacobs' 4,898 rushing yards are 3,782 yards more than the combined total of the rest of the Giants' active roster. The Giants were the only team in the NFL without an active rusher with at least 450 career yards. Eli Manning was their career leader with 403 yards before the signing of Jacobs.
The Giants ran for only 50 yards in their loss to the Cowboys.
In the postseason, Jacobs played in 11 games with five starts. He had 120 carries for 460 yards and four touchdowns and added eight receptions for 45 yards and another score. Jacobs was an important contributor to the Giants teams that won Super Bowls XLII and XLVI.
Jacobs, 31, signed with the San Francisco 49ers in 2012, but he played in only two games and had five carries for seven yards before he was released late in the season.