EAST RUTHERFORD, N.J. – Da'Rel Scott's return to the Giants lasted just one game.
---
RELATED NEWS
NFC East Roundup
A look at how the division is shaping up after 6 weeks...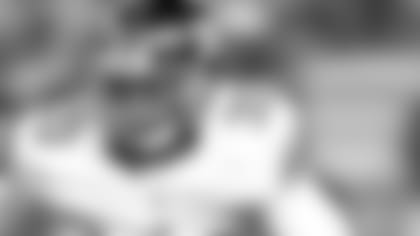 Watch Coach and Player interviews The Giants today announced that Scott was waived/injured. The running back suffered a hamstring injury late in the fourth quarter of the Giants' 27-21 loss to the Bears in Chicago last Thursday. Scott had re-signed with the team two days prior to the game, after David Wilson suffered a neck injury vs. Philadelphia the previous Sunday. He had been waived a week earlier, on Oct. 1.
Scott had four carries for 17 yards and a four-yard reception vs. the Bears. But he pulled his hamstring at the end of a 13-yard run on the Giant's final possession and was helped off the field.
The Giants did not immediately announce a replacement for Scott on the roster.