EAST RUTHERFORD - Five years ago, Jason Pierre-Paul could never have envisioned himself playing football, much less getting selected in the first round of the NFL Draft. He was a basketball star at Deerfield Park High School in Florida, where he earned four letters in that sport.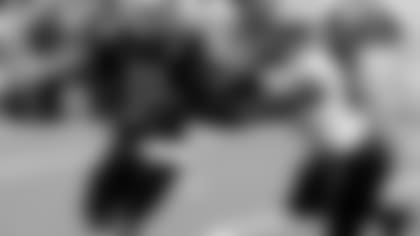 Then a life-changing event occurred in his life.
"My coach came in and got me - he dragged me into football," Pierre-Paul said today. "It was a pretty good gift. I had just played basketball at first. I wanted to play basketball. I had never played (football), so I didn't know what was going on. I was basically a basketball player and that was it."
But once he got the hang of it, he began to like football. Of course, it helped that he got very good very quickly in his new game. He earned All-District mention in his only full season of high school football, had 24.5 sacks in two seasons at junior and community colleges and further developed his game last year at the University of South Florida, where he had six sacks and displayed the athleticism and drive that made the decision to select him with the 15th pick in the first round of the NFL Draft an easy one of the Giants.
Pierre-Paul has limited experience, but the Giants believe his potential matches or exceeds that of any player in the draft.
"This guy is a very, very good player," Director of College Scouting Marc Ross said. "(He is a) tremendous player, an impact player who we still see with tons of upside, probably the most upside in the draft. But it is not like we are saying, 'Man, we are hoping.' We see it. The guy does tremendous things on the field. And he is a good player that we are hoping still gets a lot better."
Pierre-Paul demonstrated both humility and confidence on a conference call today. He revealed the former when he was asked about joining a group of defensive ends that includes Osi Umenyiora, Justin Tuck and Mathias Kiwanuka – two former Pro Bowlers and a one-time first-round draft choice.
"I'm going to come in and do what I have to. Whatever the coaches need me to do, I'll do, you know. Basically, if they need to do something, I'll look at the coaches and see what they want me to do. Then, I'll go all out. I'll do what they want."
But he also made it clear he thinks he can immediately help harass opposing quarterbacks. And the Giants could use the help; their sack totals have dipped from 53 in 2007 to 42 in 2008 to 32 last year.
"I'm a very good pass rusher," Pierre-Paul said before quickly correcting himself. "Actually, I'm a great pass rusher. Pass rushing is just one of the things I can do, though. I feel I can become better and better at that, and I want to come up to New York and hopefully become a better football player."
Pierre-Paul is regarded as a raw prospect, though he disputes that characterization. He played only 35 games with 29 starts at three schools, but only one season with seven starts on the major college level. His most productive seasons were at College of the Canyons in Santa Clarita, California and Fort Scott Community College in Kansas. That's not exactly the itinerary followed by most NFL players. But Pierre-Paul insists it will not hinder his development.
"I'm on the field, I do know what I'm doing," he said. "Otherwise I wouldn't be on the field, you know. I don't consider myself raw because I know what I'm doing. For the last three years, everywhere I went, they called me raw. At times they may call me raw but in the future they will see that I know what I'm doing. I don't concern myself with that (being called raw). I'm still early in the process of learning, I guess."
Pierre-Paul could have shed that tag by staying at South Florida for his final year of college eligibility. Last season with the Bulls, he joined the football program just prior to the season. He was going to be redshirted, but the coaches relented and allowed him to play. It proved to be a good decision. Pierre-Paul advanced from fourth on the depth chart to start seven games. He recorded 45 tackles (27 solo) with 6.5 sacks for minus-29 yards, 16.5 stops for losses totaling 53 yards and a team-high seven quarterback pressures. Pierre-Paul also forced two fumbles, deflected three passes and intercepted another that he returned 18 yards for a touchdown vs. Syracuse. He also blocked a kick in the Connecticut contest.
Those numbers likely would have improved had he played as a senior. But after consulting with his coaches, Pierre-Paul decided to enter the draft.
"I asked Coach (Jim) Leavitt (South Florida's former head coach) what he thought and he said he'd be selfish to tell me I need to stay," Pierre-Paul said. "I felt like I had a good year at South Florida. The defensive coordinator said 'you had a great year, you should enter the draft,' and I listened to him so that's why I entered the draft. I also had the NFL system evaluate me before I declared and compared with other defensive ends, they came back with a first or second round grade. So, now I'm here."
The Giants are thrilled to have him.