EAST RUTHERFORD, NJ - For two teams who have an intimate knowledge of each other, the Giants and Dallas Cowboys will carry a lot of intrigue and mystery into their game Sunday in the New Meadowlands Stadium.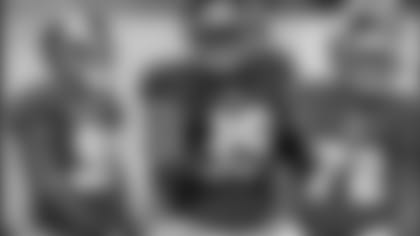 Much has changed since the Giants defeated the Cowboys, 41-35, in Cowboys Stadium on Oct. 25. Three of the Giants' offensive starters in that game – center Shaun O'Hara, tackle David Diehl and wide receiver Steve Smith – will not play in the rematch because of injuries.
But even the absence of three 2009 Pro Bowlers seems almost inconsequential compared to the upheaval in Dallas. Cowboys owner Jerry Jones this week fired head coach Wade Phillips and replaced him on an interim basis with offensive coordinator Jason Garrett. Since Phillips was also the defensive coordinator, Jones had to appoint line coach Paul Pasqualoni to that position.
But as the old saying goes, the more things change, the more they stay the same. And this is still Giants-Cowboys, one of the NFL's fiercest rivalries.
The Cowboys will arrive with a five-game losing streak and a 1-7 record, but it's impossible to find a Giants player who doesn't consider them a talented and dangerous team that can break out at any time.
"It's never difficult to get motivated to play the Cowboys," defensive end Justin Tuck said. "It's a great rivalry. If the talent wasn't there, it'd be a different story, but we understand this team can wake up.
"I'm sure they'll be fired up and try to clear the slate and kind of start their season over from here. That can be something they rally around. We expect their best game. It's kind of like a sleeping giant. You definitely don't want to wake them up."
On Wednesday Garrett had the Cowboys practice in full pads for the first time this season. The players in Dallas have talked about an increase in intensity and the opportunity for a new beginning to the season. They say they're not worried how poorly they started the season, but they're focused on how successfully they can end it.
"We understand that Dallas is an extremely talented team, although their record might not show that," safety Antrel Rolle said. "We understand what we're facing come Sunday."
"From our perspective, we don't expect anything but their best shot, and that's always how it is in this division," said defensive tackle Chris Canty, a former Cowboy. "If you follow the NFC East, it's always like that. Every game is a battle. Every game is going to be physical and it's going to be tough. It's going to be hard-fought and so we're prepared for that and we know they are preparing for that as well. There aren't going to be any surprises, I'll put it that way."
The Giants really aren't focused on the turmoil in Dallas. To them, this game is about continuing to improve, maintaining their momentum and extending their five-game winning streak and earning a much-needed victory against an NFC East foe.
But they also realize this is an unusual situation. The Giants haven't faced a head coach making his NFL debut in the middle of the season since Houston's (now Tennessee's) Jeff Fisher on Nov. 21, 1994 – seven years before any of the current Giants joined the team.
But they know that the change to Garrett gives Dallas a second start to the season, one the Cowboys would like to take advantage of at their expense.
"We look at it as a big game," quarterback Eli Manning said. "It's Dallas, and they have a new coach and a new attitude. Talking to my dad and other players, whenever a new coach comes in, you feel like you have a new season. Everything has been erased, and you can start over. That's the attitude they're going to have. They're going to come in fired up and we know they're talented all over the field. We have to make sure we take care of business, play our hardest and try to find a way to win."
"It's like new life," linebacker Keith Bulluck said. "It's like they're getting new life pumped into that team, pumped into the building. They're going to come out definitely with a different energy, a more positive energy because I'm sure the last two months things haven't been going well, so I'm sure that Coach Garrett is definitely going to rejuvenate them and have them coming in fighting like the Cowboy team that they were supposed to be the last 10 years."
Bulluck is a believer in midseason resurrections because he's participated in them. Last year, he was on a Titans team that started 0-6, including a humiliating 59-0 loss in New England. But Tennessee rallied to win five in a row and finished the season 8-8.
Bulluck said the players never had attitude or effort issues, even at their lowest point.
"It wasn't too hard (to keep going) just because we knew we were a good team - Tennessee last year, just like this Cowboys team is a good team," Bulluck said. "They just haven't put it together so it's like the same situation where a good team just hadn't put it together. We were 0-6 going to our bye and then we came back and all it takes is a win to get things on the right track. And we're definitely not trying to be the team that this talented Cowboys team gets going against."
While they don't question the Cowboys' motivation and determination, the Giants admit they are uncertain about Dallas' strategic objectives. Garrett has called the offensive plays for four seasons, but it's possible he will try something different as the head man.
Giants defensive coordinator Perry Fewell, who was the interim coach of the Buffalo Bills last season, understands better than most the challenges Garrett faces and how he might deal with them.
"I think he'll do what he wants to do," Fewell said. "His M.O. has been what his M.O. has been all year. He's put pads on them (in practice) this week. He's tried to send a message – maybe he wants to be a little bit more physical, maybe he wants to run the football a little bit more. That's a good message to send, so yeah, we expect him to come out and try to establish the run. It's our job to try to destroy the run, so again, we can change that. We can dictate what he wants to do."
"We really don't know what to expect," Rolle said. "All we can do is just go off what we've seen last week and the previous films before that. But as far as what they're going to do come Sunday, it really doesn't matter at this point. Whatever they have down there, we'll have something for it."
Offensive coordinator Kevin Gilbride is facing a similar test, because no one outside of Valley Ranch knows what changes Pasqualoni has instituted in the Dallas defense. How do you devise a game plan against a defense that could look radically different than the one you saw just three weeks ago?
"That's the million dollar question and the wild card to the whole equation," Gilbride said. "I think there's going to be some differences, I don't think there's any question. There are always some differences from the first time you play an opponent and the second one. I think the time span not being that great limits it. The parameters are much narrower than they could have been. I would be shocked if there weren't some changes. Is it just nuance changes or is there a philosophical change? Unless you're in the meeting room, you don't know if it's just him adhering to what the coordinator says and supporting it, teaching it and implementing it and maybe thinking it's not the best way, or maybe he thinks it is the best way and he needs to light a fire under these guys, get them going, and execute a little better and that's enough."
The Giants have to be ready for anything and everything, including an all-out Dallas effort and a typically ferocious game against an NFC East rival.
"It's always a big game," guard Chris Snee said. "They're a very talented football team, we know that. We have some great games against them every year and I'm not expecting any different."
"No question that they're going to come in fired up," Manning said. "They're going to feel like they have a new season, and nothing would make them happier than to come into the Giants' stadium and beat us."
"We're still very familiar with each other," Tuck said. "So it's going to come down to the team that plays the best game."
*Coach Tom Coughlin said Smith has a partial tear of his pectoral muscle, an injury he suffered in practice yesterday. He did not give a precise time frame for the receiver's return.
"They say a limited amount of time, but not necessarily right away or this week or next week," Coughlin said. "I won't know until he starts rehabbing. He hasn't had much swelling, some discomfort, so a lot of it in the beginning will probably be preventative to make sure that there's no further injury and then to strengthen and go forward."
*In addition to Smith, O'Hara (foot) and Diehl (hamstring/hip), fullback Madison Hedgecock (hamstring) and return specialist Darius Reynaud (hamstring) have been declared out of the game Sunday.
Diehl will miss a game for the first time in his eight-year career. He has started 120 consecutive regular season games, the 12th longest streak among all active players and tied for the sixth longest among offensive linemen.
O'Hara, who hurt his foot in the first Dallas game, will miss his second game in a row and fifth of the season. He earlier missed three games with ankle and Achilles injuries.
"It's slow and frustrating," O'Hara said of his recovery. "I'm just trying to take it day-by-day and stay positive, and do all I can do to cheer on my fellow linemates and teammates."
O'Hara was asked about a timetable for his return.
"Initially, I was told it could be anywhere from two to eight weeks," he said. "It's different for everybody and each position, that's the tough and frustrating thing. I know that I will be back out there, I just don't know when. I continue to prepare as if I'm going to play, and I'm keeping myself mentally sharp and doing everything I can to be ready. Every week feels like a month, so I'm just doing all I can to get back out there and contribute. I can't play this Sunday, and I'm disappointed. It feels like it's getter better, and it's definitely better this week than it was last week."
*With Smith sidelined, Mario Manningham, Ramses Barden and rookie Duke Calhoun could all play a larger role.
"Obviously, it gives other people an opportunity to go – Ramses and Duke both have to be ready to go," Coughlin said. "They did get most of the work yesterday and all of the work today. Ramses has been involved all the way through. Duke has had his plays and they'll get more now."
The receivers miss Smith, but look forward to making plays in his absence.
"I talked to Steve yesterday, and we have to step our game up, that's all there is to it," Manningham said. "Injuries are a part of the game. I had Steve break some things down for me since I'll be playing his position on certain things. We just have to step our game up as a receiving corps, everybody."
"I need to be prepared at every position, and this week happens to be the slot," Barden said. "I'm as prepared for that as anything else because that's the first thing I learned when I got here."