EAST RUTHERFORD, NJ - David Diehl thought he was going to make it. With 127 consecutive starts under his belt in his eighth season with the Giants, Diehl believed he would play his entire career without missing a game.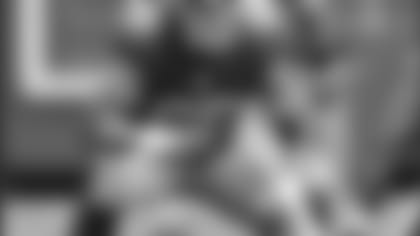 But while blocking on an extra point in Seattle on Nov. 7, Diehl suffered hamstring and hip injuries that forced him to sit out four games. Diehl was disappointed because he couldn't be on the field with and for his teammates. He was also upset because his consecutive games streak, for which he was justifiably proud, unceremoniously ended.
Diehl is looking forward to starting another lengthy streak when he returns to his familiar left tackle spot on Sunday, when the Giants face the Minnesota Vikings at Mall of America Field.
"I'm going to do whatever I can to keep the streak alive," Diehl said today. "It's just crazy that out of all the snaps I've had throughout the last eight years, I got hurt on an extra point. But it is what it is. Football is a tough game. Injuries are going to happen, but I know I'm a stronger player from it."
Diehl played left guard in Seattle, with Rich Seubert moving to center and Shawn Andrews taking over at tackle. Andrews played three games before he was sidelined with back problems. Will Beatty lined up at tackle the last two games, victories over Jacksonville and Washington. With Diehl's return, the Giants will have four of their five core linemen start on Sunday (and the fifth, Shaun O'Hara, is practicing on a limited basis after missing five games with a sprained foot).
"It's great to see (Diehl) out there practicing and that he's going to play this week," Seubert said. "I'm sure it's exciting for him. He's never missed a game in his career until this happened. So he wants to be out there. He's just done everything he can to get back out there. He looks good."
Diehl joined the Giants as a fifth-round draft choice in 2003 and started the first 120 regular season games (and seven postseason games) of his career. The 120-game streak is the longest by a Giants player since the NFL went to a 16-game schedule in 1978. Diehl played every position on the line except center and through the bumps, bruises and pain all NFL players endure during a season.
As Diehl demonstrated his durability each week, he became convinced the streak would end only when he retired. (Eli Manning, who will start his 100th consecutive game on Sunday, now has the Giants' longest streak.) So it was a jolt for Diehl to spend four Sundays out of uniform.
"I had a good streak going, and for me personally, that's something that's always been motivation," Diehl said. "It's something that I prided myself on and I would continue to push myself through things not only for myself, but the camaraderie. Not being able to be out there with not only my teammates and my friends, but we're like brothers. We go to battle for one another. We go out there and fight, and that was I think the toughest thing.
"Football is so much about accountability, and for me, it's always been about whether it's practice, whether it's whatever the situation is – practice, games – when things are on the line and things are tough, you want to be a guy that's known out there that no matter what is happening, you're going to be out there fighting. I was hoping that I'd have my whole career where I could do it and play every game. It was tough sitting out watching."
Diehl couldn't practice, but he spent long hours rehabbing and attending offensive line meetings.
"I was doing everything mentally," he said. "I mean, breaking down opponents, the guys I'd be playing up against, watching film, breaking down third down, I was in every meeting. I was doing everything mental, it was just come Sunday I couldn't do the physical part. I tried helping the younger guys. I tried helping William and Shawn when they were playing. If I saw any pass rush moves, if I saw any hints, I was breaking down third down film to try helping the guys out to see if I saw anything – if they run to tendencies and stuff like that. Since I couldn't be out there physically on Sunday, I was doing everything I could mentally and by studying to help the guys out that were out there.
"It was tough watching it, but I definitely have an appreciation for what we do and the jobs that we have. We're truly blessed to have the jobs that we have and to be able to go out on Sundays and play the game we love because from outside looking in and standing on the sidelines and feeling the excitement of the crowd and being in our stadium on Sundays, I think as an athlete when you're out there playing you get so focused on your job and what's going on. And you kind of forget how special Sundays are, especially now in December."
This Sunday will certainly be special for the Giants, who are 8-4 and tied with Philadelphia for first place in the NFC East. They play the Eagles next week.
But they must first get past the 5-7 Vikings, who, like the Giants, have won their last two games, both under interim coach Leslie Frazier. Diehl returns at just the right time for the Giants. Minnesota's right defensive end is one of the league's best, three-time Pro Bowler Jared Allen. Nothing against Beatty, but the Giants prefer having the more experienced Diehl – a Pro Bowler himself last season – blocking Allen.
In addition, Diehl played each of the last two seasons in the noise factory that is Mall of America factory.
"I don't want to take anything away from Will - Will stepped in and did a great job for us - but going to Minnesota, it's going to be loud," Seubert said. "Dave's played there before. He's played against Jared Allen before, so it's going to be good to have him out there."
Offensive coordinator Kevin Gilbride believes Diehl's presence can be a big boost to the Giants' offense in Minnesota's loud and hostile environment.
"You have quality rushers, big time, outstanding, exceptional rushers," Gilbride said of the Vikings' front four. "And when you have to play in a place where it's hard to hear, that always gives the defense a half-step advantage or a step advantage. With those guys, they don't even need that advantage, and now you're giving it to them where they're starting before you are. So it's tough. You're going to have your hands full.
"I think David's experience and his toughness and his competitiveness will come into play. Jared Allen gives everybody a hard time – there's no question. And we're not going to leave him alone, but he'll be prepared. He'll know what they're doing. He'll physically battle. He won't get overwhelmed by anything. So that's a comforting feeling knowing that no matter what happens this guy is not going to be overwhelmed. He'll say 'Okay, I got beat. Let me come back. I can come back.' He'll come back and compete. That's what you're looking for."
Eight years into his career, Diehl doesn't often break new ground. But he will this week, returning to the lineup after sitting out because of an injury for the first time. And he can't wait.
"For me, being back out there with my teammates is what it's all about," Diehl said. "We're brothers. We go and fight together. We do everything together, so it's awesome to be back out there with everybody.
"I'm excited. I'm excited to be back. I'm excited to go back out there and play and I know I'm playing with purpose because when you're sitting out and you're watching from the outside in, you just realize how lucky it is to be out there to play on Sundays and be an NFL player."
And the Giants are fortunate to have Diehl back as they begin the final quarter of the NFL season.
*Running back Ahmad Bradshaw (1,013 yards this season) returned to practice today without limitations after sitting out yesterday with a sore wrist.
"My wrist is fine," Bradshaw said. "There's no problem. I won't have any problem with it this week."
"He is fine," Coach Tom Coughlin concurred. "He has a sore wrist, but he will work his way through that."
*Cornerback/return specialist Will Blackmon, who missed the past two games and was limited in practice yesterday because of a chest injury, worked fully today.
*The only player to miss practice was Andrews, who has ongoing back issues.
"He is not ready yet but he is better – he is getting better," Coughlin said of Andrews.
Andrews is hoping to return to action before the end of the season.
"(I'm) just rehabbing, working on my core strength, working on my lower body to kind of help out the lower back and stuff," he said. "I lost almost 15 pounds so that helps as well."
Asked if he has a target day in mind, Andrews said, "I was hoping very, very, very, very, very soon, but I'm just working with Byron (Hansen, the Giants' Coordinator of Rehabilitation). He's doing a great job with my rehab, and he'll give me the go. I mean, I'm letting him know I feel – this, this and that. And he's doing his own strength test. So hopefully real soon."
*Wide receivers Steve Smith (pectoral) and Hakeem Nicks (lower leg) are limited, but seem headed toward a return to action in Minnesota. Smith has missed four games and Nicks two.
"They are on track," Coughlin said. "We are calling them limited, but they are working their way back."
Also limited were O'Hara (foot), defensive end Osi Umenyiora (knee) and defensive back Brian Jackson (hand).
*Minnesota quarterback Brett Favre did not practice again today because of chest, ankle and shoulder injuries. The other Vikings starters who missed practice were wide receiver Percy Harvin (illness), guard Steve Hutchinson (thumb) and defensive end Ray Edwards (ankle). Running backs Adrian Peterson (ankle) and Toby Gerhart (hamstring) and wide receiver Sidney Rice (hip) were limited).
*The Vikings have won the last four games in the series – in 2005 and each of the previous three seasons, and lead the regular season series, 13-8. The Giants last defeated the Vikings on Oct. 31, 2004 in Minnesota, 31-13.
*The Giants are 24-15 in regular season games in domed stadiums. They are 4-3 in Minnesota, 7-3 under Coughlin and 1-0 this season, winning in Houston on Oct. 10.