EAST RUTHERFORD - Tom Coughlin didn't have to look far to find Eli Manning's new quarterbacks coach.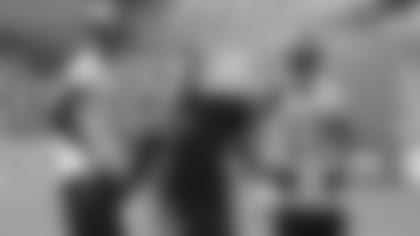 Coach Coughlin announced today that Mike Sullivan, who spent the previous six years tutoring the wide receivers, will now coach the team's quarterbacks. He replaces Chris Palmer, who retired from the NFL two weeks ago after holding that position for three seasons.


The Giants' head coach announced today that Mike Sullivan, who spent the previous six years tutoring the wide receivers, will now coach the team's quarterbacks. He replaces Chris Palmer, who retired from the NFL two weeks ago after holding that position for three seasons.
Sean Ryan is the new wide receivers coach. He was the Giants' offensive quality control coach the last three seasons.
"The major reason that I felt strongly about Mike Sullivan coaching the quarterbacks here is that Mike has been with us for all six years and he's been an integral part of the progress of our pass game," Coughlin said. "He was the position coach for the wide receivers last year and worked very closely with the quarterbacks and the offensive coordinator. He has a very good understanding of our passing game. He did the majority of the work in assembling our first and second down pass game. He is an industrious, very hard-working, very intelligent coach who looks forward to each challenge. In the words of Eli, he knows exactly what we can expect from Sully and that Mike is a grinder. Mike is going to work extremely hard in the face of any challenge – and his challenge is to continue the development of Eli."
Manning, whose arrival in 2004 coincided with those of Coughlin and Sullivan, has developed into the one of the NFL's finest quarterbacks. Two years ago, he led the Giants to a Super Bowl victory. In 2008, he was a Pro Bowler. Manning finished the recently-concluded season with 317 completions in 509 attempts (62.3 percent) for 4,021 yards, 27 touchdowns, 14 interceptions and a passer rating of 93.1. The completions, percentage, yards, touchdowns and rating were all career highs.
Manning spoke to Coughlin earlier this week and endorsed Sullivan's appointment as quarterbacks coach.
"I'm excited about getting to work with Coach Sullivan," Manning said. "He's been in the system with the Giants and been working with the receivers for the past six years, so I've been working closely with him, trying to get on the same page with the receivers. We have a good relationship and we communicate well, so I'm excited about having him in the quarterback room. I think we're going to have a great relationship on and off the field. He's helped me become a better quarterback and I'm looking forward to that opportunity.
"I talked to Coach Coughlin about this. I feel very comfortable with Coach Sullivan. I knew he was in the mix. I feel very good about him moving to the quarterback position. He's a guy who knows what we do and we can grow as an offense. I think he'll be good in the meeting room, giving me different ideas and things we can work on and I look forward to that."
The Giants' wide receivers have enjoyed tremendous success under Sullivan. In 2009, Steve Smith led the NFC and was second in the NFL with a Giants-record 107 receptions, 25 more than the franchise's previous single-season mark (Amani Toomer had 82 in 2002).  Smith was the first Giant to stand alone at the top of the NFC since tight end Bob Tucker led the NFC with 59 catches in 1971. He was the first Giants wide receiver to play in the Pro Bowl since Homer Jones in 1968.
Hakeem Nicks, the team's first-round draft choice in 2009, had 47 receptions for 790 yards, both the third-highest totals among rookies in Giants history. Nicks' 790 yards tied for first among all NFL rookies with Minnesota's Percy Harvin and his six touchdown receptions were the most by a Giants rookie since Bobby Johnson had seven in 1984.
Second-year pro Mario Manningham had a breakout season in 2009, with 57 receptions for 822 yards and five scores.
In previous seasons, Plaxico Burress and Toomer were very productive under Sullivan's tutelage.
"I feel very proud of everything we accomplished as a wide receiving group and I enjoyed my experience working with some tremendous players over the years," said Sullivan, who was first hired by Coughlin in Jacksonville in 2002. "But this is a new challenge and a chance to grow professionally and stretch myself as a coach. It's exciting to move to the quarterbacks, particularly to work with Eli Manning. We've been together for six years and we've worked together to develop our knowledge of the scheme and the pass game particularly. And just to take that next step and have that one-on-one relationship with him and work with him and try to become the best possible player is really an exciting challenge for me.
"We spent a lot of time just by the nature of the positions, the receivers and the quarterbacks, not just out on the practice field but in the meeting room and many areas. In many cases that transition is one that is a lot easier than someone coming from the outside that doesn't know the system and doesn't know how we operate and doesn't have years of experience in a relationship built up. From that standpoint, it makes it a lot easier."
Sullivan is confident he can help Manning enhance his already-impressive numbers and continue his development as a successful quarterback.
"He's done some great things and shown the ability to be the quarterback that we want him to be," Sullivan said. "My job now is to do everything possible to help him achieve that high level of consistency, to be a guy that is going lead our team and help us be successful - to be that guy that's going to lead us. I look forward to it and I feel honored, humbled and excited for this opportunity."
Ryan shares many of those same sentiments in his new position. He joined the Giants – and the NFL – in 2007 after coaching stints at six colleges, including Albany, Boston College and Columbia.
"Sean has made outstanding progress as a young coach," Coughlin said. "Last spring, when Mike Sullivan was working with a very young receiving corps, Sean was very instrumental in working with that group as well. In truth, in training camp and all through the fall, when Sean has worked with a group on the field, it has been with wide receivers. He has communicated very well with the receiver group. He has been in their meeting room with them for the better part of two years. I think everyone on the offensive side of the ball that has had a chance to work with Sean knows that he is ready for this assignment. Sean is eager to get his position and to coach his own group. We feel like he's a young aspiring coach who certainly is prepared for his first assignment at the pro level with regard to a position."
Four years ago, Ryan was coaching the running backs at Harvard. Now he's tutoring one of the NFL's best groups of young receivers.
"I'm very grateful to Coach Coughlin and the Giants organization for this great opportunity," Ryan said. "You dream about this chance to help keep the offense moving in a positive direction. I also feel lucky that I'm stepping into a situation where I have an existing working relationship with these guys. I've got three years with them assisting Sully and working with them on a daily basis. I know how they work. I know effective ways that Sully used to coach them and I think that's going to be really beneficial.
"Obviously, it's a younger group of guys, but a younger group of guys who have playing experience, which is a great combination. There's excitement and room to grow for these guys. There's a ton of potential left to reach. At the same time, they're coming in with real game experience.
"I have three years of being in the room and hearing it taught and seeing what works for them and being able to carry on and knowing what Coach (Kevin) Gilbride (the offensive coordinator) and Sully and everybody is trying to get done within the offense - having that to work off of is an incredible advantage. You don't skip a beat. Obviously, I'm going to have my own way of teaching. I won't copy everything Sully did. But to have that as a background and have that kind of knowledge going in is going to make a great transition."
If you'd like to submit a question or comment to Michael, click here.