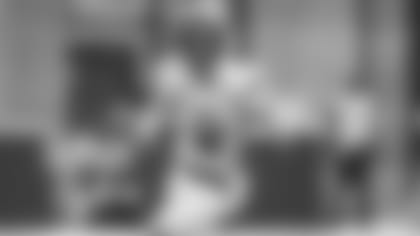 Richmond head coach Russ Huesman joined Big Blue Kickoff Live to discuss QB Kyle Lauletta:
With a college degree already in hand and looking at his fourth offensive coordinator in four years, Kyle Lauletta had every right to transfer from Richmond in his final year of eligibility. But he decided to stay.
Spiders head coach Russ Huesman tells the story of why to scouts, coaches, fans, media – anyone wanting to know more about the quarterback drafted by the Giants in the fourth round this past Saturday.
"Nowadays everybody transfers, and all these grad school guys are leaving and finding a different niche," Huesman said Wednesday on "Big Blue Kickoff Live" on Giants.com. "And we got here, it was his fourth coordinator and a new staff, he had already graduated, he's a double major in business and leadership, he's a 3.6 GPA kid.
"He could have very easily graduated at the end of spring, called Oregon, some other places, some big, big-time BCS programs and they would have taken him with open arms and he'd have been extremely, extremely successful. He told me he would never leave Richmond because of his teammates and what the University of Richmond did for him. That's loyalty."
That loyalty paid off for both of them.
Lauletta, 6-foot-3 and 222 pounds, went on to set the program's single-season record for total offense, earning an invitation to the Senior Bowl, where he won Most Outstanding Player honors. He was also named the Colonial Athletic Association Offensive Player of the Year after becoming just the fourth player in conference history to throw for more than 10,000 yards.
In 40 games at Richmond, he completed 758 of 1,194 passes (63.5 percent) for 10,465 yards, 73 touchdowns and 35 interceptions. In none of them did Lauletta lean on the revolving door at coordinator as a crutch.
Changes occur in the college coaching ranks for two reasons, and one of them is bad. At Richmond, it was the good one. Offensive coordinator John Garrett, Dallas Cowboys head coach Jason Garrett's brother, left to become the head coach at Lafayette after running a pro-style offense at Richmond. Before him, Charlie Fisher also left for a head coaching job at Western Illinois.
Huesman, a three-time Southern Conference Coach of the Year at Chattanooga, took over the Spiders last season and brought in Jeff Durden to run his offense. It didn't take long for them to realize they needed to tailor the system to Lauletta's skills, not the other way around.
"He's been exposed to a lot of really good coaches," Huesman said. "He was developed in a great way before we got here. I credit our offensive staff for finding ways to utilize his skill set. We came from Chattanooga; we never were a really drop-back, throw, read progression type of team. As coaches, we really adjusted to what Kyle could do. And so you give our coaches a lot of credit, and we'll go back to more quarterback run-oriented stuff [now that he is gone]."
Huesman's Spiders ran a no-huddle offense mostly out of the shotgun, but there was not much looking to the sideline for help with calls and reading protections, as is common in college football these days. That was up to Lauletta.
"Obviously he had to go through route progressions with our offense, so he did have to figure out where to go with the ball almost every time, unless we were play-action taking a shot," Huesman said. "But for the most part, he had progressions. He had to know where to go with the ball, pre-snap reads. He had to know where to go with the second and third reads. So he did a lot of that."
Lauletta had experience playing under center before the newest regime arrived. That is where he started to show a calm in the pocket.
"I absolutely do think that's one of his best strengths, no question about that," Huesman said. "He was coming off ACL surgery, so he didn't practice with us the first spring there. So the first time we had him was in camp and could see him operate in August camp and the first time I saw him – and I'm a defensive guy, I have no idea how to coach a quarterback – but when I saw him, I said, 'Man, that dude looks like a quarterback.' Just how composed he was in the pocket, his feet in the pocket. I think he was very, very well-coached prior to us getting here. Our guys did a good job with him, but he just looked like a quarterback to me. And that was maybe my first comment after that first practice. I said, 'That's what a quarterback should look like right there.'"
When the Giants were on the clock Saturday afternoon, there was a yell in the Huesman household when his quarterback's name was read.
Lauletta is not the coach's only tie to the Giants, however. Huesman played defensive back under Giants Ring of Honor inductee Joe Morrison at Chattanooga and later served as a graduate assistant for him at South Carolina. Morrison played six different positions -- fullback, halfback, flanker, tight end, split end and defensive back – and still ranks third in franchise history with 65 total touchdowns. His No. 40 jersey is retired by the team.
"I've been a Giants fan," Huesman said. "Joe Morrison, we'd laugh because we'd be in a Friday night highlight film [session], they'd always put Joe Morrison clips in of the New York Giants. He used to do a shaving cream commercial, and they'd throw that in and we'd bust out laughing. He was such a great guy to play for and a great guy. I was a G.A. for him, and I loved working with the guy."
Furthermore, Huesman's son, Jacob, spent time on the Giants' practice squad as a fullback in 2016 and played in four preseason games for them in 2017. Jacob Huesman, the fourth player in FCS history with 40 rushing and 40 passing touchdowns, was also a former counselor at the Manning Passing Academy.
"The Giants gave him that opportunity [to play in the NFL]," Huesman, the father, said. "Every Giants scout that comes through here, I thought the world of. They were first-class. … So I've been a Giants fan for a long time. When they took Kyle, man, my little boy and I were sitting in the living room watching the draft and, man, I let out a yell. I was so excited about that one because for one, I thought it would be a great fit, and two, I do think the world of the Giants and their organization."