EAST RUTHERFORD - The Giants signed Antrel Rolle not as insurance for Kenny Phillips' surgically-repaired knee but to pair the players as one of the NFL's finest safety tandems. Rolle left little doubt on a conference call today where he thinks he and his fellow University of Miami alum will rank.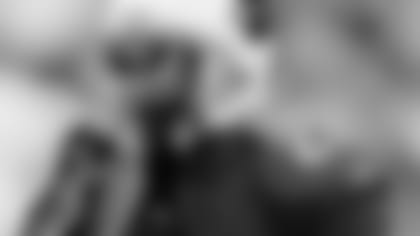 "The best in the league, hands down," Rolle said. "I know what we're capable of, and I know, as a unit, what abilities we have in order to get things done. It's going to be up to us to establish that relationship and that chemistry to make sure we're on the same page and to make sure we're all one within this secondary. The sky's the limit for us. We're definitely going to go out there and make things happen."
Phillips missed the final 14 games of the 2009 season after an MRI revealed he had patella femoral arthritis in his left knee and he underwent surgery. He has been working out for months and the Giants believe he will again play at the level that made him one of the league's best young safeties. With Rolle, the team feels it has two top players at a position that became a weak link in 2009.
"The idea that this is associated with the Kenny Phillips situation is incorrect," Coach Tom Coughlin said. "We needed to answer some questions in terms of the safety position. This move puts us in a position now where we feel this can be a really strong part of our team. We needed to really solidify and help the safety position based on last year's experience. That's the reason this objective was so important to us."
The Giants moved to acquire the 27-year-old Rolle as soon as he was released Thursday afternoon by the Arizona Cardinals. The eighth overall selection of the 2005 NFL Draft, Rolle played five seasons in Arizona. He was a cornerback for three years before moving to safety. Last month, he played in his first Pro Bowl.
Yesterday, Rolle toured the Timex Performance Center and met with general manager Jerry Reese, Coughlin, defensive coordinator Perry Fewell and safeties coach David Merritt.
"Antrel is an energetic, very likeable, bubbly young guy who is very, very impressive in terms of his ability, his football knowledge and his desire to learn more and to know more about the game," Coughlin said. "He really enjoys sitting in the room with a tape on, talking football. He made a very, very favorable impression that way with all of us –Perry Fewell, Dave Merritt and myself."
After meeting him in person, the Giants quickly offered Rolle a multi-year contract.
"It pretty much came down to a decision I had to make, because the Cardinals were willing to match any offer the Giants had on the table," Rolle said. "It came down to: did I want to become a Giant or did I want to stay an Arizona Cardinal? A lot of things came into effect on a personal note. For the most part, when I came here yesterday to visit the New York Giants, it reminded me of a feeling I once had when I went to visit the University of Miami when I was being recruited at the collegiate level. I just felt like I was at home here. From that point on, it made the decision a lot easier. But at the same time, it was a very tough decision, probably one of the most difficult decisions I've ever had to make in my life, due to the fact that I knew I was leaving behind some close and personal friends, as well as coaches I had established a relationship with."
The chance to work with Phillips was also a factor. Rolle preceded Phillips at Miami and met him for the first time when he presented Phillips with an award at a high school banquet.
"I was extremely excited when this opportunity presented itself," Rolle said. "Being back there with a fellow UM guy and a guy I know whose potential is going to be maximized, my potential is going to be maximized with him and I think we're going to push each other hand-in-hand. I think it's going to be a dynamic duo."
Both players have worn jersey No. 21 in the NFL, as did the late Sean Taylor, another UM safety who was a Pro Bowl performer for the Washington Redskins.
"That's his jersey," said Rolle, who will now wear No. 26 (which was Taylor's number during his Hurricane playing days; Rolle wore No. 6 as a collegian at UM). "He's been a Giant before I got here. He's earned that jersey. That's a very valuable number to me. But I'm going to be in a new system. It's time for me to start over and make another number for myself. And I will do that."
Rolle and Phillips are each so versatile that they can play either safety position in Fewell's defense.
"They're interchangeable," Coughlin said. "Both safeties will find themselves in the half (covering half the field), in the middle of the field, down at the line of scrimmage, being involved in covering the slot. Both safeties will be interchangeable in terms of their ability to be multi-functional. Both safeties will be involved in the pressure package."
"Without a doubt, we are both interchangeable safeties," Rolle said. "We both are very versatile. We can handle multiple positions and multiple tasks at hand. I think that will best benefit our secondary back there."
Rolle, 6-0 and 208 pounds, has played in 68 regular season games with 59 starts. His career totals include 337 tackles (296 solo), 12 interceptions (including four he has returned for touchdowns; three in 2007), 36 passes defensed, three forced fumbles and 1.5 sacks.
Rolle arguably had the finest season of his career in 2009. He started all 15 games in which he played and was credited with 72 tackles (61 solo). Rolle also intercepted four passes, the second-highest total of his career. He played perhaps his best game of the season in the Cardinals' 24-17 victory over the Giants in Giants Stadium on Oct. 25. He was credited with eight tackles (six solo), including one for a loss. And he jumped over Steve Smith on the sideline to intercept an Eli Manning pass with 1:08 remaining in the fourth quarter to seal the victory. In the third quarter, Rolle took a direct snap in the wildcat formation and threw a pass to Larry Fitzgerald that fell incomplete. The throw was nullified by a holding penalty.
"I remember very well the night we played Arizona here how well he played against us," Coughlin said. "Of course, he's a Pro Bowl player. He has outstanding range and athleticism. He ran a couple of wildcat plays throughout the year. He's a very talented guy who was a high school quarterback and running back, so he's a multi-talented guy. And you can see the intangibles that he brings to the table in terms of his communication skills and his energy. He's one of those upbeat guys that you really do enjoy being around. And he's very talented."
Rolle's performance against the Giants certainly illuminated that fact.
"I think that played a big part in the reason why I'm here," Rolle said. "When you're in the NFL at this level, you're not just playing for yourself and your pride and your fans. It's a job interview. You're putting film out there. You're building a resume. You never know what effect you're going to have on certain teams. This was a team that we knew coming in was an outstanding team. I came in head first. I wasn't going to be denied. I came in with a chip on my shoulder and I was just going to do whatever it took to make sure that the Arizona Cardinals came back with a win and we did that."
After two outstanding seasons, the Giants defense took a step back in 2009. Giants opponents scored 427 points, the second-highest total ever allowed by the team. Fewell was hired to sharply reduce that number. And Rolle is eager to join that effort.
"I'm extremely motivated about that," he said. "As you know, the Arizona Cardinals weren't always the Cardinals of last year. It's something you have to build from the ground up. Being that this team is only three years removed from the Super Bowl, I think that speaks for itself. The Giants team is a great team. They had a couple of mishaps last year. A couple of things went in the wrong direction. That's where leadership comes into play. That's a role I'm looking forward to having with this unit. I'm going to make sure I lead by example. It's not going to be talk – I'm going to lead by example. I tell my guys to follow my lead, match my intensity. And that's what I'm going to bring to the table."
*The Giants made two other roster moves in the secondary today, waiving defensive backs Aaron Rouse and Londen Fryar.
Rouse, who began the season with the Green Bay Packers, was awarded to the Giants off waivers on Sept. 24, the day Phillips was placed on injured reserve. Rouse played in 14 games with eight starts at safety for the Giants and finished the season with 60 tackles (42 solo), a sack and four passes defensed.
Fryar was signed to the Giants' practice squad on Dec. 8 and remained there through the rest of the season. He was added to the roster on Jan. 4.
*Rolle was asked if he'd like an opportunity to throw passes out of the wildcat with the Giants.
"Absolutely," he said. "I think that's going to come from showing them exactly what I can do. Once I'm here with this organization, they will get a pretty good feel of what kind of athlete I am. I can throw the ball a million miles, I think everyone knows that at this point. Whether they are going to use me for that, I don't know yet. I hope so because I think it brings another dimension to football. It creates a mismatch. It's also something that can excite the fans and it can be a momentum changer."