NEW YORK –** Antrel Rolle enjoyed watching Super Bowl XLVIII, and not because he was rooting for the Seattle Seahawks.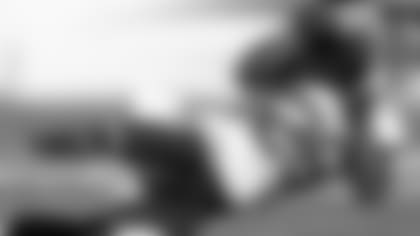 "I'm a fan of defense, it doesn't matter which team it is," Rolle said. "I'm just very, very happy for those guys. They deserve everything that they received."
Seattle's defense completely dominated Peyton Manning and the Broncos in a 43-8 steamrolling in the Super Bowl Sunday in MetLife Stadium. A safety and defensive captain who was the Giants' lone Pro Bowler this season, Rolle is an admirer of the Seahawks' defense. The unit led the NFL in six significant statistical categories, including total yards (273.6), passing yards (172.0) and points (14.4) allowed per game.
"People would ask me my prediction and it was kind of hard to say," Rolle said. "You have Peyton and I'm a huge fan of Peyton. I have a lot of close friends on the Denver team, but I told them, 'You know what, I'm a fan of defense.' I study the game inside and out, I study each and every position from the defensive line all the way back and I also study offenses. So when I put two and two together, I didn't know it was going to be as bad as it was, but I did know that Seattle would win the game based on the defense's performance."
Rolle made his comments at the Grand Hyatt Hotel in Manhattan, where he was honored at the 34th annual Thurman Munson Awards Dinner. He was clear that he would like the Giants' defense to play at the lofty level attained by the Seahawks' D.
"I think Seattle's defense set some pretty big standards and left some pretty big shoes to fill for the 2014 season," Rolle said. "Our expectations are always great. At the beginning of the year, they're always great. We just wish for more consistency and just better play overall from the Giants because we can do it.
"Any defense would want to see itself play to that caliber. We've had games, absolutely, where we've played to that caliber before. They just put it all together for that one game, which is the game that happens to count. That's what it's all about. Nobody remembers who made it to the playoffs or who made it to the NFC championship. They remember one team – the Super Bowl champions."
Two years ago today, the Giants defeated New England, 21-17, in Indianapolis in Super Bowl XLVI. Although the Giants finished 7-9 in 2013, Rolle is confident the team can rapidly reverse its fortunes. And he believes Seattle's overpowering defense provided the blueprint for all challengers to emulate.
"That bar is set extremely high," Rolle said. "I think they went out there and more importantly - I tell everybody throughout the week, even within the Giants - this game is won on attitude. I think they went out there and they set the tempo extremely early. You saw some fear in Denver's offense from the front line all the way through. The defense created that, they created the mismatches and they took advantage of every opportunity.
"It was a defensive effort. I think they played extremely well as a unit. We all know what they can do, (safeties) Kam Chancellor and Earl Thomas, they accompany each other very well. I think it was the defensive front that really stole the show in my eyes. They never, ever let Peyton get into a rhythm, they were exceptional against the run, they created havoc in the passing game and the linebackers and secondary just capitalized on it. It was a great game plan. The defensive coordinator (Dan Quinn), he did an exceptional job with that unit and it showed."
Rolle shared his thoughts on several other matters:
On whether he thought the Seahawks could be Super Bowl champions when they Giants lost to them, 23-0, in MetLife on Dec. 15.
"I'm a defensive guy," Rolle said. "I go against their offense and their offense is good, very talented. They didn't have Percy Harvin and if Percy's healthy, he's going to be your X-factor. We all know what Percy Harvin can do. That's the reason Seattle paid him the money, that's the reason why he was the X-factor in the Super Bowl.
"The defense, I think, played phenomenal and it started up front. They never allowed Denver to get in a rhythm. You have to take your hat off to those guys."
Rolle watched the game with a group that included Green Bay tight end Jermichael Finley, whose position coach from 2008-11 was Ben McAdoo, the Giants' new offensive coordinator.
"(Finley) was telling me that McAdoo is a brain, that he's going to keep defenses guessing," Rolle said. "He's very smart and I just said, 'Yes.' I feel like our offense is definitely going to excel in his system. Eli (Manning) is going to go and do everything he does best, which is lead our offense, and the defense will be there to also lead and pick up the pieces and make sure we create more turnovers and give them more opportunities to do their thing."
Rolle was asked how difficult it was to watch Seattle and Denver play the Super Bowl on the Giants' home field (where both teams defeated the Giants in 2013).
"It wasn't difficult at all," Rolle said. "If you had asked me that question at the beginning of the season, you probably would have gotten a different answer. We had every opportunity, just like Seattle and Denver did. We didn't capitalize on it. I'm professional enough to understand that and to take that. There's nothing to be sour about, you just use that for extra motivation come next season."
Rolle originally was not selected to the Pro Bowl but was a late addition as a substitute for Earl Thomas, who couldn't play once Seattle advanced to the Super Bowl. For the first time, the Pro Bowl did not have a team of NFC players facing one from the AFC. Hall of Famers Jerry Rice and Deion Sanders selected the teams. Rolle had four tackles (three solo) for Team Rice, which won the game, 22-21.
"Pro Bowl was awesome," Rolle said. "It didn't take away the feeling of being snubbed, but it was awesome. At the same time it was an opportunity, I took advantage of the opportunity. My family and my friends, the game itself was quite interesting. I think I loved the un-conferenced situation 10 times better, because it gives you some sort of challenge in a way. You're not sure who is going to be on your team. More than anything, you're teaming up with a lot of the AFC guys and you're developing that chemistry and that bond within three days max just to get ready for a game and to be on the same page at the same time. We were out there clicking. More importantly, we were out there thumping. I like that, I'm all for that."
Rolle was honored at the dinner with Yankees outfielder Brett Gardner, Mets pitcher Dillon Gee, former major league pitchers turned broadcasters David Cone and Jim Kaat and former New York Knicks forward and basketball Hall of Famer Bernard King.
When approached, Rolle knew little about Munson, the Yankees captain who died on Aug. 2, 1979 when the plane he was piloting crashed at Akron-Canton Airport, where he was practicing takeoffs and landings on an off day. Munson was just 32. His widow, Diana, attended her 34th consecutive benefit for the AHRC NYC Foundation.
The Thurman Munson Awards Dinner has raised more than $12 million for programs that serve New York City children and adults who have intellectual and developmental disabilities.
"Once I realized I was going to be presented this award, I went back and did my research on Mr. Thurman Munson himself," Rolle said. "I got chills just reading about it. I realized for sure who this guy was and I was like, 'OK, I've heard about this story once before.' It's an extreme honor, especially for Ms. Diana Munson to have this foundation and run it for 30-some odd years and what they've been able to accomplish through the charities for kids with cerebral palsy and autism. It's just an extreme honor, just being honored with the guys who have been honored in the past. I think that speaks volumes for itself."