When coach Pat Shurmur hired defensive coordinator James Bettcher in January, it committed the team to a new 3-4 base defense. Even though the team will be playing the majority of their downs in nickel or dime defenses (with five or six defensive backs and only one or two linebackers) that feature a four-man front, it's still something new. So then why did they draft B.J. Hill, someone who played 4-3 defensive tackle in college in the third round?
"It's the same, playing the five (technique) or four-I (technique) is just like playing the one or three back in college," Hill said. "It's not a big difference. I had to learn that and coach said just treat it like a one or three."
A defensive lineman's technique is determined by where he lines up in relation to the offensive line. A five technique lines up on the outside shoulder of the offensive tackle, while the four-I is on the inside shoulder of the offensive tackle. The three technique lines up between the offensive tackle and guard, while the one technique lines up on top of one of the center's shoulders.
So how can those be the same?
The responsibilities, technique and goals for the defender are the same whether you are trying to work against a center, guard or tackle. Bettcher does not play an old school two-gap defense, where the defensive lineman is responsible for occupying multiple offensive linemen with the goal of freeing up linebackers to make plays.
Much like the 4-3 defenses Hill played in college, Bettcher employs a one-gap system where it is a player's job to attack and try and get up the field.
"He doesn't want us sitting on the line," Hill said. "He wants us getting penetration, knock the offensive line back, and create a new line of scrimmage so you can make the play or the person beside you [makes the play]."
It is the exact same style Hill was asked to play in college, which has made the transition easier, even with what can be a daunting NFL playbook.
"We had a lot In college too," Hill said. "So coming from college to here there was a little change. It's different verbiage and stuff like that. We had a lot going on in college that helped me prepare for here."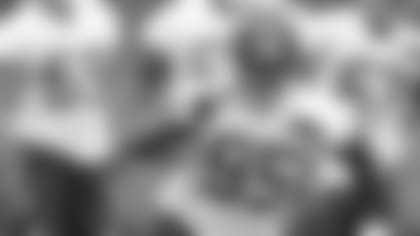 Hill also has the benefit of being around veteran defensive linemen like Damon Harrison, Robert Thomas Kerry Wynn, and Josh Mauro to guide him through the challenges of the new defense.
"They just said to come and work hard every day and give it all, and don't leave anything on the field," Hill said. "What I do is practice hard and just listen to them because they're going to give me knowledge to defeat blockers, get to the quarterback, get to the running back, and be successful."
Harrison has been impressed with what he has seen from Hill so far.
"He can play," Harrison said during mandatory minicamp. "He can play and that's the first thing our defensive line coach (Gary Emanuel) told me when I got here. He said, 'You're going to love 95.' He said, 'He can play.' So, I got out here and I've been watching him. He's strong and he's got some wiggle to him and he has some move to him. So, that's somebody else who I think with some time and a little more experience will be a dominant player in this league, as well as Dalvin Tomlinson, who I think will take the next step this year."
Of course, Hill has not been able to show off everything he can do yet due to the restrictions placed on players during the offseason program. There are no pads in practice, and no contact is allowed during line play. That doesn't mean Hill didn't use his time on the field wisely to improve.
"I learned a lot so far from just not wearing pads, like learning the playbook," Hill said. "That's the most important part. Using your hands and the little things you can do without putting your pads on."
It doesn't mean Hill isn't looking forward to getting the pads on and playing real football when training camp begins at the end of July.
"I'm excited to play with these guys and be one of the best defenses in the NFL," he said.
Giants fans are certainly excited to see it for themselves as well.