EAST RUTHERFORD, N.J. –** Justin Pugh is four games from accomplishing a rare Giants feat.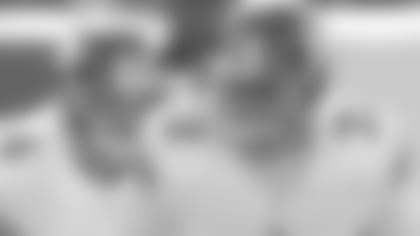 Players to Watch vs. Chargers](http://www.giants.com/photos/photos/Players-to-Watch-vs-Chargers/faad0812-f445-49b9-8159-7ccfd0534701) The Giants' first round draft choice this year, Pugh has started every game at right tackle. If he starts each of the final four, beginning Sunday in San Diego, he will become a) the first Giants rookie to start an entire 16-game season since defensive tackle Barry Cofield in 1995; b) the first offensive lineman to do it since David Diehl 10 years ago; and c) the first Giants' first round draft choice to do so since Hall of Fame linebacker Lawrence Taylor in 1981.
Pugh said it is important for him to line up every week not only because he loves football and wants to help the Giants win, but for what it demonstrates to his teammates.
"You're just showing the guys in this locker room that you're reliable and this organization can count on you to go out there and play every snap, every week and you take pride in that," Pugh said today. "Last week, we're there in Washington during pregame and you see (linebacker) London Fletcher, who has started (210) straight games. It's something that's really impressive to see someone do that and obviously you aspire to play every game every time you're available."

>> WHO'S PLAYING, WHO'S NOT: INJURY REPORT
Pugh has come a long way from opening night in Dallas, but he still gets nervous and dry heaves before every game, as he has his entire football life. Chris Snee, the 10-year veteran guard who played next to him before going on injured reserve because of a hip injury, always vomits just prior to kickoff.
"In our position, doing my job, you're protecting someone's livelihood, their career," Pugh said. "You're protecting someone's health, the quarterback, the running backs, going down and helping the receivers out. I think other positions, if you're a receiver and you drop a ball, nobody's getting hurt. If you mess up and whiff on somebody and he hits the quarterback on his blind side, he could get hurt. I think that's probably one of the reasons why offensive linemen are like that."
Pugh played left tackle for three years at Syracuse before the Giants selected him 19th overall in this year's NFL Draft. He played on the left side early in training camp and the preseason. But when David Diehl, then playing right tackle, was forced from the lineup after undergoing thumb surgery, Pugh switched sides.
Although he downplayed it then, Pugh admits the move from left to right required a significant adjustment.
"Everything is just opposite," he said. "I'm not used to double team blocks with your left foot. I guess people wouldn't see it if they've never played the position before but to switch everything - you have to protect your inside, because it's the quickest way to the quarterback. So when you're switching from that left side to the right side, now all of a sudden everything is opposite, so your left hand, which used to be the outside punch, now becomes the most important part of your technique. Just pushing your weight off a different foot, it's very different. But I've definitely learned through the weeks and playing against guys. I've gotten better and better each week and now I feel very comfortable there. I felt comfortable in the beginning of the year but now I feel even better."
Defensive end Jason Pierre-Paul (shoulder) and cornerback Webster (ankle) have been declared out of the game. JPP will miss his second game in a row and Webster will miss his fifth consecutive game and ninth this season.
Tom Coughlin said he expects Pierre-Paul to play again this season.
Running back Brandon Jacobs (knee) is doubtful. Cornerback Trumaine McBride (groin) is questionable.
Cornerback Terrell Thomas (knee) and tight end Brandon Myers (groin) are probable.
Defensive coordinator Perry Fewell said yesterday rookie Damontre Moore will take more snaps this week with Pierre-Paul sidelined. Moore played 17 defensive snaps last week in Washington.
"I felt great," said Moore, who had played little on defense before last Sunday night. "It's like riding a bike, you never forget how to do it. It was just one of those things, just getting back on the bike, and once I got back on it - it was a little wobbly at first but then once you get riding you're like, 'Oh man, I never forgot how to do this.'"
Moore had a subdued evaluation of his performance.
"Everybody told me it was alright," Moore said. "There's always room for improvement, so honestly, I didn't look at how many I got. I just went in there, tried to see what I was doing wrong, that way I could fix it and try to get better each and every day."
So what does he want to show in San Diego?
"Honestly, just go out there and play as hard as I can," Moore said. "Everything else will take care of itself. It's worked so far, so we'll see what happens when we get out there."
In 2012, the Giants averaged 26.2 yards a kickoff return with David Wilson as the primary returner. Wilson has been sidelined most of this season with a neck injury and rookie Michael Cox has assumed the return duties. The Giants are averaging 20.4 yards per kickoff return (19.4 by Cox). But Quinn said the decline is not solely because of the changes in returners.
"There's a bunch of new blockers," Quinn said. "I think we blocked it well for him last year and he's obviously a tremendous talent, so that helps, and then when you have a tremendous talent back there a lot of times you block a little bit longer, a little bit harder. We just haven't got into a groove with it. It's been frustrating. We felt the last two to three weeks there's been some opportunities here and there to get something started and you're one block away. So we're focusing on just finishing our blocks and doing our job to hopefully get some field position for the offense."
The Giants' series with the Chargers is tied, 5-5, including 2-2 in San Diego.
Under Coughlin, the Giants are 4-4 in regular-season games on the West Coast (6-5 if Arizona is included). They are 1-0 in postseason games, winning the 2011 NFC Championship Game in San Francisco.