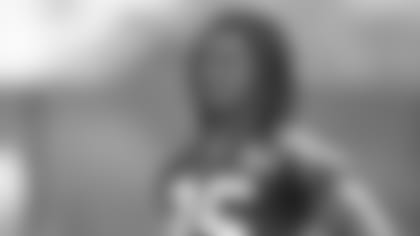 Safety Chad Jones, the third-round draft choice who suffered serious injuries to his left ankle and leg in June 29 auto accident, was waived with a non-football injury. If Jones clears waivers, he will revert to the reserve/NFI list.
The Giants were also awarded defensive end/outside linebacker Alex Hall off waivers from the Philadelphia Eagles. Hall, 6-5 and 250 pounds, played the previous two seasons with the Cleveland Browns. He was traded on April 2 from the Browns to the Eagles, who waived him yesterday.
Hall was chosen from St. Augustine College by Cleveland on the seventh round of the 2008 NFL Draft, the 231st overall selection. In two seasons he played in 30 games with two starts and had 36 tackles (26 solo), three sacks and two forced fumbles. He also added 18 special teams tackles.
As a rookie in 2008, Hall played in all 16 games with two starts and finished with 26 tackles (18 solo), three sacks and 12 special teams tackles. Last year, he played in 14 games and had 10 tackles (eight solo) and six special teams tackles.
Hall played in 30 games with 29 starts at St. Augustine, where he set school records with 26 sacks for 168 yards and 51 tackles for losses. He finished his career with 156 tackles. Hall earned a degree in history. He attended C.H. Flowers High School in Springdale, Md. Hall will turn 25 on Aug. 17. ](http://www.nyg2010.com/)**
If you'd like to submit a question or comment to Michael, click here.