The Giants tweaked their offense yesterday when they waived running back Da'Rel Scott to make room for the signing of center Dallas Reynolds.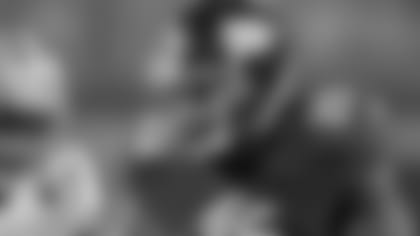 Know Your Opponent: Eagles Roster The departure of the team's second-leading rusher left three running backs on the active roster: David Wilson, Brandon Jacobs, and rookie Michael Cox.
While it's safe to say, according to Tom Coughlin, that Wilson-Jacobs becomes the one-two punch, Cox has an opportunity to be the third. But that will take time for the seventh-round draft choice out of UMass.
"Well, certainly Jacobs can get more," Coughlin said Wednesday. "Michael Cox has to learn everything. He's been used more on special teams than anything else. But yeah, those two [Wilson and Jacobs], and in terms of blocking, the same combination of tight ends that we've always used."
In the meantime, Cox will fulfill his duties on special teams, where he made his mark in training camp and the preseason.
But that's not to say he can't work his way into the offense. In four preseason games, Cox had 18 rushing attempts for 32 yards and three catches for 49 more, including a 28-yarder.
"I guess we'll see what coaches want to do, but I'm just ready for whatever and wherever they want me," Cox said. "Just having three of us, obviously, I've got to step up if they need me or whatever. I've just got to be ready."
His role as a kick returner earned him a jersey in Week 1 before the numbers game rendered him inactive against the Broncos and Panthers. In that stretch, Wilson took back his spot as the primary kick returner, and now the Giants use Cox on every other special teams unit they have.
"It's definitely a learning experience," Cox added. "I played a lot on special teams, but it's a learning experience just getting to see what it's like playing in regular-season games…I'm just taking it game by game."