EAST RUTHERFORD, NJ - The Giants were thrilled they had an opportunity to draft cornerback Prince Amukamara on the first round of the NFL Draft after entering the selection process believing he wouldn't fall to them at No. 19.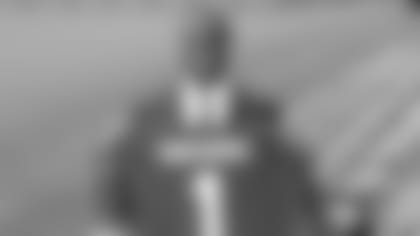 For Amukamara, the freefall wasn't as exciting. Oh, he couldn't be happier to wear a Giants uniform. But no prospective draftee wants to wait longer than anticipated to hear his name called. So as 18 teams made their first-round selections prior to the Giants last night, Amukamara began to wonder exactly how long he would be sitting without an NFL cap to model.
"I have been telling everybody that I definitely got that Brady Quinn flashback," Amukamara said of the Notre Dame quarterback who dropped to the 22nd pick in 2007 before he was rescued from the green room by the Cleveland Browns. "For a little bit it kind of seems, 'Okay, am I not going to get picked tonight?' But I know that it was nothing that I could control and I'm just glad that I landed here in New York City."
Actually, his professional home is a few miles west in suburban New Jersey, where the cornerback from Nebraska visited the Timex Performance Center today for the first time. Wearing a dark suit, white shirt and red tie, Amukamara had a whirlwind visit that included get-togethers with Jerry Reese and Tom Coughlin, several meet-and-greets and a news conference in the center's auditorium.
On reflection, Amukamara wasn't surprised he was available at No. 19 after seeing four quarterbacks go in the top 12 picks. And he took solace in being the second corner selected, after LSUs Patrick Peterson was taken by his hometown Arizona Cardinals with the fifth pick.
"I kind of expected that as soon as I saw it was going to be more of a quarterback round," he said "It kind of feels good – only Patrick was ahead of me. It was not like they were just picking corners before me. So I think they just went by needs, really. That is probably always going to be at the back of my head. And if I always just use that as motivation, I'll probably – the teams aren't going to come out and apologize to me if I pick off all of their quarterbacks. But no matter what, I'm still going to compete hard and try as best I can."
Once he begins working, Amukamara's draft number becomes almost incidental. He will face the same scrutiny and pressure experienced by all first-round draft choices. Everyone, from the coaches to the fans, expect him to contribute immediately.
"It is a huge spotlight," Amukamara said. "You can't really compare it to the pressure back at Nebraska.  But as long as I just keep doing the right things and working hard day in a day out, I don't think I'll have anything to worry about."
Amukamara arrives with very impressive credentials. In 2010, he was the Big 12 Defensive Player of the Year and an All-America, honors not often given to corners with no interceptions. After finishing his junior season with five picks, Amukamara had none last year. He was asked if that was a reason he might have slid past the middle of the round.
"That could be a factor," Amukamara said. "I did have a very successful junior year, which just means more hands on balls. I was told that I wasn't going to get a lot of action my way, but that wasn't going to shy me away from not trying to make plays. So whenever there was an opportunity to make a play, I'm going to make it."
Amukamara is poised and confident and he has an interesting story to tell. After all, how many guys do you know named Prince?
"The first reaction (to his name when he was growing up) was, 'No, you are lying. That is not your real name,'" he said. "Or, 'Are you really a prince?'And once they ask if you are really a prince, then I just go back and explain where my parents are from and just all of that."
His family comes from royal bloodlines in Nigeria. Amukamara's grandfather was the king of the Awo-Omamma in Imo State of Nigeria. His father, Romanus, was chief. Amukamara's mother, Christie (formerly Nwachukwu) competed in the sprints for the Nigerian track team at the 1984 Olympics in Los Angeles.
Prince has twice visited Nigeria.
"Before going back I just thought of stuff I had seen on National Geographic, which was lions and stuff like that," he said. "But it is definitely nothing like that.  It is a place that is beautiful.  And it is just like paradise."
Amukamara is the second of six children. The other five are all girls - Princess, Precious, Promise, Peace and Passionate.
"That is one of the best situations ever," Amukamara said of growing up with five sisters. "My sisters are very good to me. They spoiled me, probably a little bit too much. But in return, I'm very protective of them. I just love them."
Amukamara was a three-sport star at Apollo High School in Glendale, Ariz., the city where the Giants beat New England in Super Bowl XLII. (The Giants visit the Cardinals in Glendale on Oct. 2.) He went to Nebraska thinking he would play running back, but was soon moved to the secondary. Amukamara contemplated transferring, but decided to stay when Bo Pelini became the Cornhuskers' head coach in 2008. That proved to be a good move, because Amukamara developed into one of the country's very best cornerbacks.
"I definitely wasn't open to it," Amukamara said of the move to defense. "I definitely wanted to transfer right away. I thought running back was my position to play. But I'm just trusting Coach Pelini…and I just stuck it out at cornerback and it has been working out good so far.
"When I first tried it out, Coach Pelini had me at nickel and dime and I started making plays, stripping balls, covering from both ends.  That is where I developed my aggressiveness. And it just grew on me after that."
The Giants play Corey Webster and Terrell Thomas as their starting corners, so Amukamara's first opportunity contribute might be in the slot as No. 3. It's a role he is comfortable with.
"At Nebraska whenever one of the best wide receivers would be … in the slot position, coach would have me just go and guard the slot guy," he said. "So I feel like I'm pretty versatile and I can play that position."
Amukamara is already familiar with the receivers he will face in the rugged NFC East.
"I have heard about (Philadelphia's) DeSean Jackson and Jeremy Maclin and (Dallas') Dez Bryant - all great, great wide receivers," Amukamara said. "So that is a war week in and week out.  And I'm sure once one of the veterans has taken me under their wing, and I just keep learning and grinding, I'll be prepared to guard them."