EAST RUTHERFORD, NJ - For a player with a bruising, straight-ahead running style, Brandon Jacobs has demonstrated flexibility throughout his career.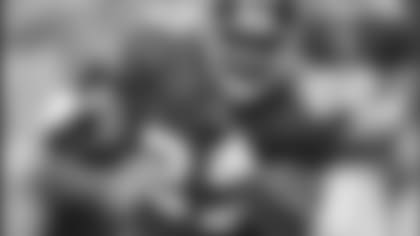 He joined the Giants as a fourth-round draft choice in 2005 and spent his first two seasons playing behind Tiki Barber, primarily as a short-yardage and goal line specialist. After Barber retired following the 2006 season, Jacobs became the team's starting running back. But he shared the workload, and in the Giants' 2007 championship season, Derrick Ward, Reuben Droughns and Ahmad Bradshaw had more combined carries than Jacobs. The next year, Jacobs and Ward were the fourth set of running back teammates to rush for more than 1,000 yards in the same season.
In 2009, Jacobs started 15 games but rushed for only 57 more yards than Bradshaw. The evolution continued this year, when Bradshaw supplanted Jacobs as the starter in training camp and in the first two games of the season.
Jacobs has been visibly frustrated with the transition to his current role over the past month or so. It's one thing to accept the shift in responsibility privately and quite another to deal with it in a public forum. An emotional man, Jacobs has not hidden his frustration well at times.
But after meeting with Jerry Reese and Tom Coughlin earlier this week, Jacobs said today he has a better understanding of the coach's reasoning and is ready to move on, starting with Sunday's home game against the Tennessee Titans.
"Just to put this whole thing to bed, my issue with this whole thing was the explanation of why all this happened," Jacobs said. "I didn't have one. I have one now. All this stuff is gone. All of it's done, and we're moving forward. So that's what it was that lit my dynamite is an explanation to what was going on."
Now, Jacobs said, "I'm absolutely in the right frame of mind."
Coughlin said at his news conference today that Jacobs' status should no longer be an issue.
"Whatever the questions were, (they) were answered specifically," Coughlin said. "Again, the discussion led to some of the other areas - just the professionalism in terms of meeting with the media and that type of thing. So I'm hoping that the lesson learned from last weekend as well as the incident with the helmet (Jacobs was fined $10,000 by the NFL for tossing his helmet into the stands in Indianapolis on Sunday night), I'm hoping that Brandon can grasp the importance of keeping your poise, keeping your cool, that type of thing."
Jacobs' recent conversations with reporters had been uncharacteristically contentious, including a brief verbal confrontation following the Giants' loss to the Colts. But when he met the media today Jacobs was patient and thoughtful – and apologetic.
"First off, I want to start by saying to you guys (the media), the last month, (it hasn't) been so pleasant dealing with me," Jacobs said. "I've been in a state of mind where I hated all you guys, and I apologize to each and every one of you for acting the way I've been acting the last month or so.
"Secondly, I want to apologize to my teammates for putting them in a position to answer these questions about me when they should be focusing on winning games. Our organization, for the same thing—for answering questions about me when they have other things that they have to focus on. 
"And the Indianapolis Colts organization as well and their fans and our fans, for the incident that, again, I didn't mean for that to happen. I was angry. I should have never thrown the helmet to begin with, no matter where it went to. And a special apology to the fellow that caught it, I apologized to him and his family as well and everyone else who was in the area who could have been harmed. So those are my apologies, and I mean them 100 percent. Now get to Tennessee, man. That's all I want to talk about."
In one respect, the Tennessee game is like any other for the Giants – they want to establish a physical presence with their rushing attack. That is where Jacobs could make a difference. At 6-4 and 264 pounds, he remains the NFL's most physically imposing back. But in two games he has only 52 rushing yards on 16 carries, a 3.3-yard average. That is due in part to his tendency to bounce runs outside instead of physically taking on defenders as he once did. As Coughlin said on Monday, "Didn't like the east-west running last night. Run the ball north. Take it up in there."
Jacobs said today he's hasn't been barreling over defenders as he once did.
"I feel that way," he said. "I do feel that I can go straight ahead and hit some folks. And that's all people think when they see a one-yard or two-yard gain, which I'm absolutely not happy with."
But Jacobs can also be physical on much longer runs. After all, there's nothing wrong with running through a linebacker on his way to a 20-yard pickup.
"I can be physical on a 20-yard gain as well, but you have to look and search for those 20-yard gains," Jacobs said. "And sometimes it comes when you hit it hard and it just opens and closes up again when you're through it already. So those happen as well. What I want to do is come out and play the game however the game flows. Whatever they need me to do, I'm here to do it."
It's quite possible the Giants will look to Jacobs to set an example with his aggressive running style.
"We've just got to get our heads on right and go up the field," Jacobs said. "We've got to kind of go at guys. We're a physical team. We're a physical bunch. We can go up and knock some guys off the ball, one or two guys here and there, and that's going to get us to start it the right way."
Can Jacobs be the one to set the physical tone?
"Absolutely," he said. "I think that it's still there. I can get out and set the physical tone when opportunity is given. That's what I want to do. I want to get everybody jumping up right away so we can let these teams know that right off the bat that's what this whole game is going to be like. This will get ready, and the next team that's coming in the next week, it's going to be like that for them as well. So that's what I want to do. I want to send positive energy across to my football team."
It's safe to say that seeing Jacobs deliver a blow to the Titans defense would be a welcome sight for his teammates.
"We need Brandon to play well for us," Eli Manning said. "He's a big part of this team, and he's been a great teammate for a number of years. We need him to support everybody, and be on track, committed, and have the same focus and determination as everybody else."
Bradshaw can also run inside, but he also has the elusiveness to take a handoff and go wide. But Jacobs seems better suited to the trench warfare between the tackles. And that's where he is determined to revisit.
"I'm definitely at my best when I'm more of a physical runner," he said. "That kind of gets the defense guessing on what's going to happen, and a lot of guys aren't going to take that for four quarters. So that's what I want to get back to."
With the Giants looking to get back on the right track, Sunday would be a good time to start.
*Another player looking to improve on Sunday is left tackle David Diehl, who had his hands full with Indianapolis defensive end Dwight Freeney (two sacks and two forced fumbles).
"I think there are times when you're going to have rough days and things aren't going to be perfect," said Diehl, an eight-year veteran. "But the most important thing for you to do is just stand up and learn from it and then move forward. And I think that's just like anybody. I'm a guy who can stand here and when things are great you have to be gracious, and when things are bad you've got to be humble and you've got to learn from it. That's the most important thing. I've watched film. I've looked at that thing, and I'm a guy with a lot of pride and a lot on the line and … there's nothing I can do to change that game. The only thing I can do is learn from it and make sure that it doesn't happen again.
"And I know as a player, I guarantee nothing will happen like that again regardless of what the situation is, the circumstances. I'm going to work and make sure that nothing ever happens again like that, and that's the type of attitude I have. I believe in myself and my abilities. I believe in all the guys in this locker room and our approaches, and guys are working to make sure that we learn from that game. There's nothing we can do to change it. The only thing we can do now is make sure we get back up and come out here flying around and win this Tennessee game."
*Tight end Kevin Boss practiced today but center Shaun O'Hara did not as the Giants began preparing for the Titans.
Boss, who suffered a concussion in the Sept. 12 season-opening victory over Carolina and sat out last week's loss in Indianapolis, practiced fully.
O'Hara played in the first two games, but continues to be bothered by the ankle/Achilles injury that has plagued him since training camp. Coughlin said O'Hara is again wearing a boot as part of the efforts by the team's medical staff to eliminate the swelling and pain. Adam Koets played center in O'Hara's absence.
Four other plays sat out practice: linebacker and special teams captain Chase Blackburn (knee), linebacker Phillip Dillard (hamstring), safety Michael Johnson (back) and wide receiver Mario Manningham (illness).
Cornerback Aaron Ross (foot) practiced fully.