EAST RUTHERFORD, NJ - Since Kenny Phillips returned to the field following his knee surgery and rehabilitation, the Giants seemed to have an arithmetic problem at safety: how do you fit three players into two jobs? The first answer seemed to be removing one player from the equation and designate Deon Grant as the odd man out. Turns out it was a trick question, because the correct response is you play all three.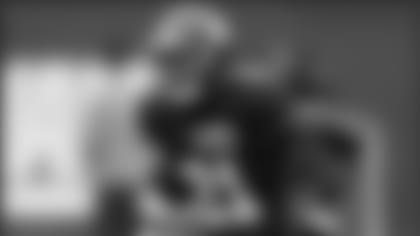 A year after safety was the most obvious weakness on the team, Phillips, Rolle and Grant have given the Giants outstanding play against both the run and pass on the last line of defense. Perhaps surprisingly, they have played together for long stretches of every game. Rolle has started all five games, Phillips four and Grant three. Rolle is second on the team in tackles, Phillips is fourth and Grant is tied for the team lead in interceptions.
As an 11-year veteran, Grant is the most experienced member of the group. He has played for Carolina, Jacksonville and Seattle. Among current Giants, only Keith Bulluck has played in more regular season games than Grant's 149. Which naturally leads to this question…has he ever been a part of a defense where three safeties are on the field so often?
"No, first time," Grant said today after the Giants began preparing for their home game Sunday against the Detroit Lions. "Well, I had it in Seattle, but the guy that was playing safety really wasn't a safety. He really was like a nickel back, but he just had to play safety. But like true safeties that can go down and play corner and play linebacker also, no, first time."
The three players have thrived in defensive coordinator Perry Fewell's system because, in addition to being outstanding players, Phillips, Rolle and Grant are selfless teammates who support each other.
"There are no selfish guys," Grant sad. "We understand that we have a lot of talent on that defensive side, and guys just know it's difficult for Perry to start every guy and play every guy the way they want to be played. But he's doing a great job as far as getting the guys on the field and putting them in position to make plays. So he's been doing a good job, and the guys on the front line are saying that."
Rolle (from Arizona) and Grant (Seattle) joined Bulluck as the Giants' most significant offseason veteran free agent acquisitions. The Giants needed healthy talent, because Phillips was recuperating from microfracture surgery on his knee. After missing the final 14 games last season, he didn't return to the field until Aug. 9. The Giants limited his reps in training camp practices and his snaps in preseason games. When it was clear Phillips would start the season opener, it appeared Grant's playing time would be sharply reduced. Grant's streak of 144 consecutive starts did end in the season's first game against Carolina. But Fewell used all three safeties and Grant had two tackles and an interception in the Giants' 31-18 victory.
Grant admits he was a bit skeptical how the three-pronged safety system would work. Because Phillips was reduced to being a spectator, Grant lined up with Rolle and first team defense throughout the spring drills and training camp. Grant started all four preseason games, then became a substitute when Phillips was ready to play the opener.
"Oh, I definitely was wondering (how he would fit in)," Grant said. "I even mentioned it right before the first game, but like I said before, Coach Fewell has been doing a great job as far as getting the guys on the field. He has a tough job. He has a lot of talent on that defense, and him trying to figure out what guys to put in there, when to put in there - he's been doing a great job at it. With the unselfishness that we have as far as our mentality as individuals, we've just been sitting back and waiting and trying to see where he's going to plug us in and just make sure we take advantage of it."
When it became obvious that Fewell wanted to play the three safeties more often than perhaps anyone suspected, no one was sure how it would work out.
"You know what's so funny? We were anxious about it," Grant said. "Kenny, Rolle and myself - we talked about it when we first got here. We just couldn't wait until he put that package in and we'd really see how it's going to unfold. We didn't expect it was going to unfold the way it did, but we're definitely happy about it.
"This is a situation where you really don't know who the best player is. I can truly say you do have a lot of talent on that side and that all the guys really can do the same. If one guy's better than the other one, it's by a hairline."
Fewell is happy he can put Rolle, Phillips and Grant on the field without ranking them. He has quickly come to appreciate Grant's knowledge of the game and versatility.
"When I use Deon," Fewell said, "I use the veteran experience, the knowledge and the know-how, that sixth sense of I'm supposed to…I can see the offensive formation, I've been here before, I've done that, so he's almost like a guy that you can just say, 'Hey, Deon, when you see this, can you remember this? And if you can remember this, can we play it this way?' And he can execute these things for you, whereas a rookie or a second or third year player is just trying to get lined up in the right spot and execute the defense that's called. I use a lot of Deon's knowledge and know-how from an experience standpoint."
Grant has the speed and instincts to cover the pass (witness his two picks) and the strength and anticipation to come up and challenge running backs. He often lines up where a linebacker normally would.
"Physically, I look like a linebacker, but then I'm still running like a DB," said Grant, who is listed at 6-2 and 215 pounds. "So it makes it a lot easier for coach also because (cornerback) Terrell (Thomas) is the same - Terrell is not as big and as tall, but he's got good size on him. Kenny has good size on him, got height on him. And we still run like we're DB's and have the knowledge to pick up the defense. So that makes it a little easier on coach Fewell and the particular defense he's trying to run."
Rolle has played a similar roll. Although he has 12 career interceptions, including four last season, he has frequently played in the box this season and has proven to be a strong run defender.
"I feel like they're putting us in the best situation to help out the team, and right now that's the only thing they ask for," Rolle said. "If it's play the run, play the run. If it's be back deep and defend against the pass, then that's what I'll do. But I consider myself a very versatile safety, so it really doesn't matter what they ask me to do. I'm pretty sure I can get the job done. 
"I understand the game. I understand what teams are trying to do to me, to us. I understand the defense. I study a lot. I ask a lot of questions during meetings. I ask a lot of questions on the field. So I try to make sure I have the game plan all figured out so there are no mistakes come Sunday."
Rolle has proven to be exactly what the Giants were looking for when they signed him on March 5.
"He's a football player – whether it's run, whether it's pass," Tom Coughlin said. "He loves that aspect of the game (defending the run). He's done a very good job of being down there, so he has complimented in both defending the run and defending the pass."
In short, Rolle has been the perfect fit at safety, just as Phillips and Grant are.
*Bulluck played nine years for Detroit coach Jim Schwartz in Tennessee. Schwartz was Bulluck's linebackers coach in 2000 and was the Titans' defensive coordinator from 2001 until he left to coach the Lions after the 2008 season.
"One of the most reliable players that I've ever been around," Schwartz said of Bulluck. "We talked about a different atmosphere here when you're 0-4 or when you win a game in a blowout. Keith was our guy that was the same all the time. We started 0-5 one season, I know they started 0-6 last year, but after starting 0-5, in the last week of the year we were still in the playoff hunt. We started 1-4 one year, and we ended up in the AFC Championship game. You can't do that unless you have resilient players that are steady and consistent, and even keeled. That's what Keith brought to our defense. He's a leader, very smart, he developed as a pro, worked on his weaknesses. There wasn't an offseason that he didn't try and find something that he needed to do better, even when he got back from a Pro Bowl. A guy who can play the run, play the pass, never came off the field, but just steady and consistent.
"In the (nine) years I was with him, he missed one game, a high-ankle sprain that usually keeps people out about 3-4 weeks, and it kept him out one. He was disappointed. He tried to work out before the game and wanted to play, but we didn't think he could move well enough. That was in his second year, I believe. A steady guy who is not only a joy to coach, but a good guy to be around."
Bulluck also holds Schwartz in high regard.
"My rookie year, he was my linebacker coach," Bulluck said. "So we kind of got into it together. We came into it together, and then he went to defensive coordinator. We had a great relationship. It was one of those relationships that I was the leader of the defense so week to week, we would have conversations about what's going on. During the course of the game, it was easy to make adjustments because we were always on the same page. As a defensive captain, I kind of knew what he was going to call before he would call it. We were just kind of always on the same page. He's a real easy coach to play for and play under. And as a head coach, I'm sure he's the same way and has probably taken his coaching skills to the next level."
*Three reserves were added to the Giants injury and did not practice today. None of the three - running back D.J. Ware, wide receiver Victor Cruz and defensive back Brian Jackson – appear to be seriously injured. Ware has a sore groin Cruz a hamstring injury and Jackson a neck issue. All three players get the bulk of their playing time on special teams.
"Victor has a hamstring that for some reason, somehow in striding Monday occurred," Coughlin said. "We have a groin with Danny – which he looks pretty darn good today. I'm impressed with the way he's bouncing around today. He has more of a positive attitude about that. And then Brian had a stiff neck or a sore neck after the game. He feels a lot better today, but still has some of that around."
Also missing practice were defensive end Osi Umenyiora (he regularly rests his sore knee on Wednesday), fullback Madison Hedgecock (hamstring) and defensive end Mathias Kiwanuka (neck). Coughlin offered no update on defensive Mathias Kiwanuka, who has been sidelined with a bulging disc in his neck.
"No clue," said Kiwanuka today when he was asked about a possible timetable for his return. "No clue, because from the reports I'm getting, everyone's body is different and everyone responds differently to different treatments, so it's a matter of when it happens. We are very optimistic that it will subside on its own, but it's a matter of when it does."
Center Shaun O'Hara, who has missed three games with ankle and Achilles injuries, and linebacker Keith Bulluck (toe) returned to practice on a limited basis by participating in individual drills. Phillips (knee) was also limited.
"I went during individual and they just chose to hold me back after that," Bulluck said. "But I went through individual fine. I did everything that everyone else did before the start of practice, and hopefully I can get out there tomorrow and actually practice. I think I could have today, but I just didn't. So tomorrow I definitely see myself out there."
"I feel pretty good," O'Hara said. "I did individual. I think the one thing that we're trying to do is just not do too much the first day, and really we're just kind of hoping for the best and hope it feels the same tomorrow."
O'Hara said he hopes to practice tomorrow. As for playing Sunday against the Lions…
"I hope so," O'Hara said. "Otherwise, what the hell am I doing out here?" 
*Offensive lineman Kevin Boothe, who has been on the physically unable to perform list, is eligible to begin practicing next week. "A lot will depend on exactly where he is," Coughlin said. "There will be no setback with him. If he's ready to practice and ready to go, then we'll give it full consideration. We don't have to rush into that, because of the fact the bye week is coming up."
Beginning Tuesday, Boothe can practice for up to 21 days while the Giants evaluate his health and capabilities. At that point, they can add him to the active roster, release him or place him on season-ending injured reserve. That 21-day window can begin as late as the day after the ninth week of the season (Nov. 9).
*Tackle Will Beatty, who underwent foot surgery after the season opener, "is doing quite well," Coughlin said. "I would say he is advanced, but with these things you have to go real slow….he's making good progress."
*For the Lions, quarterback Matthew Stafford (shoulder) and running back Jahvid Best (toe) were among the seven players who did not practice. Star receiver Calvin Johnson (shoulder/knee) were among four who were limited.