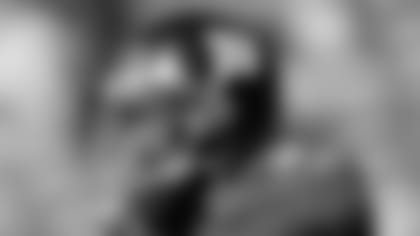 The Giants defense is soft. Their secondary is the worst in the league. They have no chance this season.
Deon Grant, who has seen and heard it all in 12 years as a professional, saw and heard it all in the middle of New York's four-game losing streak this season.
While the clouds would part as the Giants rebounded to make the playoffs, the safety didn't let the team forget all the criticism, reminding them before their wild-card game against Atlanta.
Was the message kind of that everyone counted out the Giants?
"It's not 'kind of,'" Grant said. "It is the message. It is the message. When we went on that losing streak, they had definitely counted us out and saying that we didn't have a chance and that we had the worst defense and the worst secondary and all that other stuff, playing soft and so forth and so on. The only guys I really felt like believed are the ones that are in this building – the players and the coaches and the true fans that we have. So that's the message that I gave, and that's the mentality that we have."
In the middle of the grueling second half of the season, the Giants hosted the 11-0 Packers a week after being dismantled in New Orleans.
At the time, Grant practiced all week as the Mike linebacker in place of Michael Boley, who was nursing a hamstring injury but still set to return after missing two weeks.
"I was about 70 percent when I came back for that game," Boley said. "Going into that game, my plan was to play very limited and unfortunately we had an injury so I had to go and that led me to play more snaps than I thought I was."
That plan fell to the wayside when Kenny Phillips injured his knee before halftime, moving Grant back to safety. Meanwhile, linebacker Chase Blackburn had signed just a few days prior, and that's not even mentioning Osi Umenyiora being out.
"You had so much going on that particular game," Grant recalled. "And we still had a chance to win. So we just really look at that film and look at what we could do to defeat certain routes and certain plays and what we have to better as far as executing."
This time around, Grant is back to seeing the whole field from his normal standpoint as opposed to seeing it through the eyes of another position. Same goes for the rest of the defense that is now healthier and reacting quicker from not needing to know multiple positions.
Grant, who has now played in the postseason in four different uniforms (Panthers, Jaguars, Seahawks and Giants), has many stories to draw from in his NFL tenure, including losing Super Bowl XXXVIII with Carolina.
Whether or not this one ends on an uptick remains to be seen.
"It's been so long ago," Grant said about his title run in 2004. "It's been going on a decade. I just try to look at this one. I don't try to look back in the past and tell all these crazy stories and all that other stuff. I just try to let [the younger players] know you're playing for the future, but live in the moment. Enjoy this moment. You're not promised it tomorrow. You're not promised it the next season. You definitely have to enjoy it."