A four-game suspension and a losing streak was not the way Will Hill wanted to start his second season with the Giants.
But those were the cards dealt to the safety and his team.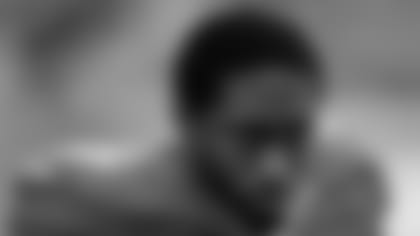 View Gameday Photos from Week 5 Hill, however, made the most of it, remaining around the facility during the week to work out and participate in meetings. That's why when a game plan that fit his skillset and a rash of injuries to the secondary came up in his first game back, the Giants' coaching staff did not hesitate to reinsert him.
Hill, who was suspended for the first quarter of the season for violating the NFL Policy and Program for Substances of Abuse, made his first career start in Sunday's loss to the Philadelphia Eagles as part of a three-safety look from the Giants defense. He went on to the lead the team with 11 solo tackles.
"I knew everything that was going on," Hill said. "I kept coming to the meetings, and then I was still training, getting myself ready for today."
He added: "There wasn't any rust or adjustment. It was just a lot of excitement and enthusiasm."
Leading up to the Week 5 matchup, Aaron Ross was placed on injured reserve with a back injury, and fellow cornerbacks Corey Webster and Jayron Hosley did not suit up on Sunday with their own ailments.
Their absences, coupled with a game plan that called for a heavy dose of man coverage, led to the Giants starting the game with Hill on the field along with safeties Antrel Rolle and Ryan Mundy.
"We were just going man-to-man," Hill said. "Our DB [defensive back] situation right now, a lot of people are out, and Antrel used to play corner, so he's a good man-to-man guy. So we were going straight man-to-man and that put me on the field."
That plan led to mixed results for the defense as a whole.
On one hand, the Giants limited the NFL's leading rusher, LeSean McCoy, to 46 yards on 20 carries – Hill had one of the Giants' nine tackles behind the line of scrimmage – but on the other, they gave up plays of 20 yards or longer by five different Eagles players, including DeSean's Jackson long reception of 56 yards. Meanwhile, playing the second half with backup quarterback Nick Foles, the Eagles converted 9 of 19 third downs against the Giants.
"Can't do anything about it now," Hill said. "So all I've got to do is just go back in tomorrow and go to work."