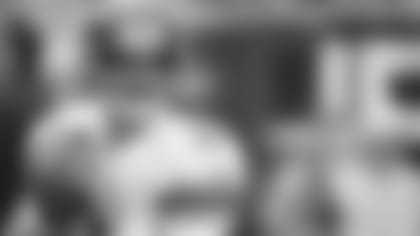 (on the irony of playing the Super Bowl in the city his brother Peyton Manning plays in) "I'm excited about being here. My mindset is I'm here to play a game. This is just a Super Bowl venue. I'm not looking at the fact that this is where Peyton has played his career. I'm just trying to go out there and play my best football; and try to get a championship for the New York Giants."
(on what he has told the younger players) "Every person, whether it's your first year in the NFL or your 14th year in the NFL; this is a special experience and you don't know if you're going to get another chance. Whether you're at the end of your career or the beginning, you might not get here again. It is rare, and it is tough so you want to enjoy the experience and the bonding time and the down time you have with your teammates. When it's time to prepare and practice, it's time to get your focus ready to play this game. We need 100 percent commitment and dedication to going out there and playing our best football."
(on whether he is very competitive with his brothers) "I am five years younger than Peyton, but growing up we would always compete. When I got a little bit older, 15 or 16 years old, we could finally start being on the same level and compete in playing basketball, ping pong or pool. There is that competition. Competition is a great thing. It brings out the best in people. It does make you work harder to try to get to that level where you can compete with your older brother who plays at that same level. It is definitely helpful in bringing out all my skills."
(on wide receiver Victor Cruz) "He has done a great job learning this offense and making decisions. He's gotten better because of meetings and game-time experience. That is the best thing for a receiver to do. The chemistry between a quarterback and a receiver, you just have to play games. You can work on a lot of things in practice and get on the same page and work on some of the timing; but once the game happens, a lot of that timing is thrown out the window. There's the rush, defense is doing different things and a lot of it is quarterbacks rely on body language – reading the body language of that receiver. When is he coming in and out of breaks? What is he going to do? Victor has done a great job. I just told him, 'Your body can't lie to me. If you're going to break in, just stay on the move. Whether it's the right decision or wrong decision, just give me an indication of what you're going to do and I'll make the decision of whether to throw it to you or not.'"
(on whether he things he has evolved as a player since his last Super Bowl appearance) "I think anytime you have four more years of experience you should become a better football player – more confident. I've been very fortunate to be in the same offense my whole career; that is very helpful. We have a number of guys that have been here, a number of receivers that were drafted to the Giants and were able to learn this system. This is the only system they know. I can talk to them from the get-go, since their rookie year and teach them how things are done – how they've improved, their decision making, their route running and their ability to get open. It's been very helpful and these guys have done a great job in understanding what we need to do and the way that you win games in the NFL."
(on Indianapolis as a Super Bowl host city) "It's been great. Indianapolis has done a great job – the people, the town, the city has really welcomed the Giants and our organization. I went out to dinner last night with a bunch of our teammates and had a great time. I'm looking forward to being here the rest of the week."
(on whether he looks at this Super Bowl as a rematch from Super Bowl XLII) "It's the same teams, but in our mindset, a lot of new players. We had 16 guys and New England only has seven guys who were on that team. A lot of guys who are going to be key factors in this game did not play in that last Super Bowl. We have the mindset that this is a new game. It's the same teams, but a lot of different make-up. What happened in the last Super Bowl doesn't matter. What happened in the last game of the season doesn't matter. It's about what we do on Sunday and what we do in this game."
(on what team has the better offensive weapons) "Both teams are very talented. Tom Brady is a great quarterback. He has talented receivers, a good offensive line and a good running back. We are very similar. We have a good offensive line, talented receivers and good running backs. It should be a great game."
(on where he would rank Tom Brady in the list of best quarterbacks ever) "I'm not in to making predictions. It's not my job to list quarterbacks. He's obviously a future Hall of Famer. He's had a tremendous career. It's his fifth Super Bowl, so that's amazing. This is a team game. Win or lose, based on how the team plays. Hopefully the Giants can be the better team on Sunday."
(on whether he envisioned being in the Super Bowl when the Giants were on a losing streak) "When you're in the regular season, your focus is just on winning that next game. You're not envisioning the Super Bowl. You're not envisioning the playoffs. If you start thinking about those things, it takes the focus off what your job is that week. We didn't think about being on a losing streak. We didn't think about what happened the week before. You just go out and prepare for the next game and try to figure out a way to get a win."
(on his family support) "Sometimes you do need a little hug from your mom; or after some tough games I have to see my parents. You know that they'll always love you no matter what the performance is like or if you have a tough game. It's nice to know that they're on your side and no matter what happens, win or lose, they're going to give you a big hug or give you a pat, and hopefully cook you a home-cooked meal."
(on the Giants' receiving corps as opposed to in Super Bowl XLII) "We have a whole new receiving corps from the '07 year. In '07 we had great talent with Plaxico (Burress), Amani Toomer, Steve Smith was emerging and really started playing well in the end of the year and in the playoffs in the slot position. I had three talented receivers, who I had great faith to get open, there are some similarities in that matter with the guys now and the team, with Hakeem (Nicks), Victor Cruz and Mario Manningham. I'm just looking for matchups. If guys are double-teamed or they're covered; I have to have faith in each one of those guys to get open and make some big plays for us."
(on whether he thinks Peyton Manning is one of the best quarterbacks of all time) "Peyton has had an unbelievable career. Since I've been watching football, I haven't seen anybody play at a higher level than he has. It has always been my goal to get to his level of football, to get to his level of play. That is something that I've worked on. I've watched him in situations and I'm just amazed on some of the throws and plays he's made in his career. I try to ask as many questions and get as much help from him as I can. He's been great. He's been a great big brother and supporter of me. I know he'll me rooting hard for the Giants."
(on whether he will be on Peyton Manning's level if he wins another Super Bowl) "As a player, I don't think you think about your legacy. You prepare to play games, to win games. We have an opportunity to win a championship. That is all I'm think about – what this will mean to the New York Giants organization and our fans. What it will mean for certain players – for a guy like Deon Grant who has played for 12 or 13 years and never won a championship. I watched Deon play at Tennessee with my brother – what it would mean for him to win a championship. What it would mean for Victor Cruz or Hakeem Nicks to win a championship. You put your teammates and coaches above yourself and what it would mean to them."
(on whether it's difficult to keep their sharpness) "Hopefully it's not. Once we get into practice and meetings, you have that great focus and make sure you're getting all the work that you need done so that when you get to Sunday, game time, you're as prepared as possible; and you'll be at your best ability to play at a high level."