EAST RUTHERFORD, N.J. – The Giants will look to stretch their winning streak over Tampa Bay to four games in the regular season and five overall when they begin the second half of their season by facing the Buccaneers Sunday in Raymond James Stadium. A 52-49 defeat last week in New Orleans left the Giants with a 4-4 record at the season's midpoint. Tampa Bay has won two of its last three games – and led by 24 points at Washington in the game it lost - and is 3-4. Last week, the Bucs defeated the Falcons in overtime on the road, 23-20. Four of their seven games have been decided by one score. The Bucs won in New Orleans and Atlanta, two teams that defeated the Giants.
The Giants lead the regular-season series, 12-6, and won the last three meetings, in 2006, 2009 and 2012. They also defeated the Buccaneers, 24-14, in a 2007 NFC Wild Card Game in Tampa.
---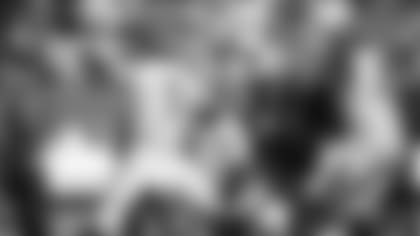 ---

TAMPA BAY BUCCANEERS OFFENSE

Tampa Bay's offense is ranked 11th in the NFL with an average of 353.3 yards a game. The Bucs are fourth in rushing (131.3) and 23rd in passing (222.0).


NEWS
>
[JPP debut looks promising for Sunday](http://www.giants.com/news-and-blogs/article-1/JPPs-season-debut-vs-Bucs-looks-promising-/edbc4da9-a14f-4d41-b498-8ffb81df5b88)
>
[Passing game thriving despite injuries](http://www.giants.com/news-and-blogs/article-1/Giants-passing-game-thriving-despite-injured-receivers-/bce4a369-25fd-4ecb-8f4e-b4577df5ee69)
>
[When will Larry Donnell return?](http://www.giants.com/news-and-blogs/article-1/When-will-TE-Larry-Donnell-return/9209ab10-b0d9-419a-813a-5b21b44994e7)
PHOTOS
>
[Know Your Opponent: Bucs Playmakers](http://www.giants.com/photos/photos/Know-Your-Opponent-Tampa-Bay-Buccaneers/d3891ef2-f202-4413-a0b0-a7983c9011d2)
VIDEOS
>
[Over/Under: Beckham's receiving yards](http://www.giants.com/videos/videos/Over--Under-Beckham-100-yards-Receiving/32eb6636-eb9e-4fdb-9307-34742719470b)

Tampa Bay is 16th in the league in scoring with an average of 23.3 points per game. Tampa Bay has been able to create explosive plays in both the run and pass game. The Buccaneers like to take shots down the field, and have completed 25 passes for at least 20 yards, and have eight rushes of 20 or more yards.
Quarterback Jameis Winston, the first overall selection in the 2015 NFL Draft, is improving each week and showing greater command of what is happening around him. He has completed 58.6 percent of his passes and thrown 10 touchdown passes and seven interceptions. But in his last three games, Winston has completed 64.9 percent of his passes, thrown for four touchdowns without an interception, and has five completions that gained more than 25 yards. Winston has also rushed for 91 yards and two scores. His backups are Mike Glennon and Ryan Griffin.
Doug Martin is fourth in the NFL with 612 rushing yards, and his 19 carries of 10 or more yards, and seven runs of 20-plus yards, each rank second. A complete player who can run, catch and protect, Martin has outstanding patience, vision and athletic ability. Charles Sims has big-play ability in the passing game off of screens. Second on the team in rushing and third in receptions, he is a productive runner after catching the ball. Bobby Rainey, the team's primary return specialist, displays foot quickness, good hands and run instincts. Jorvorskie Lane is an old-school fullback with strength and the ability to seal run lanes.
Tampa Bay's starting wide receivers and tight end are all 6-5 and 230-plus pounds. Split end Mike Evans, who leads the team with 24 catches, has a big catch radius. He excels at tracking deep passes, and adjusts well when the ball is in the air. Flanker Vincent Jackson is another big, strong target who shows toughness going across the middle and is best facing zone coverage. Undrafted rookie Donteea Dye (from Heidelberg College) has good speed and run-after-the-catch ability as the slot receiver. He made his first career start last week in Atlanta. Adam Humphries is a crafty receiver with underneath quickness. Russell Shepard has flashed toughness in limited opportunities.
Tight end Austin Seferian-Jenkins, a 6-5, 262-pounder, is a quarterback-friendly target with strong hands. He can stay on his feet after getting hit following a catch. Brandon Myers, who played for the Giants in 2013, is a positional blocker who is aware facing zones, and is savvy vs. man-to-man. Myers has shown the ability to make contested catches. Luke Stocker is a reliable outlet receiver. Cameron Brate, a tight end/H-back, has good hands and is a competitive blocker.
Tampa Bay's offensive line has both youth and experience. Left tackle Donovan Smith and right guard Ali Marpet are both rookie second-round draft choices. At 6-6 and 338 pounds, Penn State product Smith has a huge block surface, and plays with a powerful upper body stab in pass protection. Marpet, from Hobart, has good strength and footspeed. The left guard is 11-year veteran Logan Mankins, who has long arms and extra big hands, and is a nasty finisher. Right tackle Gosder Cherilus, an eight-year veteran, has excellent size (6-7 and 316 pounds) and length. Center Joe Hawley has good smarts, alertness and competitiveness. DeMar Dotson, who has 49 career starts, might be activated this week after missing seven games with a knee injury. The other reserves are Kevin Pamphile and Evan Smith.
---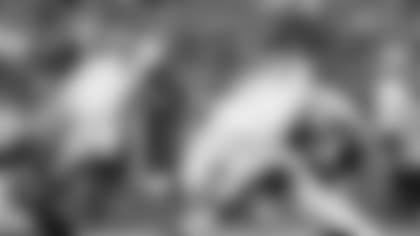 ---

TAMPA BAY BUCCANEERS DEFENSE

The Buccaneers' defense, which features six former Pro Bowlers, is ranked 15th in the NFL, allowing 352.1 yards a game. They are seventh against the run (107.6) and 14th vs. the pass (244.6). However, Tampa Bay has allowed 28.4 points a game, placing it 28th in the league in scoring defense. The Bucs have a plus-two turnover differential, and lead the NFL with nine recoveries of opposition fumbles. Their opponents have scored touchdowns on an NFL-high 69 percent of their trips inside the 20-yard line (20 of 29).
Defensive end Jacquies Smith leads the team with 5.0 sacks. He is a speedy edge rusher who has an explosive closing burst. On the other side, William Gholston plays with very good strength in both the run and pass. He is more of a power pass rusher. Tackle Gerald McCoy has rare speed and burst as a pass rusher. The Bucs this week placed nose tackle Clinton McDonald, one of their best run-stoppers, on injured reserve with a pectoral injury. Last week in Atlanta, Tampa Bay started third-year pro Akeem Spence, who played just his second game after returning from a back injury. Spence has good pass rush production and plays with natural leverage. Veterans Henry Melton and Tony McDaniel (out the last two games with a groin injury) are also expected to take on larger roles in McDonald's absence. Backup end George Johnson averages 43 snaps a game, and is an active player with toughness and solid pass rush skills. The Bucs this week re-signed defensive end Lawrence Sidbury, who has five career sacks.
Rookie middle linebacker Kwon Alexander, a fourth-round draft choice from LSU, plays every snap. He was named the NFC Defensive Player of the Week for his performance in Atlanta, where he had a game-high 11 tackles, an interception, a forced fumble and a fumble recovery. He was the first Buccaneers player to record an interception, a forced fumble and a fumble recovery in the same game since John Lynch on Nov. 24, 1996. Alexander, who leads the team with two interceptions, is an attacker with speed, play range and football intelligence. Strongside backer Lavonte David, a 2013 All-Pro, has impressive athletic ability and can cover running backs man-to-man. He leads the team with 58 tackles (30 solo). On the weak side, Danny Lansanah is a solid run feeder as a two-down backer. Bruce Carter is a run and chase linebacker who is productive vs. the run and displays sticky man-to-man coverage ability.
Cornerback Mike Jenkins plays with good recognition and reacts in zone coverage and has the speed to stay close with the fastest receivers. Johnthan Banks has outstanding length, and all the tools to play press coverage.
Strong safety Chris Conte contributes leadership and consistent production to the back of the secondary. He has good movement skills and range. Bradley McDougald has good coverage skills and ball awareness, and is best in man-to-man coverage. The nickel back is Alterraun Verner, who has transition quickness and closing speed. Jude Adjei-Barimah is a rookie backup who has received on the job training the last two weeks. Major Wright, Sterling Moore, Keith Tandy, D.J. Swearinger and Tim Jennings complete the secondary.
---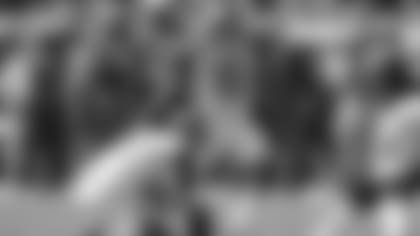 ---

TAMPA BAY BUCCANEERS SPECIAL TEAMS

Tampa Bay's special teams have been impressive. Rainey is responsible for all 27 punt and kickoff returns, and the Buccaneers are second in the league with a 28.2-yard kickoff return average, and fourth with a 12.1-yard average on punt returns. Their opponents have averaged just 4.7 yards per punt return, the league's fifth-best figure. Kicker Connor Barth was re-signed by Tampa Bay on Oct. 6 after the team released Kyle Brindza. Barth, whose 418 points are the fourth-highest total in Bucs history, has made all nine of his field goal attempts this season. Punter Jacob Schum, who is also the holder, has a 39.3-yard net average.
Playmakers on the Buccaneers first-team offense, defense, and special teams, presented by Nike