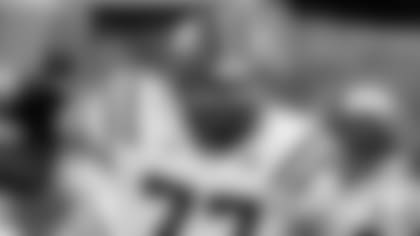 ](http://www.giants.com/media-vault/photo-gallery/7th-Rd-G-Eric-Herman/3f53ce6f-b72f-4323-b6fe-40a51dc30150)
PHOTOS: GUARD ERIC HERMAN
ERIC HERMAN
Offensive Guard
Ohio University
Height: 6-4
Weight: 320
Oregon, Ohio
Central Catholic High School
OVERVIEW
The Herman family has made regular visits to the Athens campus over the years, where Eric started since 2009 for the gridiron squad, while his sister, Ellen, was a standout for the Bobcats' volleyball team. The self-appointed "handyman" likes to fix things and that is exactly what he did for the Ohio offense since becoming a full-time starter at right offensive guard.
Sharing those duties as a freshman, the Bobcats ranked 102nd in the nation in rushing (112.0 ypg) and 106th in total offense (310.14 ypg) that first campaign. With Herman starting every game as a sophomore, Ohio improved to 47th in rushing (163.77 ypg) and 95th in total offense (326.08) in 2010.
The team steadily improved each campaign, as the All-Mid American Conference blocker posted 120 knockdowns for a squad that ended the 2011 season 23rd nationally on the ground (200.29 ypg) and 23rd in total offense, yielding an average of 449.29 yards per game.
With 131 more knockdowns as a senior, the two-time All-MAC performer saw the Bobcats average 203.31 yards per game rushing and 444.47 total yards, despite playing late in the schedule with an elbow contusion.
Herman joined the Ohio University program in 2008 after he had a stellar season on the offensive line and a defensive performance that saw him record 48 tackles and a sack in his senior year at Central Catholic High School. He earned first-team All-City Offensive and Defensive Line, first-team All-District Offensive Line, Co-Lineman of the Year, Division II Northwest District Lineman of the Year, first-team All-State Division II, and All-Toledo Blade honors.
Herman redshirted in 2008 at OU, but played 563 snaps the following year, and recorded a team-high 45.5 pancakes and the following season, he posted 60 pancakes. He would conclude his college career as one of seven Mid-American Conference representatives at the 2013 NFL Scouting Combine.
"This truly is a blessing to take part in the NFL Combine," Herman said. "I have so many people to thank for this opportunity. I look forward to going to Indianapolis to showcase my skills along with some of the best young football players in the country."
Herman's trip to Indianapolis was part of a busy month of February for the 319-pound offensive lineman. On February 2nd, the Oregon, Ohio-native competed in the Texas vs. The Nation All-Star Game in Allen, Texas alongside former teammate Tremayne Scott.
His trip to Indianapolis marked the second-straight season an Ohio University player earned an invitation to the NFL Scouting Combine. In 2012, Ohio wide receiver LaVon Brazill received the nod before he was drafted in the sixth round of the draft by the Indianapolis Colts. Herman finished his career by starting in 51 straight games and helped Ohio to its second-consecutive bowl victory.
Herman's hard work throughout his career escalated while training and performing for teams after the season as the draft approached. "It really becomes a business," the offensive guard noted. "You are the CEO of your own company. You really have to invest in yourself a lot more. You are a lot more self-centered in your body, and you are trying to fine-tune everything."
"The adjustment is pretty different. It really is amazing. I would have to say right now I am lifting for a purpose, for a goal instead of a conglomerate of people working to maintain the same goals at the same time."
While he is "all business" in hoping to take his game to the next level, he is also very proud that the Bobcats' future appears to also be very bright, especially coming off post-season bowl appearances in each of his four seasons on the team. Prior to his arrival, the Bobcats played in a bowl game just three other times.
"It really is incredible what we've done, and what we're capable of doing in the future," the soon-to-be departing senior states. "I don't think it has hit me yet. I feel like it's going to hit me in 10 years when they call us back for homecoming to honor us. It was an accomplishment, and a goal, and we made it. It's a great feeling, but I don't think it has really hit me yet."
2012 SEASON
The two-time All-Mid American Conference selection was a member of the 2012 Lombardi Award Watch List…Started all thirteen games at right offensive tackle, despite suffering an elbow contusion in the regular season finale vs. Kent State…Helped the Bobcats average 241.46 yards per game passing, 203.31 yards rushing and 444.77 yards in total offense, as he was on the field for 796 plays…Graded out at a 88% for blocking consistency, as he recorded team highs in pancakes (128) and knockdowns (131)...Also registered three decleaters…Helped pave the way for the Bobcats rushing attack which gained 175 yards on the ground against Penn State, as he totaled 13 pancake blocks...Graded 94% as he made seven pancake blocks on 48 plays to pave the way for Ohio's rushing game at Marshall which gained 199 yards...Added eight pancake tackles and anchored an offensive line that did not allow a sack and helped pave the way for 274 yards rushing at UMass... Graded 91% against Buffalo and recorded nine pancake blocks and nine knockdowns as the Bobcats rushed for 149 yards and had three rushing touchdowns...Recorded a season-best 17 pancake blocks against Akron, grading 90% to pave the way for 162 rushing yards by the Bobcats.
2011 SEASON
Herman earned All-MAC second-team honors, as he started all fourteen games at right guard…Logged a team-best 881 plays on the offensive line and also posted team-bests in pancake blocks (102.0), knockdowns (120.0) and decleaters (18.0)…Helped the team rush for over 200 yards on nine separate occasions throughout the year, including a season-best 297-yard effort at Central Michigan, as the Bobcats ranked 23rd in the nation in rushing (200.29 ypg) and total offense (449.29 ypg).
2010 SEASON
The sophomore started in all thirteen games at right offensive guard, helping the Bobcats generate an average of 326.08 yards per game in total offense…Finished the season with 60.0 pancake blocks and 11.0 decleaters.
2009 SEASON
Herman was on the field for 563 snaps, recording a team-high 45.5 pancakes and 4.5 decleaters…Shared right guard duties with Kadre Pinder, starting ten of the team's final eleven contests.
2008 SEASON
Red-shirted as a freshman.
INJURY REPORT
2012 Season…Suffered an elbow contusion in the regular season finale vs. Kent State.
HIGH SCHOOL
Herman attended Central Catholic (Oregon, Oh.) High School, where he claimed first-team All-City Offensive and Defensive Line honors...Named to the first-team All-District Offensive Line and Co-Lineman of the Year...Chosen Division II Northwest District Line-man of the Year...Added first-team All-State Division II and All-Toledo Blade honors...Was invited to participate in the Ohio North/South All-Star Game...Posted 13 solo tackles and 48 total tackles with four tackles for loss and a sack as a senior...Registered 27 total tackles, nine tackles for loss and seven sacks as a junior...Was a member of the 2005 Division II state championship team...Lettered in football three years and picked up four more letters as a weight man for the track-&-field squad.
PERSONAL
Industrial Technology major…Sister, Ellen, was a standout on the Ohio University volley-ball team…Son of Chris Herman and Debbie Verkin-Siebert…Born 10/05/89...Resides in Oregon, Ohio.