EAST RUTHERFORD, NJ - Perhaps the most memorable play of the Giants' victory over the Detroit Lions last week was not made by the winning team. Instead it was a sensational 87-yard touchdown pass from Drew Stanton to Calvin Johnson, one of the NFL's most talented receivers.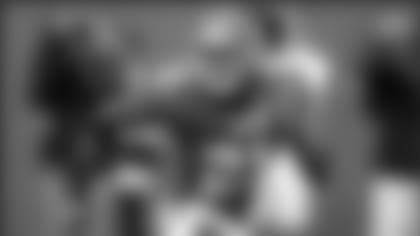 That long score is still fresh in the minds of the Giants' defenders, not because they like to dwell on their opponents' big plays, but because it could be instructive for what they will see Monday night in Dallas. After allowing 302 yards through the air to the NFL's sixth-ranked passing team – one that played the game with its Nos. 2 and 3 quarterbacks – the Giants now come up against the Cowboys, the league's No. 4 passing team, who have a former Pro Bowl quarterback in Tony Romo and a stable of terrific pass catchers in Miles Austin, Roy Williams, rookie Dez Bryant and tight end Jason Witten, who has played in the last six Pro Bowls.
"Honestly I think it's pretty much the same, just a few bigger names," safety Kenny Phillips said. "Roy is playing great this season. Dez, I guess, is meeting expectations, and Miles Austin, Witten - like I said, they have a lot of big names. They have playmakers and every team does. So we're just going to go out there and compete."
Dallas' passing attack will be the fourth the Giants have faced this season currently ranked in the league's top 11. The Indianapolis Colts, ranked second, threw for 250 yards in their victory over the Giants. Houston, No. 11 in passing yards, gained 171 yards through the air. Now they face the Cowboys, who have averaged 305.0 passing yards a game.
Romo threw three touchdown passes – and three interceptions – in losses to Tennessee and Minnesota the last two games. Austin, a Pro Bowler in 2009, has twice caught 10 passes and grabbed nine in another game this season. Williams has a team-high five touchdown receptions, including two last week. Bryant's 18 catches place him second among all rookie wide receivers. Witten has more than 500 receptions and 6,000 career yards. His backup, Martellus Bennett, has 13 catches in part-time duty this season.
"They're big and strong and powerful coming off the ball and they have a lot of big playmakers." Coach Tom Coughlin said. "Each one of them has exhibited that in this early part of the season."
To the members of the Giants' secondary, this is another in a long succession of weekly challenges. This is perhaps a bit more acute than normal, because of the size of the Dallas pass catchers. Williams is 6-3. Austin and Bryant are 6-2. Witten and Bennett are 6-6.
Defensive coordinator Perry Fewell was asked if he has seen a wide receivers group as big as Dallas'.
"No. And as talented? No," Fewell said. "Very impressive outfit."
"It doesn't matter how big, how short, how tall - it doesn't matter," said safety Antrel Rolle – who is listed at an even six feet. "You've got to play football at the end of the day. You can't play each guy the same way. You have to be more physical with these guys being that they're physical specimens. So we're just going into the game plan playing effective football, same football we play each and every week."
The formula has worked so far. The Giants – who will take a three-game winning streak and 4-2 record into the game – have the NFL's second-ranked passing defense, allowing only 172.0 yards a game. The front four certainly deserves much credit for that; the Giants are tied for second in the league with 21 sacks. But so do cornerbacks Terrell Thomas, Corey Webster and Aaron Ross and safeties Deon Grant, Phillips and Rolle.
"There have been a number of coverage sacks," Fewell said. "I couldn't give you the exact number, but I think that that group as a whole has worked really well together and there's been good coverage with sacks and there has been some not so good coverage and we've gotten some sacks, so it's worked hand in hand."
But everyone knows what lies ahead. The primary responsibility for stopping Austin, Williams and Bryant will be the responsibility of Thomas, Webster and Rolle.
"They're good cover guys," Fewell said of his corners. "They compete each and every down. Nobody is perfect, we can do some things to help them and they can do some things to help us from a coverage standpoint. I'm able to do different things within the game because of them and using their strengths and some of their abilities and they give me a lot of flexibility. They really do. Even in a ball game, I'll ask them, 'We haven't done this in a while. Can we do this?' And they're veterans and they're able to step up to the plate and say yes, we can do these things."
Thomas, who slipped and fell on Johnson's long touchdown last week, relishes the challenge of taking on Dallas' receivers one-on-one.
"We're corners – we're built for that," Thomas said. "We're used to being on an island, and there are not too many times we double-team unless we're trying to stop the run. But there are going to be some times where we're probably going to have to play a little man, a  zero coverage, a couple cover two's and we'll have to play a little deeper in that zone because their players can extend the plays, especially with Tony Romo being mobile."
"We have big corners," Phillips said. "We have Corey and Terrell and they're not small guys. So I think we match up pretty well with those guys."
The DBs are also realistic. Even if they play near-flawless football, it will be hard to shut down Dallas' terrific receivers all night.
"They're going to cause great mismatches for us," Thomas said. "They love getting Bennett and Witten out there at the same time. Obviously, those two guys create mismatches, and they do a great job of just executing their game plan. People are going to have to make plays. We're not going to be able to double team-players in certain positions and are going to have to line up mano a mano. We look forward to that.
"They're all different. Miles is a small, strong runner. Roy is a big guy that can run, too. He has long hands. I think Dez Bryant, the rookie, I think he's just a powerful receiver. He's a strong dude. He doesn't have his coordination and everything yet, but he's just a playmaker. Give him the ball in space and he makes the plays for them. So I think Romo does a great job of extending the play, getting the ball in their hands. So they cause some challenges for us. But they've got to match up against us, too."
It should be fun to watch.
*Defensive end Justin Tuck (ankle) and wide receiver Hakeem Nicks (hamstring) were among the four Giants players who did not practice today.
"Hopefully, they will work tomorrow," Coughlin said.
Neither player seemed particularly concerned about his injury.
"It's something we've been dealing with for a while now," Tuck said. "I'll play. I'll be out there tomorrow."
Asked about his hamstring, Nicks said, "It feels good. We took a cautious move today and we just wanted to be smart about it. I just started feeling it maybe last week a little bit, but it's nothing serious. I felt it a little bit yesterday so I just wanted to take a cautious move about it."
Nicks said he would "more than likely" work tomorrow.
*Fullback Madison Hedgecock (hamstring) and defensive end Mathias Kiwanuka (neck) also did not practice. Defensive end Osi Umenyiora (knee) was limited. Kicker Lawrence Tynes practiced fully for the first time since spraining his left ankle last Friday. The injury forced him to miss the Detroit game.
*Linebacker Keith Bulluck was not limited for the second day in a row and seems poised to return after missing three games with a toe injury. But with the Giants often using their three-safety alignment, it's unknown how much he will play.
"At this point, after me missing three weeks and us going with the defense that we've been going with and being successful, I've been in situations where on other teams where good players couldn't get on the field, not because of talent but because of how things were flowing," Bulluck said. "The flow of the way the season is going and believing in one of those things that if it's not broke, don't fix it.
"I hope just to go in when my package is called. I hope that gives them enough because that's been what I've been doing all week. Last week, I kind of struggled a little bit within the practice. I still was able to go, but I struggled because of my injury. This week, it's just been regular at practice."
*The Giants have their annual bye after the Dallas game. The Giants are 16-5 (.762) in games prior to a regular season bye, including 4-2 under Coughlin – who is 9-5 in his career in pre-bye games.
*The Giants trail in the regular season series with Dallas, 55-38-2. Last year, the Giants swept the Cowboys for the first time since 2004. On Sept. 20, Tynes kicked a 37-yard field goal as time expired to give the Giants a 33-31 victory before more than 105,000 fans in the first-ever regular season game in Cowboys Stadium. The Giants completed a sweep with a 31-24 triumph in Giants Stadium on Dec. 6.
*The Giants-Cowboys game is the second most popular NFL Matchup this week on the NFL Ticket Exchange Buzz Index, trailing only Brett Favre and the Minnesota Vikings' visit to Green Bay. The NFL Ticket Exchange Buzz Index utilizes a proprietary algorithm incorporating site traffic, ticket demand, sales volume and ticket revenue to calculate each game's popularity for the week.