Perhaps no unit will look as different as the secondary this season.
Among the newcomers are safety Jabrill Peppers, whom the Giants acquired in an offseason trade with the Cleveland Browns, and Antoine Bethea, a 14-year veteran, three-time Pro Bowler and Super Bowl XLI champion who will be his running mate. There are also three new draft picks in cornerbacks DeAndre Baker, Julian Love and Corey Ballentine. In addition, Sam Beal, a 2018 supplemental draft pick, is looking to make his debut after missing all of last season with a shoulder injury.
One of the few familiar faces in the room is safety Michael Thomas, who is coming off his first career Pro Bowl nod as a special teamer. A special teams co-captain, Thomas led those units with nine tackles (six solo) and one forced fumble. On defense, he also contributed 47 tackles (32 solo), two interceptions, six passes defensed, and a sack.
With so many new faces in the secondary, Thomas said having someone with Bethea's experience will pay dividends.
"With us bringing in Bethea, that brings a whole lot of leadership in the room," Thomas said. "I'm going into Year 8, but I'm still learning from him. I have a long way to catch him going into Year 14. He's a general out there. He's vocal. When he speaks, everybody listens."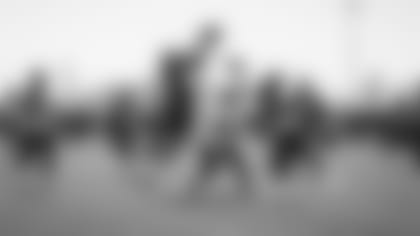 From the veterans to the rookies, Thomas is equally excited by the young talent the Giants acquired in the draft. Both Baker and Love were finalists for the Jim Thorpe Award, with Baker winning the honor in 2018 as college football's top defensive back. Ballentine, a sixth-round pick out of Washburn, was one of only three Division II players to be selected for the 2019 Senior Bowl.
All three have made their presence felt this offseason.
"For myself and all the vets that we brought in, we understand that we have a young group, but they're hungry," Thomas said. "They're coming in ready to compete. I haven't seen a rookie class like this just come in and they don't play like rookies. They're out there making plays from Day 1."
Peppers is one of the most buzzworthy additions, considering the high-profile trade that brought him to the Giants. Still just 23 years old, Peppers can make an immediate impact in both the secondary and return game for Big Blue.
"He played linebacker in college, but he's probably one of the fastest guys in the room with a track background," Thomas said. "He played at a big-time school (Michigan) and was a first-round pick. That's a guy right there who can step in from Day 1 and knows he can play any position on the field, regardless of the secondary or the front seven. He can blitz; he has that type of talent. (Defensive coordinator James) Bettcher loves that, especially with all the type of packages we use. The best part about him though is the way he's come in and competed and talking out there. I love it. That keeps practice live."
Bettcher, entering his second season with the Giants, is the one tasked with putting all the new pieces of the puzzle together. In his first season, the Giants improved from 31st to 24th in yards allowed, and went from tied for 27th to 23rd in scoring. Having that first year under his belt will help the cause in 2019.
"We'll definitely be able to take the next step," Thomas said. "For him to even bring in some of the vets that he's had experience with before at other places, like Bethea or Markus Golden, or a bunch of the guys that he's brought in from Arizona or Indianapolis. Bringing those guys in allows us to take the next step. It's not like last year where he's teaching a group a whole new defense. We're going into our second season with Bettcher so we can pick up where we left off."