EAST RUTHERFORD, NJ - This was not the kind of team unity Tom Coughlin was looking for.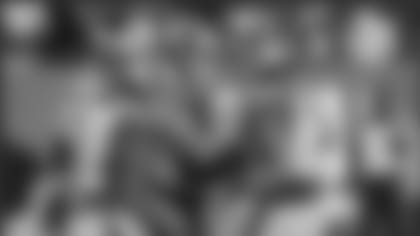 The Giants' offense has stumbled coming out of the blocks in most games this season. The unit did not score a first-possession point until Lawrence Tynes kicked a field goal in last week's victory over Jacksonville, the 11th game of the season. Last week, the team's defense got caught up in the early malaise, surrendering 17 points on the Jaguars' first three possessions. The Giants trailed by 11 points at halftime before rallying for a 24-20 victory.
As the 7-4 Giants prepare for their home game Sunday against Washington and the five-game stretch run that will determine their postseason fate, they will almost certainly enhance their chances of reaching the playoffs if they start games more productively.
Let's start with the defense, which is ranked second in the NFL. Jacksonville's 18th-ranked offense controlled the first half, amassing 236 yards, 145 on the ground, and 16 first downs while converting five of six third down opportunities as the Jaguars rolled to a 17-6 halftime lead.
"We did start slow and didn't play well in the first half," defensive coordinator Perry Fewell said today. "As I looked at the tape, I didn't think we played fundamentally as well as we could play. That could have been a reason for our slow start, because I thought instead of reading our keys and playing fundamental defense, we played a little bit of a 'guess' football, if you will. And so when you do that, you're not sure of what you're doing and why you're doing what you're doing and Jacksonville took advantage of us. I thought we got it together later on. But it took us two quarters to get it together."
"Absolutely, we've got to come out and start a lot faster," defensive tackle Chris Canty said. "We've got to play with a lot more intensity starting out the game. We've got to be more physical. I think in the first half they kind of took it to us a little bit and caught us off balance, and we had to regroup. So I think we've got to start games with a little sharper focus, a little more intensity, a little more physicality and execute - just flat out execute in every phase better."
The defense did that against Jacksonville in the second half, when it held the Jaguars to 92 yards, 62 on the ground, and 10 first downs. The improvement occurred after Osi Umenyiora and Justin Tuck implored their teammates in the halftime locker room to step and play better and with more passion.
"There is no excuse for that (first half performance)," Umenyiora said. "Given the situation and the fact that it was a game that we had to win, there was no excuse for coming out and playing the way we did. Guys didn't really realize that until they saw how serious we were at halftime. I don't think that's going to happen again, or at least I hope it doesn't."
"We didn't start with a lot of energy in the first half, so we have to make sure that our energy level is entirely higher than it was this past Sunday," Tuck said. "The first couple plays of the game we actually played pretty well. We couldn't get off the field on the third downs, and they ran the ball well in the first half. We did a lot of things to keep us out of our rhythm on defense, and a lot of it was letting them do that. In order to start fast, we have to be prepared to see something new. They caught us with some different things before, sitting up front and things like that. It kind of baffled us that first half."
In addition to the emotional words, the Giants benefitted from strategic adjustments made at the half.
"We went inside, made some corrections, and came back and played better in the second half," Tuck said. "We can't afford to do that every week. Every week, we're not going to be able to flip that switch like we were able to do on Sunday."
"There were a lot of things discussed at halftime," Fewell said. "We said, 'Let's not beat ourselves. We're beating ourselves right now because we're not executing what we should do and playing how we should play. We're kind of guessing and trying to find out where the ball is going.' Because the running back (Maurice Jones-Drew) was a smaller running back with speed and power, we were trying to find him instead of just, 'Hey, he'll come to us.' We just have to be in position to make the play."
Fewell would like the Giants to play with the same commitment and energy in the first half against Washington that they displayed in the second half vs. Jacksonville.
"One our mottoes is 'Start fast,'" he said. "That means let's see if we can get off the field, three-and-out, not give up any points in the opening drive or the beginning of the second half drive, sustain that intensity and that level of play, and then be able to finish strong. And so we did not start fast last week, but we were able to finish strong."
So did the offense. After the unit was limited to a pair of field goals in the first half, the Giants overcame two fourth-quarter deficits when Eli Manning threw two touchdown passes, including the game-winner to Kevin Boss with 3:15 remaining. But such rallies might not be necessary if the Giants could put more points on the board early in the game. So why have they been unable to do that?
"A couple of things have happened," offensive coordinator Kevin Gilbride said. "One, we've started games – five of them have been with turnovers and that obviously diminishes your chances to score. But if you look at six of them, we've come back to score on the next drive, so part of it is – whether we're too hyped up, we made a mistake, turned the ball over, maybe didn't anticipate one thing they did defensively."
Gilbride stressed that not scoring on the first series does not mean the possession was fruitless.
"Certainly you want to score, that's the obvious objective, but secondly, how much information can I can glean from what we're showing," he said, "because we're going to use a lot of different things to try to find out or get a sense of how they're going to try to defend this personnel grouping and this formation. And then that serves us pretty well down the road and it's been pretty beneficial. Certainly the number one objective is to score a touchdown, but a very important part is to try to get a sense of what they're doing defensively, schematically, and then be able to adjust and do the things necessary to win and score some points and we've been pretty good at that."
In Seattle, the Giants punted the first time they had the ball, then scored touchdowns on their next five possessions. In Dallas, they were intercepted twice before reaching the end zone on their third possession.
Like many teams, the Giants script approximately their first 15 plays.
"Fifteen is usually the starting point and then we'll pull off of it if I've accomplished what we needed to see – we'll pull off and adjust immediately," Gilbride said. "Sometimes, I get a feel. Seattle, for example, we got a sense right away what they were doing so we pulled off right after the fumble with Kevin (Boss), but came back to score five touchdowns in a row after that.
"You try to score a touchdown, there's no question that's an objective, but you're also trying to gather as much information so you can make the necessary adjustments so that you can score enough points to win the game."
The Giants last scored a first-possession touchdown on Dec. 21, 2009 at Washington. Their streak of 13 consecutive games without one is the NFL's longest.
"Last week was a start," Manning said in reference to Tynes' early field goal. "I think it was the first time that we've scored points on the first drive. So we've just got to keep going from there. Hopefully, that can be a new start."
*Wide receiver Devin Thomas, who joined the team a week ago, expects to make his Giants debut against the Redskins, the team that drafted him with the 34th overall selection in 2008.
"That's the game plan," Thomas said. "I've learned a lot since I've been here, and they're trusting me now to be able to put me out there. So hopefully, this will be the game for me and I can help out and contribute."
Thomas said he has been able to help his new team prepare to play his old one.
"I definitely have a little insight, so I give little tidbits here and there, help the guys out a little bit just to know what to expect a little bit more," he said. "You can watch film and get a lot of things, but it's just with individual players I help them out a little bit this week. So I gave them a little help."
*Thomas also played for Carolina, so he is in his third offensive system this season.
"Honestly, I think it helped me," he said. "Coming here from the short stay in Carolina and then being from D.C., there's terminology that kind of trickles through all of them," he said. "And especially coming here, it all kind of makes sense because I heard it from there, the other two places. So it actually helped me out."
*First-round draft choice Jason Pierre-Paul picked up his first two sacks last week, which Fewell said is the result of the improvement the rookie has made.
Asked how much Pierre-Paul has progressed, Fewell said, "Tremendously. We have a lot of defense in and it's very difficult for a young player to recall and remember all that defense. He's been able to do that, and now he's capitalizing and he's able to make some plays. Some of the plays we would hope he would make earlier in the season, but now because we've been able to spoon feed him, he has been able to make those plays now. We look for that trend to continue.'
Fewell said Pierre-Paul has become more instinctive.
"I think his game is starting to come around and he's become a good run player and a good pass player," Fewell said. "Plus, he's playing two positions for us. He's playing defensive end, and in the sub package he's playing defensive tackle. He's got some things to remember."
Pierre-Paul views the sacks as a beginning and not an achievement in themselves.
"I'm just getting better," he said. "That's all I can do - just get better. It's just basically come here every day and coaches expect this out of me, I just got to do it to my full potential. So whatever they ask me to do, I'm just going to do it."
*Steve Smith (pectoral) returned to practice today on a limited basis and caught some passes, but it is not known if he will be able to play on Sunday. David Diehl (hamstring/hip) was also limited and did a little more than yesterday, but Coughlin was not prepared to say if he will face the Redskins.
"It will be a process," Coughlin said. "We are going to have to see how he is today, how he is tomorrow and the whole deal."
Umenyiora (knee) was also limited, as he was yesterday, when he practiced on a Wednesday for the first time in several weeks.
"I'm definitely feeling better, no question," Umenyiora said. "My knee feels great and my hip feels good. Everything is feeling good right now."
Shaun O'Hara (foot), Shawn Andrews (back), Hakeem Nicks (lower leg) and Will Blackmon (chest) did not practice. Aaron Ross (back) practiced fully.
Three starters did not practice for Washington: Safety LeRon Landry (Achilles), cornerback Carlos Rogers (hamstring) and running back Ryan Torain (hamstring). Tackle Trent Williams (shoulder), guard Artis Hicks (thigh) and defensive lineman Kedric Golston (elbow/groin) were limited.
*The Giants, FedEx and New York Cares will host their 13th annual Coat Drive on Sunday, when the Giants host the Washington Redskins at New Meadowlands Stadium. Fans are encouraged to donate their gently worn coats by bringing them to any of the FedEx trucks and volunteers located at each stadium entrance prior to the game. New York Cares is a non-profit organization that helps warm thousands of men, women and children by providing winter coats to homeless shelters, community organizations, centers for battered women, and agencies serving senior citizens across the metropolitan area.