UCF LB Shaquem Griffin was the Defensive MVP in the Knights win against Auburn in the 2018 Peach Bowl:
When it comes to recruiting, blue-blood programs seemingly have every advantage over the UCFs of college football. There is one exception, however: family loyalty.
Shaquill Griffin politely turned down multiple powerhouses during his recruitment as a high school player out of Florida because in order to get his signature on a letter of intent, teams also had to ask for his twin brother's. Shaquem, born seconds after Shaquill, had his left hand amputated at the age of four due to a rare condition before birth.
"It meant the world -- to not only me but to us," Shaquem said at the 2018 Senior Bowl in Mobile, Alabama. "It just goes to show that no matter the circumstances, no matter the situation or no matter what somebody or what team feels about us, at the end of the day, the choice is going to be us. It didn't matter how big the team was or the name of the team; it was the fact that if you don't want both of us, then you're not going to have either of us.
"And having different schools that didn't offer me and offered my brother and gave him the opportunity to play at schools like Florida State and Ole Miss, my brother didn't hesitate to say, 'You know what, I'm sorry, thank you for the offer, but I will not be attending your school because if it's not with my brother, then I can't be there.'"
George O'Leary, the head coach of the University of Central Florida at the time, made them the offer.
Shaquille, a cornerback, went on to be drafted in the third round last April by the Seattle Seahawks, becoming a starting member in the vaunted Legion of Boom. Shaquem, a versatile outside linebacker, started all 13 games in the Knights' perfect 2017 season. The 13-0 campaign was capped by a victory over Auburn in the Peach Bowl, where Shaquem was named Defensive MVP of the game after recording a season-high 12 tackles with 3.5 for loss and 1.5 sacks.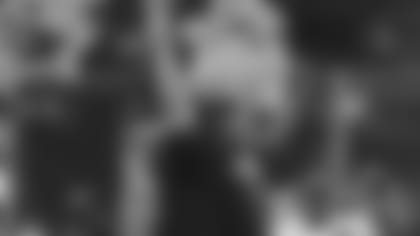 Now Shaquem is bringing his story to a larger stage, which he hopes is an NFL field. The Senior Bowl will help him showcase that he is more than the subject of a feel-good feature.
"In a way, I do feel that way," Griffin said. "It's been like that throughout my entire life where I had to make sure that me showing what I can really do on the field can dictate what people see when they see me playing. And it's going to be like that this week. But as long as I'm going fast and making plays, they're going to forget how many hands I have. I think it's not going to matter after that."
Griffin's biggest asset to pro teams will be his versatility, which is only enhanced by his speed.
"Several teams have talked to me about several roles and what will I fit into their scheme," Griffin said. "The thing is about me having this opportunity to be here at this Senior Bowl and being able to show different teams what I can actually do from a rush standpoint to being inside the box and making tackles on running backs or just lining up at safety and being able to cover receivers in one-on-ones and stuff -- that allows me to create a platform for coaches to see at the end of the day this guy can literally be put anywhere from D-line to the back to DB's. So it's only going to help me be able to excel in any scheme I am put in."
One of those players he might find himself covering in Saturday's game is Wisconsin tight end Troy Fumagalli, who can appreciate what Griffin is going through. Fumagalli had his left index finger amputated in the first month after he was born due to underdeveloped limbs.
Both are proving "it's not a disability until you make it one." That was Griffin's point-blank response to a question about his message to any kid with a physical or mental disability.
"I want to be known as a guy who's going to give everything he's got no matter what it is," Griffin said. "I want to be known as a guy who's going to have a motor and just run all over the field. And not only having a motor all over the field but enjoying it while he's doing it. I'm never going to look at myself as a guy with a disability. I'm never going to look at myself for having a handicap because if you have a handicap, then that means you're only limited to certain things. And I'm not limited to anything. So after this week, everybody will know who I really am and what I'm really fighting for."