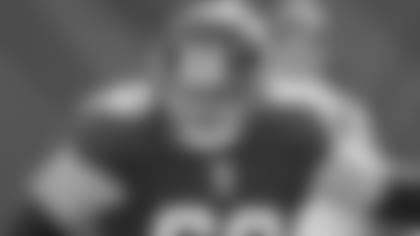 The offensive then embarked on an 83-yard drive that concluded with Eli Manning's game-winning 13-yard touchdown pass to Plaxico Burress with 35 seconds remaining. Center Shaun O'Hara was standing a few feet from Strahan, so it's logical to assume he was fired up by the impromptu speech.
"It's funny, because I watched that too and I don't remember that happening," O'Hara said this week. "As you could tell, we were all stone-faced. We were focused, because we had talked as an O-line right before we went out there that this game is on us. We were all visualizing, because we had just talked about some of the things we were doing protection-wise during that game and some of the things that they were doing with Junior Seau and how they were running twists. They were changing up their front a little bit, so we had just had a conversation and I know Richie (Seubert) and Chris (Snee) and Dave (Diehl) and Kareem (McKenzie), we were all kind of visualizing what we were about to go do. I think it was great that Mike went over and it was great that they caught that on film, because I don't remember him saying that at the time.
"When you're getting ready to go out there and do your job the last thing you want to hear is somebody saying, 'Come on, let's go.' That was Stra. We knew that we couldn't stand there and talk about it, we knew that we had to go out and do it. We couldn't stand there and get the pom-poms out. That group, we were pretty confident in our abilities. We knew that was the defining moment in the game."
O'Hara recalled that moment this week, as the Denver Broncos and Seattle Seahawks prepare to meet Sunday in Super Bowl XLVIII in MetLife Stadium. In an 11-year NFL career spent with the Cleveland Browns and the Giants, O'Hara was always a go-to guy for the media, a player who stood at his locker and answered questions in times both good and bad. So it's only appropriate that in his post-playing life, O'Hara has gone over to the media in full force, working for NFL Network, ESPN Radio and Giants.com.
And he seems to be having almost as much fun.
"I'm really enjoying it," O'Hara said during a break from his duties at NFL Network. "I didn't have any idea that I would be doing this much. I think when you're playing it's hard to really have your mind on what you're going to do next. I always felt like if I was doing that, then I wasn't 100 percent committed to what I was doing. But I always felt comfortable talking to the media and I always felt comfortable in front of the camera. I was always a fan of football before I ever got to the NFL, so for me it's been great to still be around the game and to be a part of the game. I know a lot of players, when their careers are over with, the football for them ends. They're not around the guys, they're not around the game, they're not around the players. So it's been great for me from that aspect."
This season, O'Hara traveled from his home in North Jersey to the NFL Films Studios near Philadelphia. But the travel was much more arduous in his first year with NFL Network.
"I flew to L.A. and back for 20 weeks straight from the start of the season to the end of the season, Thursday to Sunday," O'Hara said. "A couple times it was Wednesday to Sunday, but I almost became a pilot I flew that many hours. You know it's bad when you know the pilots by first name and you know the flight attendants. You start to see the same people."
O'Hara was also a game analyst on some ESPN Radio broadcasts this season.
In addition to his weekly work for the NFL Network, O'Hara is a regular contributor to the Giants' media enterprises. He appears on the Giants Postgame Live on MY 9 with Roman Oben, Amani Toomer and Russ Salzberg, is a preseason analyst on the Giants Radio Network/WFAN, and he appears on Plays that Changed the Game, Giants Game Report and Inside the Film Room on Giants.com.
"It's really been awesome the way that it's worked out, because of my relationships with the Giants, with a lot of the players and with the staff and coaches over there and the organization," O'Hara said. "It's really been great to be a part of that outside of my football career. And then on the national scale to be able to cover and talk about all of the teams and watch all of the games, I think it's been great and it gives me different exposure and it also gives me different looks. It's easy to talk about the Giants, I know them so well. But some of these other teams, it's been a nice challenge trying to get to know them as well as I know the Giants."
As a starter in one of the most memorable Super Bowls every played, O'Hara has been asked often this week for this thoughts on the current matchup and his recollections of the Giants' victory six years ago. He said similarities exist, because like the Giants, Seattle must find a way to shut down that scored the most points in NFL history.
The Giants, who had played the Patriots in that year's final regular-season game, knew exactly what they had to do to shut down an offense that had scored 589 points.
"I'll never forget that first Wednesday meeting we had with Tom Coughlin," O'Hara said. "The first thing he said that day was, 'We can beat this team if we get to Tom Brady.' And that was the mantra for the whole Super Bowl, we've got to get to Tom Brady. He doesn't have to be sacked; it could be hurries or hits or just knocking him down. That became a self-fulfilling prophecy right there. Our defense took it to heart. They said, 'Look, if we get to Tom Brady that gives us a chance to win the game.'"
The Giants registered five sacks of Brady and hit him at least twice that often. Brady threw for 266 yards, but it took him 48 attempts to reach that total (5.5 yards per thrown). Conversely, Eli Manning threw for 255 yards on 34 passes (7.5).
Seattle was ranked first in the NFL in both total and scoring defense in 2013 and was tied for eighth with 44 sacks. The Seahawks will try to harass Denver quarterback Peyton Manning as consistently and harshly as the Giants got after Brady.
"I think Seattle is saying the same thing we did," O'Hara said. "No disrespect to our defense at that time, but this secondary of Seattle is better. They're also very good because they have a great rush. They can get to the quarterback.
"They have so many different rushers. It's not like they have Dwight Freeney or they have Robert Mathis on one side and you can game plan for them. If you game plan for Cliff Avril they're going to hit you with Michael Bennett or they're going to bring Bruce Irvin in there. They can hit you from so many different angles. It's going to be an interesting part to the game to watch, because Peyton knows that and Peyton's going to use those quick, three-step or five-step drops and get that ball out quick. That's going to set up a rhythm and then what happens is the defense says, 'Hey, the ball is coming out quick, so now we're going to start jumping all the routes.' It's going to be a little bit of a chess match going on there."
One that O'Hara, as a former longtime player and Super Bowl champion, is well-qualified to analyze.