Among the NFL fraternity exists an actual brotherhood.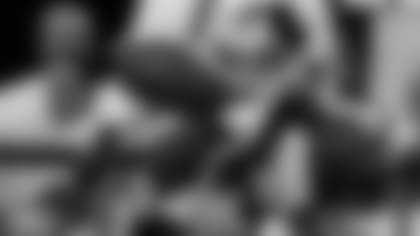 According to the Pro Football Hall of Fame, there are 364 documented sets of brothers who have played professional football. Of those, just 23 families have two or more siblings who have appeared in a Super Bowl.
Then there is the innermost circle: world champion brothers. And Super Bowl XLVIII yielded another pair.
Joining the Mannings, Bahrs, Sharpers, Fahnhorsts, and the (other) Smiths, Seahawks linebacker -- and recently named Super Bowl MVP -- Malcolm Smith became the second member of his family to earn a Super Bowl ring. His brother, wide receiver Steve Smith, played an integral part in the Giants' victory in Super Bowl XLII over the then-undefeated New England Patriots.
They are now part of a club that includes brothers Eli (XLII, XLVI) and Peyton Manning (XLI), Chris (XV, XVIII) and Matt Bahr (XIV, XXV), Darren (XLIV) and Jamie Sharper (XXXV), Keith (XVI, XIX) and Jim Fahnhorst (XXIII, XIX, XXIV), and Bubba (V) and Toby Smith (VI).
En route to Seattle beating Denver 43-8 this past Sunday at MetLife Stadium, Malcolm Smith recorded 10 tackles, recovered a fumble and returned an interception 69 yards for a touchdown that put the Seahawks up 22-0 before halftime. Just like he Malcolm watched his brother in Glendale, Ariz., six years ago, Steve was on hand witness his kin become just the ninth defensive player to be named Super Bowl MVP.
"I've always just been taught to run to the ball and good things will happen for me," Malcolm said during his MVP press conference. "I played running back as a kid, so it's always been the most exciting thing to have the ball in my hands. I've always been trying to get to that point."
While Steve didn't pick up the award in his big game, the fellow USC product, who played for the Giants from 2007-2010 and still holds the franchise record with 107 receptions in 2009, caught five passes for 50 yards in the 17-14 victory over New England.
Each reception was as critical as the next with four of them converting third downs, including a 12-yard catch from Eli Manning on third-and-11 with 45 seconds left in the game. The next play was Plaxico Burress' go-ahead touchdown catch.
Malcolm was asked which sibling had the better Super Bowl performance.
"That was a pretty big play," he said regarding his brother. "I guess me, but I was there for that game, and I couldn't have been happier for him. Just a great moment."