EAST RUTHERFORD - For the first time ever, excited Junior Giants Fan Club members attended a special event at the Timex Performance Center, the brand new, state of the art training facility for the New York Football Giants.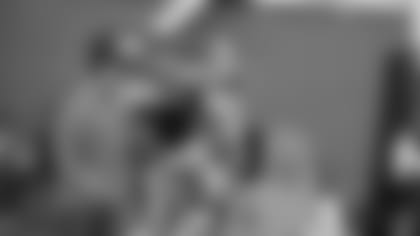 More than 200 eager and excited young Giants ran into the Timex field house and overtook the indoor facility where the team practices year-round.  Giants Alumni Charles Way hosted the event, and greeted the young fans and their parents by introducing the guests of honor – current Giants players - Linebacker Zak DeOssie,  and Running Backs DJ Ware and Andre Brown.  These Giants interacted with their young fans by assisting them with warming up and teaching them various football drills.
"This is a great event, great for kids, allowing them to interact with the players at our new facility for the first time, " Way said.
From running around the field house, to getting a picture taken by the Giants team photographer, to getting autographs from the attending players, everyone had the experience of a lifetime.
Junior Giants Fan Club members Michael and Andrew, both 10, threw the football around the field as other kids participated in various drills going on at the same time.  Michael expressed his excitement of being able to play where their favorite team practices as, "Love it, it's great."  Andrew added, "It's really fun.  We get to do all these great activities."
Parent Jeffrey Nelson said, "Very nice event, great event.  Great for the kids and the community," as he took pictures of his son catching a football at one of the drill stations.
If your child is a member and did not get an invitation to attend this event, more Junior Giants Fan Club member events are currently being planned, so all members will be invited this year.
If you are NOT a member, what are you waiting for?  Log on to www.GiantsVIP.com and sign up TODAY!  You don't want to miss any more exciting events and benefits that come from being a member of the official Giants fan club for kids – the Junior Giants Fan Club!
In the meantime, keep checking back on the Junior Giants Fan Club site and GiantsVIP.com to be updated on all the news, stories, interviews and current and upcoming events.