Special Olympics of NJ Shows the Giants How to Punt Pass & Kick!
EAST RUTHERFORD, N.J. – Some of New Jersey's best athletes could be seen putting on a clinic at Giants Stadium this morning, although many of them weren't professional athletes. Approximately 60 kids and young adults who are involved with Special Olympics showed their football prowess during the Giants' annual Punt Pass & Kick event with Special Olympics of NJ. They were joined by Giants K Lawrence Tynes, QB Jared Lorenzen, WR Kevin McMahan and CB Geoffrey Pope.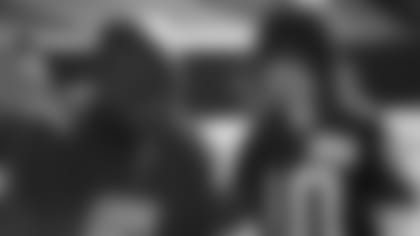 WR Kevin McMahan hangs out with a young athlete during the Giants annual PPK event with Special Olympics of NJ.
The athletes each took turns seeing how far they could punt, pass and kick the football during a friendly competition that everyone enjoyed. Lorenzen even got in on the action, and amazed the kids as he threw a 70 yard pass to McMahan. Once all the athletes had completed their three components, the final on-field event of the day was a touchdown celebration clinic that had no shortage of top performances.
Prior to bringing the crew up for lunch in the Giants' press box, Tynes huddled the group together, and shared some final words of encouragement. "You are all fantastic athletes," said Lawrence. "I want to make sure that each of you remembers that you can accomplish anything that you believe is possible. Everyone is told in their lifetime that there are things we cannot achieve, but if you believe that you can do it, then you have made it possible. I hope that all of you go out and achieve your dreams."
"The partnership between the Giants and the athletes of Special Olympics New Jersey demonstrates a culture of support through sport, where professionals recognize the achievements of our athletes through acceptance on the playing field, said Marc Edenzon, President of Special Olympics of NJ. "Special Olympics New Jersey sincerely thanks the Giants; the owners, the staff and the players for their support and for organizing such a wonderful event."