EAST RUTHERFORD, N.J. –** The Giants' defense pitched a shutout Monday night against the Minnesota Vikings, but the team was not credited with one. That's because the punt team surrendered an 86-yard return by Marcus Sherels, the opposition's only score in a 23-7 Giants victory.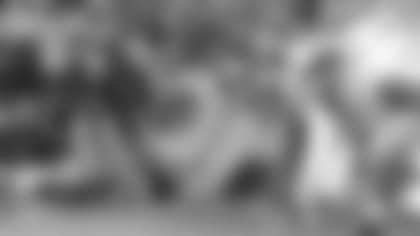 "It's not what our expectations are," special teams coordinator Tom Quinn said today. "It's not what the organization, the team, mine, Larry's (Izzo, his assistant), anyone. It pisses you off and I hope it pisses everyone off in this building. To take away a shutout from the defense, that hurts. How many times do we get opportunities to do that? So, it's frustrating."
How tough has this been on Quinn?
All three return scores covered more than 80 yards. On Sept. 15, Denver's Trindon Holliday brought a punt back 81 yards. Two weeks later in Kansas City, Dexter McCluster returned one 89 yards for a score.
"It's always something different, so you're shuffling guys in and out and trying to find solutions that way," Quinn said. "There are not that many guys to do that with. They've all been different circumstances, and it just hasn't been good enough for anyone. We're all embarrassed by it."
Quinn said coverage breakdowns contributed to Sherels' long return the other night.
"What went wrong?" Quinn said repeating a question. "We didn't get good releases as the gunners and we didn't get great releases up front. We have to sprint faster to the ball and squeeze to the ball. We have to make the play on that guy."
Asked what he meant by "squeeze to the ball," Quinn said, "The ball is kicked to the right, we have to squeeze to the right. We can't have everyone going down the middle of the field. We have to go where the ball is kicked."
The Giants rank 31st in the league in punt coverage. They are 19th in kickoff coverage. On Monday, Minnesota's Cordarrelle Patterson fielded a kickoff nine yards deep in the end zone and returned it 69 yards to the Giants' 40. It was the longest kickoff return allowed by the Giants this season.
Quinn said the kickoff team did not relax when the ball sailed to the back of the end zone.
"They didn't slow down," he said. "We knew the guy was an excellent returner. Had an opportunity with our L3 to make the play, he's got to lay out to do it. I don't know if he would have made the play, but he probably would have drawn the penalty because he did have his hands on his back. He didn't do it. Two and the one have to take care of it and we have to get that done. A couple of guys lost leverage. He's running full speed, he puts his foot in the ground and he came out full speed the other way. He's an excellent returner. We did not do a good job on that one."
This week, the Giants face the Philadelphia Eagles, for whom Damaris Johnson is averaging 25.7 yards on 15 kickoff returns and 7.9 yards on 10 punt returns. They also have the dangerous DeSean Jackson in reserve.
"We face great returners every week," Quinn said. "They're all very good in this league, so you have to step up to it."
Victor Cruz was asked why he enjoys playing in Philadelphia.
"We don't enjoy playing there," he said. "It's something we have to do. We have to go out there and take care of business on the road. We just enjoy that. Coach (Tom) Coughlin always preaches road warriors, so we have to go out there and perform on the road. That's the only way you're going to have some success in this league." * The Giants filled the roster spot created when David Baas was placed on injured reserve by signing offensive lineman Dallas Reynolds, who was with the team from Oct. 1-5. Reynolds started 14 games at center last season for the Eagles. * Three Giants did not practice today (in addition to running back David Wilson, who will not play because of a neck injury): running back Brandon Jacobs (hamstring), defensive tackle Shaun Rogers (knee) and cornerback Corey Webster (groin).
Four players were limited: linebacker Spencer Paysinger (ankle), cornerbacks Terrell Thomas (knee) and Jayron Hosley (hamstring), and tight end Adrien Robinson (foot). * Paysinger, who has started every game this season, played for Philadelphia coach Chip Kelly at Oregon. Although Paysinger was not drafted, Kelly said his former player's success is no shock.
"I'm not surprised at all," Kelly said. "Pays was awesome when I coached him at Oregon. He was a real leader of our defense, a true three down guy that can play in nickel situations. He's got great coverage ability. He's an outstanding special teams player. I always thought Pays was a guy that for some reason was probably underrated in college than he should have been. He was really the glue for us on the defensive side of the ball. I'm not surprised at his production. That's the Spencer Paysinger that I know. He was the backbone of our defense that took us to a National Championship game and he's doing the same thing in the NFL."