Over the last two seasons, Spencer Paysinger, Jacquian Williams, and Mark Herzlich have been core special teamers for the Giants. Now the third-year players are charged with making up the face of Giants linebackers as they take their games to the next level.
So is Kyle Bosworth. He shares the same background and mindset, and that's why he fits right into the competition.
Eisen's Mailbag: 's role
Michael Eisen answers fan questions about Rookie Eric Herman...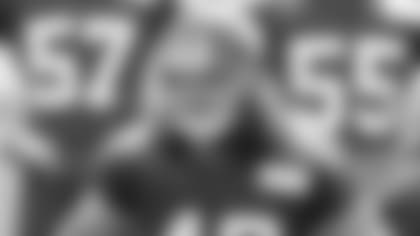 Interesting Facts about the Giants](http://www.giants.com/photos/photos/Interesting-Off-the-Field-Player-facts/dccdf554-b660-492c-911f-4ab5aeb94574)
"Backers are big, quick guys," Bosworth said. "So they're definitely utilized a lot on special teams. The more you can do, the better. But any position they have me playing, I'll be happy to do, and I'll do it as hard as I can. I love special teams. I've been playing it every year since my rookie year, and I just know that's part of me and I have absolutely no problem doing it."
Since 2011, Paysinger leads the Giants in total special teams tackles and came within one of Washington's Lorenzo Alexander for most in the NFL last season with 20. Meanwhile, Williams is second and Herzlich is fifth on the Giants over the last two years (with Tyler Sash and Zak DeOssie in between).
Bosworth, who has 15 career special teams tackles in 25 games with his former team in Jacksonville, says buying into that facet of the game is the best way to punch a spot on the roster. From there, he can expand his role.
"Special teams is just 'your guy is not going to make the play and you're going to make every single play,'" the UCLA product said. "If you're on the offensive side of special teams or the defensive side, it's run, tackle, hit – pretty much universal throughout. One of the only differences is individually how much energy and time are you going to put into yourself into making special teams better. Not me, personally, but other people might not put as much emphasis on it, but that's the biggest momentum changer in a game – is special teams. So the harder you work to that, it's going to be obviously showing on the scoreboards."
Bosworth was brought in this past May after three seasons with Jacksonville, where he was originally signed as an undrafted rookie in 2010. He played in all 16 games last season and started the first five weeks at linebacker, when he made 14 tackles and an interception in that role.
So far at training camp, Bosworth has shown he can take on more.
The Giants bolstered their defensive line this offseason to improve the run defense, but he is making it a collective effort. He has repeatedly found his way into the backfield during practices to smother the run. Part of that is due to the big bodies in front of him.
"There are some tackles and noses that I've never seen so big," said Bosworth, listed at 6-1, 236 pounds. "And it's not like they're fat. They are solid muscle, and they can move. It's crazy. But it's definitely something to be behind guys like that because they can almost take up two players at each time. So you have a lot more versatility and mobility to make plays as backers when you have such a stout defensive line."