FORT LAUDERDALE, Fla. – No quarterback has started more games for Tom Coughlin than Mark Brunell.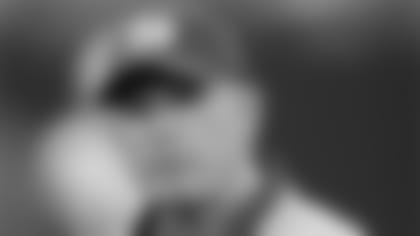 No quarterback has started more games for Tom Coughlin than Mark Brunell who is now the backup QB in New Orleans.


Coughlin coached the Jacksonville Jaguars for eight seasons and Brunell was his starting quarterback for every one of them. Brunell was 63-54 in the regular season and 4-4 in the postseason for Jacksonville.
Brunell is now the backup to New Orleans quarterback Drew Brees. On Sunday, the 17-year veteran will suit up for his first Super Bowl when the Saints meet the Indianapolis Colts in Super Bowl XLIV in Sun Life Stadium. Brunell credits Coughlin for helping him succeed and survive in the NFL for so long.
"If there is one coach that I've had that I'm truly thankful for, it's Coach Coughlin," said Brunell, 39. "I'm thankful for a lot of coaches I've had, but he holds a special place in my life, because he gave me an opportunity to come to Jacksonville. I was with him for eight years and I learned a lot from him. It was really a privilege to play for him. I was thrilled for him when he won the Super Bowl. He put a lot of years in and he certainly deserved it."
Now Coughlin is glad Brunell has finally reached football's biggest game.
"I'm very happy for Mark and for his family," Coughlin said. "He has truly paid his dues.
It's very meaningful, the fact that Mark, in this stage of his career, would be a part of the number one offense in the National Football League and have a chance to go to the Super Bowl, in what is truly a very exciting time for the Saints and the city of New Orleans."
Brunell had thrown just 27 passes in two seasons with Green Bay when Coughlin sent third and fifth-round draft choices to the Packers to acquire the left-handed passer in the Jaguars' first-ever trade. In their second season together, Jacksonville advanced to the AFC Championship Game. They made it again in 1999.
In eight years under Coughlin, Brunell passed for 25,698 yards and 142 touchdowns and Jacksonville reached the playoffs in four consecutive seasons.
Asked why he traded for a quarterback with such scant experience, Coughlin quickly recites a list of Brunell's virtues.
"His athleticism, his strong arm, his confidence, his outstanding feet, the quality of person that he was - all of that," Coughlin said. "I am sitting there saying, 'I'm going to have an expansion team offensive line. If the quarterback can't move, I'm going to get somebody killed.' So, the athleticism - he ran a 4.65, with a rifle arm. He could stick it in there anywhere. He could make plays with his feet, with his arm, with his head. When he was looking at the game that way, he was outstanding; you want to play two-man against us? Go ahead. Phew! He's coming out of there whether it was called or not.
"Mark is a solid, solid man. He's a family man. Great, great kids, great wife. A guy with values, just solid values. God fearing guy. You could trust Mark with anything, he was just that kind of guy."
Brunell credits Coughlin with nothing less than giving him a career.
"If Coach Coughlin didn't have the interest in me coming out of Green Bay, I don't know where I would have landed," Brunell said. "I was very fortunate to be a part of the Jaguar organization. Jacksonville is my home now. I owe that man a lot."
Coughlin was a tough and demanding coach of the expansion Jaguars. He instilled discipline and insisted that players adhere to his rules. Brunell liked the structure, but he wasn't afraid to question the coach's methods at times.
"He was great," Coughlin said when asked if Brunell was a pleasure to coach. "I remember once we were out in the spring on one of our OTA days and it's just pouring rain. We're out there practicing and he looks at me and says, 'Coach, it's the spring. Do we have to stand out here and try to throw the ball in the driving rain?' I started laughing. I couldn't believe he said it to me, first of all."
Just for the record, they did stay out in the rain.
"Everyone who plays for Coach Coughlin knows he is tough," Brunell said. "But that's what was good about him. He was tough, expected a disciplined football team and he got it. He demanded a lot of his players and that's the way it should be. There were probably guys that didn't agree with his style or his approach, but I tell you what, he's one of the best in the business and I have a lot of respect for him."
Coughlin reached the Super Bowl for the first time as a head coach in his 12th season (he went once in seven years as an assistant, with the 1990 Giants).
Brunell waited 17 years to get this far. In the last three seasons he has started one game – the season finale last month in Carolina, where the Saints rested Brees – and thrown 30 passes. But he's been rewarded with the trip to the game every player wants to be a part of.
"We have some rookies on this team and it's their first year in the NFL and they're in the Super Bowl," Brunell said. "This doesn't come around very often. This is very special. We have a coach on our staff (Joe Vitt) that has been in the NFL for 31 years and this is his first Super Bowl. This is my 17th year and this is my first Super Bowl. So this is pretty special and to be a part of this is pretty cool.
"I don't know how many more opportunities I'm going to have. So I'm certainly going to take advantage of it and enjoy every moment."
"You take a team that has never been to the Super Bowl - it does make you stop and think about how precious those opportunities are," Coughlin said. "You tell the players, but you wonder if they get it. Do you understand how many chances you get to do this, to be in that position? A lot of people never get that chance. A lot of coaches never play in that game, never. Imagine that. To do this all your life and not get there. I have only been there twice."
Coughlin and Brunell fell a game short twice in Jacksonville, losing at New England in 1996 and at home to Tennessee three years later, despite holding a halftime lead.
"We got in (to the AFC Championship Game) in '96 and '99 and you're always thinking, 'We didn't get it this year, maybe we'll get it next year,'" Brunell said. "But that never came until this moment. It's tough to get to this game, it's tough to win this game. That's why we understand how special this really is."
Coughlin is happy the football gods finally brought Brunell to the Super Bowl.
"It is a good story because in the end he never gave up," Coughlin said. "He would scratch, he persevered. I'm sure that is why he is there."
If you'd like to submit a question or comment to Michael, click here.