Notes and statistics from the Giants' season-opening 36-31 loss to the Dallas Cowboys.
The Giants lost their season opener for the third season in a row, the first time that's happened since 1981-83.
The Giants lost for the first time in five games in AT&T (formerly Cowboys) Stadium. The five games have been decided by a total of 21 points.
The Giants are 49-35-5 in both season-opening games and road openers (a coincidence). They are 32-23-5 in season-opening road games.
Tom Coughlin is 10-8 in openers, including 4-6 with the Giants.
The Giants fell to 0-6 in season-opening games vs. the Cowboys (1965, '86, '95, 2007 and 2012). They won the Super Bowl in two of those seasons (1986 and 2007). Only the 1995 and 2012 meetings were Giants home games.
The Giants are 16-22-1 on Sunday night, including 9-12-1 on the road. They are 7-12 vs. Dallas in prime time.
The temperature in Arlington was 96 degrees at game time, so the stadium's retractable roof was closed. The Giants lost their second indoor game in a row (Atlanta last season) and are 10-6 under Coughlin and 28-18 all-time in regular-season dome games.
The Giants finished with 428 net passing yards, the fourth-highest total in franchise history. The top three: 510 vs. Tampa Bay on Sept. 16, 2012, 505 vs. Washington on Oct. 28, 1962 and 443 at Cincinnati on Oct. 13, 1985.
They rushed for 50 yards, their lowest total since they ran for 29 yards vs. Philadelphia on Nov. 20, 2011.
The Giants' good work on offense was undone by their six turnovers (three fumbles, including a muffed punt, and three interceptions. That ties their highest number of turnovers in a game in Coughlin's 10 years as head coach. They last had six turnovers at Green Bay on Dec. 26, 2010 in a 45-17 loss. The Giants also turned over the ball six times at Baltimore on Dec. 12, 2004 in a 37-14 defeat.
The Giants committed turnovers on each of their first three offensive possessions – two Eli Manning interceptions sandwiched around a David Wilson fumble.
They were the first team to turn over the ball on each of their first three offensive series since Nov. 11, 2012, when the Chicago Bears fumbled twice and threw an interception on their first three possessions in a 13-6 loss to the Houston Texans.
On the first snap of the season, Manning's screen pass to the left side for Wilson was intercepted by defensive end DeMarcus Ware, leading to a Cowboys field goal.
The Giants had last committed a turnover on their opening possession on Dec. 16, 2012, when Asante Samuel picked off Manning's first pass – on the game's second snap - in Atlanta.
Ware's interception marked the first time the Giants turned over the ball on their first offensive play since Oct. 7, 2012, when Ahmad Bradshaw fumbled at home vs. Cleveland.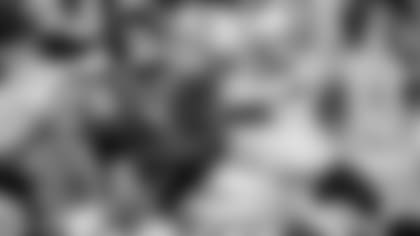 The Giants turned over the ball on their second offensive series when Wilson fumbled on his first carry of the season. The fumble was forced by safety Barry Church and recovered by defensive end George Selvie. In 2012, Wilson, then a rookie, fumbled the ball away on his second carry, also in the opener vs. Dallas. That fumble was forced by Sean Lee and recovered by Church.
The run of turnovers continued on the third possession, when Manning's pass for Jerrel Jernigan was picked off by safety Will Allen.
Wilson also fumbled on the Giants' first possession of the second half. Church scooped up the ball and returned it 27 yards for a touchdown. The fumble was forced by defensive tackle Nick Hayden.
Church scored the first defensive touchdown by a Giants opponent since New Orleans' Elbert Mack returned an interception 73 yards for a score on Dec. 9, 2012. It was the first time an opposing defense scored on a fumble return since the Colts' Fili Moala had a one-yarder on Sept. 19, 2010.
Wilson was replaced after his second fumble by Da'Rel Scott, who led the Giants with just 23 rushing yards. With the Giants trailing, 30-24, Manning's short pass caromed off Scott's arm and the ball flew directly to cornerback Brandon Carr, who returned it 49 yards for a touchdown.
The Cowboys were the first Giants opponent to score more than one defensive touchdown in a game since Nov. 25 2007, when Darren Sharper, Dwight Smith and Chad Greenway all scored on interception returns for Minnesota.
The Giants' fifth turnover of the game occurred in the third quarter when Chris Jones' punt hit Trumaine McBride on the upper arm. DeVonte Holloman recovered on the Giants' 16-yard line and two plays later, Tony Romo threw a four-yard touchdown pass to Jason Witten.
The Giants had one takeaway in the game. Ryan Mundy, their new starting free safety, intercepted a Romo pass that was tipped by Prince Amukamara and returned it 91 yards to the Dallas' one-yard line in the first quarter. It was the longest interception return by a Giant since Oct. 23, 2006, when Kevin Dockery brought a pick back 96 yards for a touchdown – also in Dallas.
The interception was the second of Mundy's career. He had one for the Pittsburgh Steelers in 2011 that he returned five yards.
Eli Manning completed 27 of 42 passes for 450 yards, four touchdowns and three interceptions. The yardage total was the second-highest of his career. He threw for 510 yards vs. Tampa Bay last Sept. 16.
The Giants are 13-13 in regular-season games in which Manning throws for at least 300 yards and 2-3 when he has at least 400 yards.
The Dallas game marked the ninth time he has thrown at least four touchdown passes in a game, incuding one five-touchdown game. The Giants are 4-5 in those games.
Victor Cruz, Hakeem Nicks and Rueben Randle each had five catches and each had more than 100 receiving yards (Cruz, 118; Nicks, 114; Randle, 101). It is the first time in Giants history they had three receivers with more than 100 yards in a game.
Cruz has 13 career regular-season 100-yard games, Nicks has 11 and this was Randle's first.
Cruz had touchdown catches of 70, 18 and 10 yards. He is the first Giant with three touchdowns in a game since Wilson on Dec. 9, 2012 vs. New Orleans (a kickoff return and two rushing scores). It's the second three-touchdown game of Cruz's career. He also accomplished the feat vs. Cleveland on Oct. 7, 2012.
None of the above three players led the Giants in catches. That honor belonged to tight end Brandon Myers, who had seven receptions for 66 yards and a touchdown in his Giants debut.
Defensive end Justin Tuck led the Giants with eight tackles (three solo) and shared a sack with Linval Joseph. That raised Tuck's career total to 50.0 sacks. He is the sixth Giant to reach that plateau since sacks became an official statistic in 1982.
Cornerback Terrell Thomas, who missed the previous two seasons after undergoing knee surgery, played his first regular-season game in 980 days (since Jan. 2, 2011). He started the game as the nickel corner and had seven tackles (six solo) and a pass defensed.
Tackle David Diehl (thumb) and center David Baas (knee) did not make the trip, so the Giants kept the alignment on the starting offensive line they practiced with all week. Kevin Boothe moved from left guard to center, James Brewer stepped in at left guard and first-round draft choice Justin Pugh started at right tackle.
Brewer started for the first time in his three-year career. He played in six games last season as a reserve and on special teams and did not get into a game as a rookie.
Pugh was a) the first Giants rookie to start a season opener since linebacker Greg Jones in 2011; b) the first Giants offensive rookie to start an opener since tight end Michael Matthews on Sept. 9, 2007, also in Dallas; c) the first Giants rookie offensive lineman to start an opener since Chris Snee in 2004 (Snee still plays right guard, now next to Pugh); and d) the first Giants first-round draft choice to start a season opener since tight end Jeremy Shockey in 2002.
In addition to Pugh, four Giants made their NFL debuts: Michael Cox, Larry Donnell, Cooper Taylor and Brandon Mosley.
Several veterans made their debuts with the Giants, including Mundy, Myers, Cullen Jenkins, Mike Patterson, Shaun Rogers, Josh Brown, Dan Connor, Louis Murphy and McBride.
Cornerback Prince Amukamara suffered a concussion when his helmet collided with Mundy's as they made a tackle…Connor left the game in the first half with a burner and was replaced by Mark Herzlich…Linebacker Spencer Paysinger was treated for cramps in the third quarter.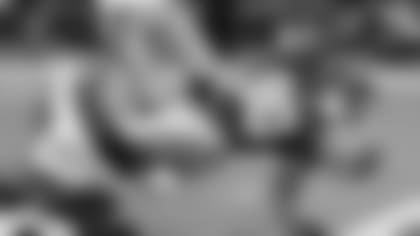 The Giants' three question marks entering the game played. Defensive end Jason Pierre-Paul, fullback Henry Hynoski and Cruz had not formally declared last week that they would play. Pierre-Paul and Hynoski had been listed as questionable and Cruz as probable on the team's injury report on Friday.
Neither JPP, who had back surgery on June 4, nor Hynoski, who had knee surgery in May, played in a preseason game. Cruz played in the first two preseason games before suffering a heel contusion three weeks ago vs. Indianapolis.
Cruz's exploits are detailed above. Pierre-Paul had one tackle – an 11-yard sack. Hynoski was targeted once, but did not catch a pass.
The Giants' inactive players included three draft choices: defensive tackle Johnathan Hankins (second round), defensive end Damontre Moore (third) and quarterback Ryan Nassib (fourth). Also inactive were defensive end Adewale Ojomo and the three players who did not make the trip because of injury: tackle David Diehl (thumb), center David Baas (knee) and tight end Adrien Robinson (foot).