EAST RUTHERFORD, NJ - When Chase Blackburn joined the Giants five years ago, not even his agent tried to pump him up with false hope.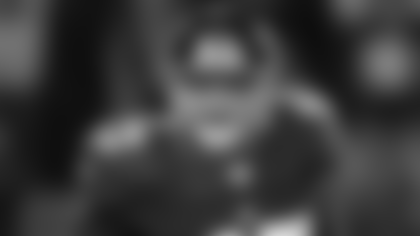 "My agent told me, 'You're going in as a camp body,'" Blackburn said. '"You're the guy that has to do everything in your power to make this team – and hopefully to make the practice squad.'"
Even those closest to Blackburn couldn't be blamed for having low expectations. He was signed on June 21, 2005, just a month before training camp began. Blackburn was a college star at Akron, not exactly a hotbed of NFL talent. He did look like a player brought in to take training camp reps so more prominent players wouldn't burn out.
Despite those humble beginnings, Blackburn has carved out an impressive career. He has played in all but one of the Giants' 80 regular season games since his arrival, missing the finale his rookie year after suffering a neck sprain. Blackburn has started 18 of those games, including 16 the previous two seasons. He has played all three linebacker positions (though he prefers playing in the middle), led the Giants in special teams tackles each of the previous five seasons and was a first Pro Bowl alternate as a special teamer in 2008.
But Blackburn joined the team the same year as recently-retired Antonio Pierce, a middle linebacker who was a Pro Bowler and team captain for the 2007 Super Bowl champions. Since his arrival, the Giants have drafted linebackers Jonathan Goff, Bryan Kehl, Gerris Wilkinson, Clint Sintim, Phillip Dillard and Adrian Tracy and brought in veterans Brandon Short, Kawika Mitchell, Danny Clark, Michael Boley and, this year, Keith Bulluck. Three years ago, they moved Mathias Kiwanuka from defensive end to strongside linebacker.
Some have come and gone, others have had big games and seasons, but few have made the continuous contribution Blackburn has. Along the way, Blackburn has learned a lot about effort, attitude and perseverance. He likes to say that no one considers him a starter when the season begins, but he plays with the first team late in the year.
"I think it's a free agent-type thing," Blackburn said. "Guys drafted in the seventh round and free agents kind of have that chip on their shoulder at all times. They always feel like they get snubbed a little bit. And that's how you've got to play. You've got to come out to feel like you have to make a team every year. I think that's the way I look at it every single time I come out."
The Giants have several players who were chosen late in the draft or not selected at all yet have been vital, long-term players on the team. Ahmad Bradshaw, Michael Johnson, Madison Hedgecock (Rams) and Dave Tollefson (Packers) were seventh-round draft choices. Center Shaun O'Hara, an 11-year pro, and guard Rich Seubert, the longest-tenured Giant at 10 years with the team, were, like Blackburn, not drafted.
No matter how many years they thrive in the league, free agents retain their underdog status. They get used to the team bringing in potential replacements for them.
"Look at Rich Seubert," Blackburn said. "He has been here for 10 years now. He's never not had competition for his job. It's how it is. They're always looking to better the team and if that's the position they feel they need to secure, they're always going to bring in guys to compete."
Blackburn experienced it again last month, when the Giants signed Bulluck, an 11-year veteran who played at a high level for the Tennessee Titans. Goff had taken the first-team snaps at middle linebacker during the spring workouts. Dillard, selected in the fourth round, was given a serious look at the position. Wilkinson was considered. Then Bulluck arrived, and Blackburn was happy to have him as a teammate.
"It's another person in the mix and it makes us better," Blackburn said. "Any time you have competition, it makes people better. So I think bringing a veteran like that, he can show us some things and teach us things that we may have not thought of a certain way or things like that. He brings a new character into the mix."
Perhaps because they share humble beginnings, the Giants' free agents stick together and boost each other's spirits.
"We talk about how to handle it mentally," Blackburn said. "How to mentally deal with the pressures of feeling like you can't quite get your foot in the door all the way and get job security. But you know what, it's not a bad thing to not feel like your job's not secure. I think it's a good thing because it makes you better."
Seubert said he identifies with Blackburn's mentality.
"I think we just both came from the same spot," Seubert said. "I think we have something in common. You know Chase is a good kid, and as long as I've been here, every free agent that's made the team, I kind of took a liking to. I think it's just, you know, work harder. You're going to work for what you get. You're going to work for your opportunity. When you get the opportunity you can't let it slide by. I think it's hard to make the team to begin with. If you're starting on the fourth team getting only a couple reps, you've just got to wait for something to happen and show the coaches what you've got. I think once you get the opportunity you can't let it slip away. You've just got to make the most of it."
O'Hara made the Cleveland Browns' roster as a rookie free agent in 2000 and joined the Giants four years later. Last year, when free agent cornerback Bruce Johnson was a rookie battling for a roster spot, O'Hara encouraged him. Johnson made the team and played in every game, with four starts.
"I think that mentality, that's kind of your upbringing, if you will, in the NFL and it stays with you," O'Hara said of his free agent status. "You almost remind yourself about it every year. But you realize that the mindset you had going into your rookie year is probably what helped you make the team. So I think that mentality serves you every year from there on out. I remember talking with Bruce Johnson last year. You know, he came in as a free agent and certainly has a lot of potential, and you almost feel like there's a responsibility to go up and talk to them and just let them know that you can make the team. You can do it. Don't feel slighted. Don't feel like anybody is better than you. You know, you just flew under the radar and now is your chance. Guys like Bruce, guys like Richie, Chase - they all took advantage of the opportunities."
"I give those guys a lot of respect because they're still here," Johnson said of his fellow free agents. "We come in here undrafted at the bottom of the totem pole. So we have to work extra hard. Most guys probably play a couple years in the league, but these guys have been here for a long time and they're still kicking. I have a lot of respect for those guys, and I'm just trying to learn from them to just stay in this league as long as I can."
He'd do well to follow Blackburn's example. Despite the parade of linebackers through the team in recent years, he is still thriving. Most of his time in this camp has been spent with the second unit on the strong side. But the coaches continually remind him that he must know all three linebacker positions. And Blackburn remains a dependable presence on special teams.
"I love special teams," Blackburn said. "If you can't tell on game day that I love special teams, then I've got something wrong with me, because I feel like I put it out there. I know it's my livelihood and I enjoy it a lot. My goal every year is to lead the team in special teams tackles. So far I've been able to accomplish it in my career, and I hope year six is no different. If I'm not starting, I'll lead the team in special teams tackles. That's definitely my goal."
Special teams, of course, are how many young, undrafted free agents like Blackburn get their foot in the NFL door. It's a message he passes on to younger players who are in the position he once occupied.
"I try to teach the young guys - I'll grab a couple linebackers, young free agents or whoever needs the help and let them know that I'm there, especially on special teams," Blackburn said. "That's how you're going to make the team, most likely, as a free agent or late-round draft pick. You have to be good on teams, so I will stay with them for whatever they need. I'm there for them. No doubt."
Blackburn is very proud of his climb from obscurity to respected veteran. But he's not ready to reflect on how far he's traveled, because he believes so much is left to accomplish.
"When I talk to kids in some of the schools I go to, I tell them to take pride in whatever they do," Blackburn said. "If I was going to be a garbage man, I would be the best garbage man I could be. I'm going to do it to the best of my ability. It's the same thing I'm going to do here. I'm going to take pride in what I do and make sure that I can do everything I can to help this football team."
*General manager Jerry Reese held an impromptu news conference at the University at Albany today and it was suggested to him that the Giants have been "somewhat overlooked."
"Well, that's okay," Reese said. "I'm not sure if we've been overlooked, but it's been relatively quiet here. We kind of like that. We're just going about our business trying to get prepared for the season. The season is what's most important to us. Players are really working hard and have great attitudes out there. So we expect to have a strong season and our players to play well."
*The Giants had an abbreviated workout this afternoon with few big-play highlights. The most noticeable was an Eli Manning screen pass for Danny Ware that was tipped by Michael Boley and intercepted by Jonathan Goff.
*Safety Michael Johnson (back spasms) joined the list of players not practicing. Also sitting out were wide receivers Steve Smith (groin) and Sinorice Moss (groin), guard Chris Snee (knee), cornerback Corey Webster (glute) and tight ends Kevin Boss, Travis Beckum and Jake Ballard (hamstrings) and Scott Chandler (hip flexor) and rookie receiver Tim Brown (groin and hamstring).
*Coughlin said he expects Bear Pascoe will be the only tight end in uniform for the preseason opener against the Jets on Monday.
*Giants treasurer Jonathan Tisch visited camp.
*The regular season opener against Carolina is one month from today.
*Tomorrow is the last time the Giants will be on the practice field twice in the same day. But they will not have two full workouts, because the morning session was changed to a jog-thru from 10:30 - 11:15 a.m. They will have a full practice from 6:05-8:05 p.m. They will practice once each remaining day of camp, which concludes a week from tomorrow.
*Thursday's attendance at camp was 1,410, bringing the camp total for 10 days and 16 practices to 25,350.
Leonard Marshall, who won two Super Bowls with the Giants, and author William Bendetson will be in camp Saturday from 1-4 p.m. to sign copies of their book, *When the Cheering Stops, about the Giants' 1990 championship season. With interviews from over 50 players and coaches, along with research like viewing Bill Belichick's original defensive game plan in Canton Ohio, fans can relive one of the most memorable teams and Super Bowls in NFL history.
*Tickets are available for the first Giants Kickoff Luncheon to be held in the New Meadowlands Stadium. The charitable event will be held on Wednesday, September 1, 2010 from noon to 2 p.m. in the Gridiron Club, located between the Pepsi and Verizon gates at the New Meadowlands Stadium.
In addition to introducing the 2010 Giants, the team will honor Amani Toomer with the Giants Alumni Man of the Year Award.
Hackensack University Medical Center and the Giants have begun a partnership that gives fans a unique opportunity to support one of the nation's healthcare leaders while showing support for New York's favorite team. All proceeds from the luncheon and raffle will be donated to a very special program: the Touchdown Fund: Score for Kids, Cardiac and Cancer launched earlier this year by the Medical Center and the Giants and focusing on three core areas of healthcare.
Giants fans can join Head Coach Tom Coughlin and the entire team and the raffle will include a grand prize trip to Super Bowl XLV in Dallas (including round trip airfare and hotel accommodations for four nights).
For more information, call 201-996-3722.
---
Matt Dodge is the punter, but he has the same performance swings most rookies have, which is to say he's very inconsistent. As Tom Coughlin said yesterday, Dodge will boot a 65-yard punt, then follow it with a 40-yarder. So he must be more consistent. Jeff Feagles has been working with him and that has been a tremendous benefit to Dodge. It has also helped Dodge become a dependable holder for Lawrence Tynes. Dodge had never held before he joined the Giants, but Tynes said today he has a lot of confidence in the rookie. Dodge has a very strong leg. Given time, he should be an outstanding NFL punter.
If you'd like to submit a question or comment to Michael, click here.
--- ](http://www.nyg2010.com/)**