EAST RUTHERFORD, N.J. –** Steve Weatherford did not have a day he will remember fondly, finishing with a 30.3-yard gross average and a 30.5-yard net average on four punts. His first punt traveled 51 yards, but the others went 36, 27 and seven yards, the latter the result of a deflection. It was not considered a block because it passed the line of scrimmage, so Weatherford's streak remains intact – none of his 553 career punts has been blocked.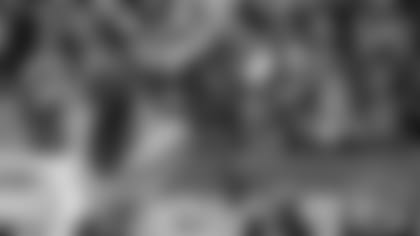 Giants vs. Raiders Photo Timeline "I guess when it rains it pours, because the three punts I had previous to that obviously weren't my best efforts considering it was into the wind and everything and then when I do get the wind at my back, I get a seven-yarder," Weatherford said. "Frustrating, but that's kind of been how it's been for me. There have been lots of ups, lots of down. The previous game I had two punts that I really felt helped us win the game and then coming into this week, having lots of confidence going into the game and then - it's just been tough."
Weatherford punted for the Jets in 2010, so he has kicked in MetLife Stadium since it opened. But yesterday stood out for a reason a punter would prefer not to encounter.
"That's definitely the windiest I've ever seen that place," Weatherford said. "And it wasn't like it was a sustained wind, it was really gusty so it could go from 15 to 28. It's not like I had a windometer out there or whatever, but it was difficult to make adjustments, because you didn't know how hard it was blowing or what direction it was blowing. So it was definitely difficult for me, because all of my punts were backed up into the teeth of it. I was just waiting for my chance to turn around and hit one with the wind so I could flip the field but I didn't get that opportunity. But our defense played great."