EAST RUTHERFORD, NJ - Some defensive coordinators might come down with a stomach flu trying to devise a game plan to thwart Peyton Manning and his Indianapolis Colts' offense. But Perry Fewell is positively energized by it.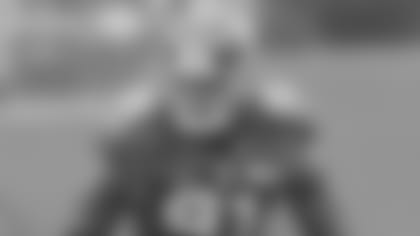 "That's the great thing about coaching in the National Football League, you have an opportunity to go against the best, you have the opportunity to face Peyton Manning, so it's a challenge to go against him to see if you can match wits with him," Fewell, the Giants' defensive coordinator, said today. "If you coach against New England, you go against (Tom) Brady and (Bill) Belichick. It's always exciting and fun to go against the best in our league, so yeah, you definitely get jacked up. You're jacked up during the course of the week, you're trying just to calm down to make it to Sunday."
Fewell and his defensive players will get their opportunity to slow down, impede, frustrate and, ideally, shut down, Manning and the Colts offense when the Giants visit Lucas Oil Stadium Sunday night.
The Colts lost their season opener in Houston, 34-24, but their offense still gained more yards (463) and threw for more yards (419) than any other NFL team on Kickoff Weekend.
"The amazing thing about last week is even though the Houston team held the ball in the second half – did a nice job that way – he (Manning) still threw for well over 400 yards and 70 percent completions – and didn't throw an interception on 57 passes," Coach Tom Coughlin said. "You like to see, as you look back over, exactly how much time of possession other people have.  However, they were 14-2 a year ago and were the lowest - the 32nd team in the league in time of possession."
Manning, of course, is not only a four-time NFL most valuable player and one of the very best players in the NFL, he is arguably the greatest quarterback in history. Indianapolis has averaged 13 wins a year in the previous six seasons, thanks largely to the skills and smarts of Manning and his receivers.
No current Giant is more familiar with Manning on the field than linebacker Keith Bulluck, who faced him 20 times in 10 years as a member of the Tennessee Titans. So what, exactly, is the key to sullying Manning's plans?
"You've just got to be disciplined in defense." Bulluck said. "You've got to believe in the game plan that you have going in, and you definitely have to be disciplined in your zone drops and your man coverages and your disguises. You have to make him see ghosts sometimes and try and frustrate him as much as possible. But you definitely have to be disciplined in assignment and sound against the Colts."
"You prepare until you run out of time and then you prepare a little more," defensive end Mathias Kiwanuka said. "He's one of the most intelligent players that we have in the NFL, and you have to understand that he's going to look at us and try to pick us apart. You have to be able to match up and make those adjustments."
Safety Antrel Rolle faced Manning last season as a member of the Arizona Cardinals. Rolle intercepted a pass, but had nothing to celebrate after the game. Manning completed 24 of 35 passes for 379 yards and four touchdowns in a 31-10 Indianapolis rout.
"It's not one thing that he does incredibly well," Rolle said. "He does a lot of things incredibly well. He's good at what he does, and he takes pride in what he does. Speaking to (wide receiver) Reggie Wayne in the offseason, he's a guy that studies his opponent 40-to-50 hours a week. In my eyes, that's insane, but that's why he's at the level he is at."
"As good as Peyton is, this really isn't about him when it comes to us," defensive end Justin Tuck said. "It's about us. As long as we do what we need to do and don't allow their style of play to get us rattled or their style of play to get one side playing one coverage and the other side playing the other and one D-line running this blitz - I mean, as long as we're on the same page, we'll be fine."
But Manning and the Colts do present a conundrum that goes to the heart of what Coughlin and Fewell preach each week. The Giants' initial defensive priority entering every game is to stop the opposition's rushing attack. But in 2009, the Colts finished 32nd – that's last – in the NFL in rushing yards, averaging just 80.9 yards a game. Last week against the Texans, Indianapolis ran only 10 times – all by Joseph Addai – for 44 yards. Manning, meanwhile, threw those 57 passes and picked up where he left off last year, when the Colts were second in the league in passing yards.
The Colts soar on the accuracy of Manning's passing. They seem to run only as an afterthought. So does the Giants' defensive priority change because running the football is not the strength of their opponent?
"No, it doesn't," Fewell said. "If you don't stop the run, Joseph Addai will shred you and he is a very big runner. He does a great job of cutting back. I call him a jump cut runner and so that's one of the priorities. You must stop the run against these guys."
"No change at all," cornerback Corey Webster said. "They have a couple good running backs too-Joseph Addai and Donald Brown. But I think you always have to stop the run. I think stopping the run just shows the physical presence about what your team comes out to do. It sets the mentality of your team. The whole object of the game - physical toughness - comes from the line of scrimmage, whoever wins that battle. So I think that's what creates the physical toughness of the team. Stopping the run, that starts up front between the offensive and defensive lines. So we just feed off those guys. We've just got to feed off of them as DBs and just kind of meet them halfway.
"You've still got to stop the run. It doesn't matter who you're playing against. That lets you know where you're at. That sets the tone for the rest of the game. If they can't run the ball and have to put it in the air 50 or so times, then we know they became one-dimensional."
It sounds good in theory, of course, but the Colts have been a pass-heavy team for years and won many games in which their only offensive dimension was through the air. It doesn't always work – see last week – but it's successful often enough that perhaps the focus should be on grounding Manning's aerial show.
"I think that this team is probably closest to an old school 'run and shoot' team that's around these days," Bulluck said. "So I think that you definitely have to be keyed into the pass, but also they get into a lot of stuff off their play-action. So it's tough on a defense, but that's what the week of practice is for - get out there, go through your assignments and you've just got to believe in everything you're playing.
"They don't really run the ball too much, so a five-yard pass on first down is just as good as a five-yard run on first down for them. So their short passing game usually sets up the long pass. Peyton is very patient. He wants those deep shots downfield - the center routes and the go routes - but he'll dink and dunk his way all the way downfield until maybe the defense sucks up a little bit and then he hits you with the seam pass or whatever it is, the deep play that he hits."
"They're not trying to go out there and fool anyone," said Rolle. "They're not trying to make people think that they're a running team. We know that they're not. They can run the ball. When they do the run the ball, it's effective. But Peyton is a leader. He loves the ball in his hands. He loves making those plays. He loves being that guy. And with that being said, we know we definitely have to focus a lot more on the pass. But you still have to keep a balance between the both of them. You can't just ignore one."
*The Giants made multiple defensive substitutions in last week's victory over Carolina. But that might be much more difficult to do in Indy, because Manning directs a no-huddle attack virtually the entire game.
"I'm not sure if we'll be able to do that or not," Fewell said. "I don't know if he will allow us to do that. He's very aware of when you bring someone on, he gets his offensive football team to the line of scrimmage and snaps the ball. He tries to catch you with 12 on the field, so we'll have a plan in place. We want to use our personnel, we want to do certain things, so we'll have a plan in place for that."
*Four Giants did not practice today: linebackers Chase Blackburn (knee) and Phillip Dillard (hamstring), cornerback Bruce Johnson (knee) and wide receiver Hakeem Nicks (ankle).
Nicks scored three touchdowns in the opener. Asked if Nicks would be able to play Sunday, Coughlin said, "I'm hoping. I'm hoping. Really, I was hoping he would maybe be able to do something today. But that wasn't the case."
Regarding Johnson, Coughlin said, "He came in with a swollen knee and they started treatment. Truth be known, he probably could have practiced today but they were cautious with him."
*Center Shaun O'Hara left practice early and was officially designated as limited. O'Hara has dealt with a sore ankle and Achilles since early in training camp.
"I was sore after the game," O'Hara said. "Just some days it has a mind of its own, and today it wasn't real happy. So we're just trying to do the right thing and everything is just to get ready for Sunday.
"The tough thing is that really rest is the only thing that seems to really do anything for it, and I don't plan on getting any rest until late February."
*Cornerback Aaron Ross (foot), defensive end Osi Umenyiora (knee) and linebacker Gerris Wilkinson (groin) practiced fully.
*Tackle Will Beatty had successful surgery today to repair a broken fifth metatarsal bone in his right foot. The operation was performed by David Levine a foot specialist at the Hospital for Special Surgery in Manhattan. It is unknown how long Beatty will be sidelined.
*The Giants are 48-32-5 (.600) in road openers, the second-best record in NFL history. Only Dallas, which is 32-19 (.627)  after last week's loss in Washington, has a higher winning percentage in road openers. In addition, Green Bay is the only team with more victories in road openers. The Packers are 52-36-2 after winning in Philadelphia last week.