EAST RUTHERFORD, NJ - Barry Cofield has played in 63 regular season games and six postseason games, including Super Bowl XLII, for the Giants. But none of them gave him the pregame butterflies he expects to experience before the team's preseason opener tomorrow night. And it has nothing to do with the Jets being the opponent or the New Meadowlands Stadium hosting an NFL game for the first time.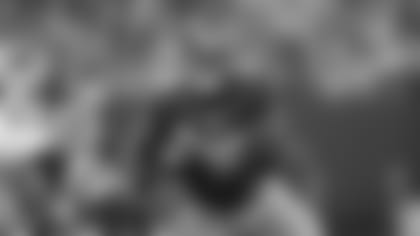 "It's weird for me," Cofield said last week during a training camp break at the University at Albany. "I'm actually more nervous the first preseason game than the first regular season game, because it's the first time you're competing. By the time you go through the preseason, you're almost used to that feeling by the time you get to the regular season. But that first preseason game - you haven't played real football yet. You haven't truly tackled and hit and all that for many, many months. So it's definitely a great feeling."
The preseason opener is many things to many people, especially given this year's circumstances: the annual summer meeting with the Jets in the beautiful new stadium.
"We'll be excited to play, to get a chance to go ahead and play a game," Coach Tom Coughlin said. "And of course being in the new stadium will be an exciting experience in itself."
To the coaches, it's the first of four opportunities to evaluate their players in game situations. To the veteran players, it's a chance to escape training camp for a couple of days, hit people in different uniforms and test their schemes against offenses and defenses they don't see every day. Rookies get to play in a pro game for the first time. And those on the roster bubble can help make or break their case for inclusion on the team.
Here are some story lines to follow as the Giants and Jets prepare to meet for the 42nd consecutive summer. The Jets lead the preseason series, 22-18-1, including a 27-25 decision last year. The Giants lead the regular season series, 7-4.
*Despite the unusual hoopla for a mid-August game, Coughlin will stick to his guns and keep player evaluation as his priority. That means Eli Manning and the rest of the starters will "play 15 to 18 plays. Maybe it'll be a quarter. If one team gets to play more, then the other guy may play a little bit into the second.
"I think if we did something along those (more playing time) lines, I don't think it'd be smart. We still have 16 games to go, and four preseason games. After we play this next game, they're going to be all bunched up, the same sequence we find ourselves in every year. We have a very short week. I want our guys to want to win, but you're not going to sacrifice the ability to evaluate personnel for that because that's what preseason is.
"I'm always looking forward to taking a group and looking forward to how they play in game conditions. We get in and compete, and I'm looking forward to that part of it. It's just a part of the preseason, and an extension of training camp."
*The Giants held a minicamp practice in the stadium two months ago, but this will be the first time the players get the full treatment – dress at their lockers, most of the seats occupied and the lights on for a prime time, nationally-televised game.
"I'm definitely excited about being in the new stadium," Manning said. "We haven't even been in our own locker room yet. So I think just getting in there and checking that out and being able to run out and get to play a game in the new stadium is something I'm looking forward to."
*Chris Canty, the defensive tackle who was injured last summer, said the game is significant because he'll make his "Giants preseason debut." Canty and the other veterans, particularly along the lines, are looking forward to mixing it up. The Giants' camp has been almost devoid of full-contact drills.
"You want to have a successful drive or whatever it is, however many plays you get out there," tackle David Diehl said. "You want to get what game speed is like. Obviously, practice is one thing and you're going up against real guys, but when you get out there and you're playing in a live game, it's a lot different. It's totally different than practice. So one, you want to be successful. Two, you want to get that game speed simulation, get used to the speed of the game, how fast it's going to be and how fast things happen. Number three, more importantly, come out healthy."
And as usual, Manning and the offense are tired of seeing the faces and schemes of the Giants defense. For them it's a change to run plays against a different look.
"(I want to) see different coverages, see how different players play different styles of defense and learn how to run your routes, how to get open, use your fundamentals, and everything that you've been practicing - can you do that same thing in the game?" Manning said. "When you have to get open and you have to convert on third down and you have to see how these young guys come out and see the veterans get their timing down, you see what you need to work on still and see everything else."
*Manning will spend most of the game watching his backups play. Veteran Jim Sorgi, who is in his first season with the Giants, has been No. 2 and 2009 draft choice Rhett Bomar is currently the third quarterback.
Sorgi is accustomed to playing at this time of year. In six years with the Indianapolis Colts, he threw 156 regular season passes – but 272 in the preseason. Sorgi has replaced David Carr, Manning's backup the previous two seasons. This will be his first opportunity to show Giants fans that he is capable of leading the team should he have to play when it counts.
"Wherever you play, you always want to win over the fans," Sorgi said. "Hopefully, playing well in the preseason will win them over a little bit. I know they're tough critics, and you've got to play well. You've got to play well week in and week out, and hopefully I can do that. That's what they expect of me and the team, and we're going to try our best to oblige them."
Sorgi's Colts faced the Jets twice last season, including the AFC Championship Game, but he was on injured reserve for both games. He admits he'll be a little nervous tomorrow.
"It's a huge opportunity," Sorgi said. "This is my first game running this offense and it's a game against the Jets, who have a great defense. I'm excited, anxious – some butterflies, but that will all go away."
Bomar, meanwhile, spent all but the final game of the 2009 season on the Giants' practice squad.
"I feel like I've had a good training camp," Bomar said. "My goal is try to be more consistent. I'll be kind of up and down sometimes. I'm trying to level it off - to be high the whole time and not have those up and downs. I feel like I've done a better job of that."
*New coordinator Perry Fewell will unveil his defense. Well, at least a little of it. Like all teams, the Giants keep most of their schemes under wraps during the preseason. No point in revealing secrets in games that don't count in the standings.
But the players have worked for months on learning Fewell's defense and this will be its first test in a game.
"It's big for us this year because we have a new defense," Cofield said. "So it's a unique opportunity with a new defense to get some work in and try and master the plan that we have now. If you're in a system that you've been in for awhile, it may just be a more of a tune-up situation. But for us, with us having a new coordinator, I think there's a lot to achieve.
"It's just a great test, especially when some of the teams that we play against this preseason - we have a lot of good, physical teams, quality teams (the Giants also face Pittsburgh, Baltimore and New England before the regular season). So you get a chance to measure up and to really get a chance to see where you are as a unit. You practice against the offense every day. We have a quality offense here, but it's not the same as going out there under the lights with the fans and the stadium and really seeing where you are."
*Several other story lines to follow: Defensive linemen Jason Pierre-Paul and Linval Joseph, the Giants' top two draft choices, will make their pro debuts…New punter and holder for placements Matt Dodge will punt in a game for the first time. Dodge's punting has been erratic, but Lawrence Tynes said the seventh-round draft choice has significantly improved as a holder…Second-year wide receiver Ramses Barden, who has had a good camp, is eager to prove he can be productive in a game…Running back Andre Brown, who missed all of last season after undergoing surgery to repair a ruptured Achilles tendon, will play in – and see – his first NFL game.
*Players definitely out for the game include guard Chris Snee, tight end Kevin Boss, wide receiver Steve Smith, safety Kenny Phillips, linebacker Keith Bulluck and wide receiver Tim Brown. Safety Michael Johnson is unlikely to play.
*The Giants held a light final walk-thru before 970 fans in Albany this morning before traveling to New Jersey for tomorrow night's game. The Giants return to UAlbany on Tuesday and practice Wednesday through Friday before breaking camp.
*A total of 34,340 fans have attended the Giants' 20 training camp practices over the past 13 days.
*A limited number of non-club seat tickets for the Giants' first home preseason game, Saturday vs. Pittsburgh at 7 p.m., will be available for purchase on ticketmaster.com starting Monday morning. The available tickets range in price from $110-$185.
--- ](http://www.nyg2010.com/)**