DALLAS - Ahmad Bradshaw wants to continue his backfield partnership with Brandon Jacobs.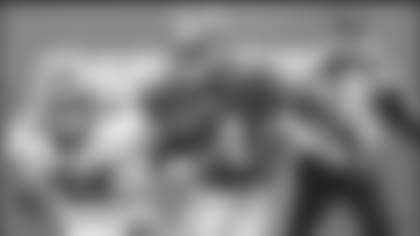 The Giants' top two running backs ran for a combined 2,058 yards in 2010. Bradshaw is currently without a contract for 2011, leading some to believe the duo could be separated. But Bradshaw insists Jacobs and he can continue to coexist.
"Brandon and I, we're brothers," Bradshaw said. "We love to play together. We feel we're a great duo together. It (speculation one of them may leave) is just the nature of the business. You just never know what's going to happen with things. I don't think they'll be able to keep both of us financially. But you just never know. It may be possible. They might keep both of us. You just never know."
Bradshaw spoke to metropolitan area reporters between radio interviews in the Super Bowl XLV Media Center.
In 2010, his first season as the starting running back, Bradshaw finished ninth in the NFL in rushing with a career-high 1,235 yards. Jacobs added 823 yards. The Giants were one of only two teams to have a pair of backs run for more than 800 yards (Kansas City was the other, with Jamaal Charles and Thomas Jones). It was only the second time in their history the Giants had two backs rush for more than 800 yards in the same season (also 2008, with Jacobs and Derrick Ward).
Jacobs ran for nine touchdowns and Bradshaw eight, the first time in Giants history two backs ran for at least eight scores in the same season.
"You know, Brandon's a great back," Bradshaw said. "I really love playing behind him and him beating up the defenses and me coming in and running behind him and just eating up the yardage with him. I think we're a great duo together, I really do."
For Bradshaw it was a special season. He had 23 more carries and 88 fewer yards than he had in his first three seasons combined. Bradshaw was fourth on the team with 47 catches after totaling nine in his first three seasons. He started the first 10 games before Tom Coughlin put him in a reserve role because of a persistent fumbling problem. Bradshaw tied Eli Manning with a team-high seven fumbles, and the Giants lost six of them. But Bradshaw did start the season-ending victory in Washington.
"I'm happy with what I've done yards-wise, receiving-wise, helping the team out as much as I can," Bradshaw said. "The only thing I look back on is fumbles, which was a negative thing for me, which I can work on, which I can get better at. Other than that, I feel good about the season I had last year in the starting role."
As usual, Bradshaw played though injuries. After the 2009 season, Bradshaw had surgery to repair stress fractures in both feet and remove a bone spur in his right ankle. He said here today he will undergo surgery next week to repair a similar spur issue in his left ankle.
"It's the same surgery as my right (ankle) last year," Bradshaw said. "I'm just preparing for that, getting ready for that next week, get back healthy and get prepared for next year.
"It was something that bothered me. It wasn't a big factor unless someone really got a hold of it. It was really no problem because I could fight through it and I'd been fighting through it for years. I'm just ready to get it fixed."
Bradshaw said the injury initially did not affect his mobility, but he began to notice a difference later in the season.
"Beginning of the year it didn't affect me," Bradshaw said. "At the end of the year, I felt a lot of easy tackles I could break at the beginning of the year, it was just bringing me down. I had to lay down on certain tackles just because it gave out on me or I felt it was about to get rolled up under me. It was different things and playing around injuries. That's what I was doing toward the end of the year."
Like all potential free agents, Bradshaw must wait for a new collective bargaining agreement before plotting his future.
"All I can do really is be ready for next year and be fully prepared," he said.
But one fact is crystal clear. Bradshaw wants to remain a Giant.
"I would love to," he said. "I love New York, man. I love New York more than anything. All I can do is hope for the best."
*Among the former Giants who have visited the Media Center this week are Phil Simms, Michael Strahan, Amani Toomer, Tiki Barber, Kurt Warner, George Martin, Corey Miller, Roman Oben, Sean Landeta and Gary Reasons.