DALLAS - In 2006, Chad Morton ended both a two-season stint with the Giants and a seven-year NFL career. He then set out to do…well, not much.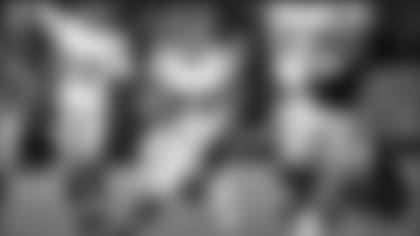 "After I was done playing football my wife and I stayed in New Jersey," Morton said. "We were building a family. I always wanted to get into coaching, but I was just being a bum."
So how, exactly, did Morton get to Super Bowl XLV this week as the Green Bay Packers' assistant special teams coach? A big assist goes to Tamra Morton, who could no longer stand to see her husband sit around the house and decided to do something about it.
"She said, 'You need to start getting into it and try to get a job,'" Morton said. "I called my agent and he couldn't find anything, except at maybe a really small college. I didn't want to go that route. So my wife actually fired my agent and got me a new one – really, without me even knowing."
Tamra hired former NFL player Trace Armstrong, a representative with CAA Sports.
"One day I was upstairs playing video games and she came up and said, 'Will you answer your phone? It's Trace,'" Morton said. "I played against Trace. I got on the phone and talked to him for about five minutes and he said, 'I might have something for you, I'll call you back.' Not even five minutes later he called me back and he said, 'Give (Green Bay) Coach (Mike) McCarthy a call.' I thought that was cool, because I had played for him before (as a rookie in New Orleans in 2000). I talked to him a little bit and he said, 'Pack some clothes and come on out for an interview.' I went out there and I didn't even come back. I packed a bunch of clothes and stayed out there and just got to work."
That was in the spring of 2009. Morton has since relocated his family (including sons Avery and Aiden) and settled into his job assisting special teams coordinator Shawn Slocum.
"I love it," said Morton, who is completing his second season with the Packers. "I actually like it more than playing, if you can believe it. Being a player you can only control so much. You can share your knowledge with everybody, but as a player they want to figure it out for themselves. When I played I pretty much played every (special teams) position, so I can help some of these younger guys. I can understand what they're going through. I want to help some of these guys make the Pro Bowl, make a lot of money, go to the Super Bowl. It's so much more rewarding to help other people."
The Packers, who will face the AFC champion Pittsburgh Steelers on Sunday, had the NFL's ninth-ranked offense and fifth-ranked defense during the regular season. But their special teams were mediocre, particularly in the return game.
Morton, however, believes he has a group of talented young players who simply need to gain experience. He is particularly excited about first-year punter Tim Masthay and coverage specialist Jarrett Brown, who had 12 special teams tackles in the regular season and leads the team with five in the postseason. Morton is so excited about their potential, when he speaks about them he invokes the names of two special teams icons who were his teammates on the Giants, as well another NFL star.
"Jarrett Bush, I think that guy's incredible," Morton said. "I try to work with him pretty hard. That guy's going to be a Pro Bowler. On punt return, you usually put two guys out there on the gunners. But he can jam those guys up by himself. I haven't seen anybody do that as well as him since I played with Champ Bailey and he was on punt return. I was the returner and they used to put Champ single out there and he'd completely take the guy out. And that's what Jarrett can do. His cover skills have gotten a lot better and he's learned to be productive down on the ball. And of course we have a great punter, which helps. (Bush) has learned how to play down there, kind of like David Tyree when he was with the Giants. He's starting to be that effective. When (Jeff) Feagles was punting to Tyree, who was downing it inside the 20 all those times, they both went to the Pro Bowl. That's how good I think our punter is and Jarrett is.
"When I talk to our punter and guys like Jarrett Bush I tell them, 'Those guys changed games by changing field position.' That's the reason they both went to the Pro Bowl, just for something like that – for their going-in game punting (pinning opponents near the goal line). We have two players who are very comparable to those guys. We have two future Pro Bowlers, I really believe that. Tim, to be in his first year, punting the way he did, his numbers were pretty good even though the first part of the year wasn't great. Now we have guys who know how to play the ball and we have so much production around there. Those guys are going to be incredible."
Morton played for four NFL teams. He spent his rookie season in New Orleans before playing two years apiece with the Jets, Washington Redskins and the Giants. Morton played in 93 games with five starts, but most of his work was on special teams. He returned 229 kickoffs for a 23.6-yard average, including three for touchdowns, and 155 punts for a 9.2-yard average. In two years with the Giants he ran back 55 kickoffs and 76 punts. Morton's lone punt return touchdown was for the Giants against Arizona, a 52-yarder on Sept. 11, 2005. It is one of just two punt return touchdowns for the Giants in the Tom Coughlin era (Domenik Hixon had the other in 2008).
But Morton tore his anterior cruciate ligament in the second-to-last game of the 2006 season. He underwent surgery and never played another game, instead beginning two years away from the game that included web site design and playing those video games.
"I kind of wanted to keep playing," Morton said. "After I tore my ACL again and got that last surgery, we thought about going to Europe and playing, just to show coaches I could still play. But my knee wasn't right and I knew I'd wind up tearing it again, because it was still loose. After that I was done; I didn't want to go through that again."
Of course, the year after he left the Giants won the Super Bowl.
"I was a little bit mad after the Giants won, just because I was gone that year," Morton said. "I missed by a year. But I got over it and I have no regrets. I was glad for those guys, because I still know a lot of them. I didn't want them to not win, I just wish I was there with those guys, because I played with them.
"I really enjoyed my two years with the Giants. Some of those guys are my good friends that I talk to more than guys from any other team or even some of my friends from college. The coaches were incredible. It was a lot of fun. I love New York. We had some pretty good teams and I built some very strong friendships. I liked playing for Coach Coughlin. I like the discipline. I grew up with that and I respond to it. I loved playing for him. It was a great experience for me."
When it ended, he began his two-year "vacation." It's an unusual career path for a coach, but Morton has taken it all the way to the Super Bowl.
"I had fun playing," Morton said. "Of course, sometimes I wish I could have played a little bit longer. I wish I didn't get hurt. But I'm having a great time being a coach. I love it, I really do. It's a unique experience helping these younger guys. I get so much satisfaction seeing guys perform well, knowing I was able to help them and give them some knowledge. I'm just enjoying this. And I want to win this game so bad."