EAST RUTHERFORD, N.J. – After a two-year stay on the West Coast, Mario Manningham has come home to catch passes again from Eli Manning. Manningham, one of the Giants' most productive receivers from 2008-2011, today signed a contract to return to the team after spending the last two seasons with the San Francisco 49ers.
[CB Thurmond signs with NYG](http://www.giants.com/news-and-blogs/article-1/CB-Walter-Thurmond-signs-with-Giants/fa81f956-da3c-4e07-8218-
2c973aaec383)  

The Giants have announced the signing of FA Walter Thurmond...
[Giants add LB Jameel McClain](http://www.giants.com/news-and-blogs/article-1/Giants-add-Free-Agent-LB-Jameel-McClain/7e323407-48dc-434c-9d24
-4e2144de474a)  

The Giants have announced the signing of Free Agent ameel McClain...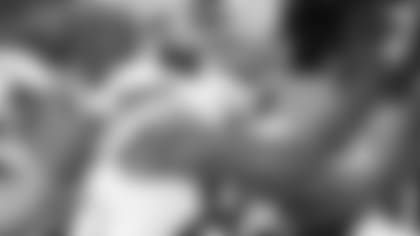 2014 Free Agency Central "I'm happy to be back," Manningham said. "I'm real excited. It's just great to see everybody, be around familiar faces, knowing everybody in the past and just being comfortable around everybody.
"Once a Giant, always a Giant. That's how I feel. This is a very special place. I wanted to come back."
Manningham's two seasons with the 49ers were cut short by injury. In 2012, he played in 12 games before tearing his ACL, which forced him to go on injured reserve and miss San Francisco's postseason run to Super Bowl XLVII. Last year, he began the season on the physically unable to perform list. Manning returned to play in six games, but again ended up on injured reserve because of recurring issues with his knee.
"It was frustrating, but it was a learning experience also," Manningham said. "When I got back I couldn't do what I wanted to, I knew I needed a little bit more time. It's coming along and I just have to work on getting stronger and getting my strength back and trusting it more. I'm doing good; it's getting stronger."
A familiar NFL axiom is that a player doesn't fully recover from ACL surgery for two years. Manningham hopes to prove that to be true this season.
"If you're an athlete, you have a chip on your shoulder already, so you're like, 'I'm coming back strong this year,'' Manningham said. "I do believe it. I had a couple people who tore their ACL a couple times who said, 'Man, you're not going to get it back that following year, you're going to get it back the year after that.' I'm just trying to do what I can do to make a strong impact and win games."
Manningham joined the Giants as a third round draft choice in 2008, the 95th overall selection. In four years he played in 49 regular-season games with 28 starts. He caught 160 passes for 2,315 yards (a 14.5-yard average) and 18 touchdowns.
But Manningham is perhaps best remembered for his remarkable 38-yard reception to start the Giants' game-winning drive in their Super Bowl XLVI victory over New England. He caught Manning's pass right in front of the Patriots' sideline and somehow kept his feet inbounds despite tight coverage. Bill Belichick challenged the call on the field, but it was upheld on review.
In four postseason games he had 13 catches for 89 yards and three scores.
Manningham's best season with the Giants was in 2010, when he had career-high totals of 60 receptions for 944 yards and nine touchdowns. He had a career-long catch in each of the final two games with an 85-yarder in Green Bay and a 92-yarder at Washington. Manningham was one of just two NFL receivers to score on two receptions of at least 85 yards in 2010. The other was Philadelphia's DeSean Jackson. He had seven touchdown receptions of 25 or more yards, which placed him seconnd in the league behind Pittsburgh's Mike Wallace, who had nine.
In the last three games of that season (including a home game vs. Philadelphia), Manningham caught 16 passes for 346 yards, a 21.6-yard average, and four touchdowns. In order, Manningham totaled 113, 132 and 101 yards in those three games to become the first Giants receiver with three consecutive 100-yard games since Homer Jones in 1968.
On Nov. 14 of that year, Manningham tied his career high with 10 receptions vs. Dallas.
[
Is Super Bowl catch best play ever? Watch and Vote](http://www.giants.com/2014-bracket/bracket.html)
As a rookie, Manningham missed most of training camp with a quad injury and caught just four passes in seven games. The following year, he played in 14 games with 10 starts and had 57 receptions for 822 yards and five scores. In his final Giants season in 2011, he played in 12 games with 10 starts and caught 42 passes for 449 yards and four touchdowns and was one of Manning's chief targets in the postseason.
Now Manning and he will have to regain the timing and precision they once enjoyed.
"We get back out there and see how it goes," Manningham said. "We haven't been together in two years, so you can't do anything but get better."
In his two seasons in San Francisco, Manningham played in 18 games with 13 starts and had 51 catches for 534 yards and one touchdown.
He hopes to put up much bigger numbers in his second stint with the Giants.
"I wanted to come back," Manningham said. "I'm comfortable around the staff members. There are some different staff members and different players. I just want to get to know them. We're all in here for one reason and that's to win. That's all that matters. I just want come in and do what I've got to do to help us win."