EAST RUTHERFORD, NJ - Giants fans, it is my absolute pleasure to welcome you back to a fresh, new season of New York Giants football!  And isn't it appropriate that we've only had one weekend of games, yet all the experts are completely jumping ship with their preseason picks?  Gotta love parity.  And for Giants fans, this past weekend was especially fun – we had what some like to call a "superfecta;" the Giants won, and the Eagles, Cowboys, and Jets all lost (when they become legitimately relevant again in the division, the Redskins might replace the Jets as that last team mentioned).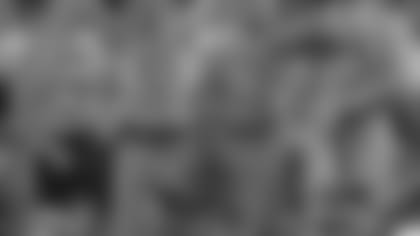 For some, especially in the New York area, it might seem like football season never really ended.  Our hometown had one of its busiest off-seasons in recent memory.  The Jets made most of the noise, while the Giants quietly and smoothly made all the right moves to bulk up.  All I know is, I'm glad the Gmen opened up the stadium first, so it could at least be opened up right, with a 'W.'
There was no way I was going to sit back and watch the first game in the new palace on my couch 3,000 miles away.  My plane ticket was booked as soon as this year's schedule was announced.  The flight in wasn't too bad, except for the fact that I was seated next to a Cowboys fan, who for some reason was covering the Giants game for Sky Sports.  I couldn't help but say to the guy, "Interesting, because I plan to cover the Giants at the Cowboys Stadium in February."  We didn't talk much for the rest of the flight.
Sunday rolled around, and so did nasty weather.  Hey, it wouldn't be a sufficient 2-day trip to Jersey without it raining at least fifty percent of the time.  On game day, my friend Jon, my brother Robby, and I left nice and early to try and get there for the pregame ceremony.  Despite getting off the turnpike at 11:30, thanks to the helpful parking attendants, we didn't park until closer to 12:45.  Man, it's a good thing those folks went to college. 
As for the stadium, wow.  It's massive, very fan–friendly, and does a great job paying homage to the Gmen.  The video boards lining the outside are really cool-looking, the giant posters lining the inside make you proud to be a Giants fan, and (best of all), they've got the radio broadcast playing all throughout the stadium, so if you get up to go to the bathroom, you can at least still hear what's going on.  Oh, and when you're walking through the concessions area of the stands, there's a clear view to the field of play – a comforting openness that I felt was lacking in the old stadium.  Also (and you have to make sure to get there before halftime), check out the Legacy Club if you get a chance.  It's like a mini hall of fame, solely for the Giants (it's basically the equivalent of what "Monument Park" is to Yankee Stadium).  A true shrine to the New York Football Giants.  Makes you even prouder to be a Giants fan. 
One thing's for certain – with this new stadium, the Giants' home field advantage got a lot stronger.  Now, onto the game itself…
Wet, Ugly, but (most importantly) Victorious
The game might not have been as attractive or ideal as Giants fans might have hoped the stadium opener would be, but the result is what counts, and the result was a win.  I'll talk first about what impressed me most in the Giants' victory on Sunday:
These guys were ready to play.  Now I'm not going to start predicting we'll be the best defense in the league based on a great performance on Sunday (remember, we started pretty impressively on defense for the first few weeks of last season), but I saw an intensity on the field that this team hasn't shown us in a while.  And it made me very, very excited.
Our off-season additions each had an interception (Rolle and Grant).  Kenny Phillips came back in a big way, with an interception as well as an incredible touchdown-saving tackle of DeAngelo Williams.  Against the Panthers, the Giants defense gave up the fifth fewest yards of all 32 teams that played this past kickoff weekend, 237.  They were fourth in the league in yards per play (3.8), sacked the QB four times, picked him off three times, defended 12 passes, and forced and recovered two fumbles.  Not to mention the fact that we held the league's 3rd best rushing offense in 2009 to just 89 yards, with a microscopic 3.7 yards/carry average.  Perry Fewell and his crew should be very pleased with their performance on Sunday.  The one big issue I had while watching, which I'm sure will be addressed before heading to Indianapolis for next week's primetime match up with the Colts, was their 3rd down play.  If we let Peyton and company convert on 3rd and long the way the Panthers did, it'll be a very long night.
Up next, let's talk about the offense.
I noticed the same issue that I've been harping on since I started writing this weekly article back in 2007 – MANAGING THE PLAY CLOCK!  It seems to me that, if we want to have the option to come to the line and let Eli make his reads and adjust the play accordingly, the team should break the huddle and head to the line with more than ten seconds left on the play clock.  It seems like nearly every play Eli was getting the ball as the play clock was expiring.  Pretty easy for a defensive lineman to jump the snap when they know exactly when the QB will call for it.  On that note, kudos to the offensive line's pass protection.  I don't know if the play's getting to the huddle late, if there's communication problems, or if the team's just taking their sweet time, but you can't consider yourself an elite football team if you consistently get hampered by menial, correctable problems like this every year.
On a more positive note, Eli picked up right where he left off last season.  Considering the bad weather, and his first full game on a brand new surface, he hung in the pocket nicely, and made pretty good throws.  Not great, but definitely catchable.  In fact, on the few tips-turned interceptions, it looked like he actually placed the ball specifically where his receiver could get it, away from the defender.  Unfortunately, those times his receivers went up, and tipped it right into the defenders' waiting hands.  It's a shame mistakes like that aren't accounted for in a quarterback's passer rating; of course, Eli and his peers understand that it comes with the territory.  Hakeem Nicks played lights out, and could have had an even better game if he'd held on to a few of those drops.  The same goes for the rest of the receivers.  Kevin Boss's injury, which will keep him out against the Colts, came on a cheap shot (that should've been called a penalty) right off the bat in the first quarter.  It's concerning if he's out for a while, but we recently signed Bear Pascoe off the practice squad and will have him and Travis Beckum manning the position in Boss's absence.  Obviously not an ideal way to start the season, but not a horrible option either.  Certainly manageable.
The rushing attack needs a lot of work.  As a team, we ran the ball 36 times for 118 yards.  It might look nice (over 100 yards rushing), but not when you realize that means we had a 3.3 yards/carry average for the game.  It's strange that our offensive line can be so solid in pass protection, and so weak blocking for the run game.  Or, maybe that's more than just a coincidence.  Either way, something has to be done.  It doesn't matter if Bradshaw or Jacobs is the number one, neither will be able to do anything without any running lanes.  Hopefully, Indianapolis will be looking to slow down Eli and our passing game, which might help give our running game a spark.
Lastly, let's review special teams.
Awful.  Just, awful.  Matt Dodge kind of looked like those guys on high school football teams who, during practice, grab a ball and try to convince everyone they could be the punter if they needed them to be.  Then, they grab a ball, punt it, and it goes thirty yards, rolling nearly the whole way.  He better learn how to punt this week, or we better start looking for his replacement.  Reynaud, on the other hand, looks like he'll be a solid return man in Hixon's absence this year.
Looking forward to next week's family reunion.
Big primetime game Sunday night!  I always found it kind of funny that people make such a big deal out of the "Manning vs. Manning" aspect of it.  It's not like Eli's lining up in the secondary when Peyton gets under center.  If New York's secondary shows up, and Indy's doesn't, and therefore Eli has far more passing yards than Peyton, does that mean Eli outplayed Peyton?  Or vice versa?  Not necessarily.  It's the Giants versus the Colts, sports fans.  Two siblings just happen to be each team's starting quarterback.
Now, as a Giants fan, I'd much rather be playing the Colts 1-0 instead of coming off a shocking, disheartening division loss to open the season.  They'll be very hungry, and we're really going to have to hit on all cylinders and minimize the mistakes if we want to take this one.  If our defense mixes up the play calling like they did last week, gets a lot of pressure on Peyton early, and our running game can get going, and help balance our offensive attack, we'll have a very good shot.  Talent-wise, we match up against the Colts pretty well.  Other than Peyton, the one obstacle that can keep us from winning is us.  The one way Peyton really knows how to hurt an opponent is by forcing them to overthink, make mental mistakes, and commit a lot of penalties.  We can't play into his strengths and beat ourselves.  It's going to be a great game to watch, and I can't wait for Sunday night to get here!
Non-GMEN Thoughts of the Week:
I really feel for Bob Sanders.  He's like the Ken Griffey, Jr. of football.  Unbelievable amount of talent, but is hurt more than he's healthy.  And from all reports, he was really optimistic heading into this season; sure it would be a full, productive year.  You look at his numbers, given the limited amount of playing time he's had in his career, and it boggles the mind to think of what his numbers would be if he could keep himself healthy.  Hopefully, this injury won't keep him out for too long.
All off-season, all Rex Ryan did was talk about how this year, the Jets were Mark Sanchez's team.  That it was time for Mark to step up and be the voice and the leader of this team.  Kind of hard to do that if you don't give him the opportunity to make plays.  He's not a rookie anymore.  As everyone said during the telecast Monday night, it's time to take the training wheels off.
For anyone who likes quick, tasty, convenient coffee at home, the Keurig single-cup coffee maker is a great piece of machinery.  But the CuisinArt version is much better, unless you enjoy leaks.
This season of Mad Men is a bit stranger than past years.  I figure the show's progressing further into the 60s, so it's only appropriate.  Regardless, it's still an amazing show.
Entourage, on the other hand, has officially become unwatchable.
Still sure you can live without Vincent Jackson, A.J. Smith?
As a Yankee fan, there isn't a team I hate more in the world in September than the Rays.  Even when Tampa Bay used to be horrible, they'd still always beat us in September.  Now, to top it off, they're battling for the division.  What a nuisance.
You're right, Randy Moss.  Nobody cares.  So please don't waste our time complaining during a post-game press conference after a huge win.
If the league switches to an 18-game schedule, which it looks like it will in 2012, it'll be a dark day in football history.  It seems like Roger Goodell and a small handful of owners (and the NFL Network), are the only folks who want it to happen.  The rest he's trying desperately to get on board.  International football games, potential international teams, rule changes, and now a longer schedule.  It seems like all Goodell's tried to do is change aspects of the league since he took over as commissioner.  Do you really dislike the NFL the way it is, Mr. Commish?  I can understand the labor agreement, but as for his extracurricular alterations – if it ain't broke, don't fix it!
That's all my rambling for the first week of the season.  Got a huge game coming up Sunday night in Indy!  Let's start this thing off 2-0, baby!  If you have any questions or comments, you can contact me via e-mail at gmensuperfan@gmail.com.  You can also find me on facebook, under the name "Gmen Superfan."  Looked good in week one, let's look great in week two!  Until next week, GO GMEN!!