Nobody said being a die-hard fan was easy.  Especially when your team played the way our Gmen did Sunday night in Indianapolis.  Yes, there's plenty to be very upset about.  No, it's not yet time to panic.  The bottom line is, sometimes Peyton Manning flat out beats you.  With his head, or his arm (in this case, both), when Peyton gets on a roll you can only feel sorry for the defense that has to face him.  That's not an excuse – it's just the way it is sometimes.  Unfortunately for us, we were that defense.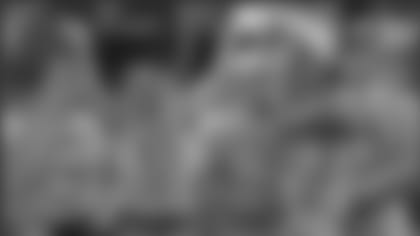 The easy thing to do here would be to panic.  To say we gotta replace our offensive line, fire our coordinators, and re-haul the team.  That would also be a horrible idea based on unnecessary panic.  The fact remains, we've only played two games of football.  TWO!  Remember how after last Monday night everyone said the Jets were incredibly overrated, and Mark Sanchez should consider himself lucky if he's still the guy by the end of the month?  The dialogue is certainly different this week, after they impressively came back to beat the Patriots.  What I'm getting at is, in a day and age where football "experts" like to adjust their Super Bowl picks every Tuesday morning, it's easy to get carried away in the hype when your team wins, and, on the flip side, to panic when they lose.  Especially when they lose ugly on primetime national TV against their starting quarterback's older brother.
Still, it's healthy to go back over the game, re-live our (painful) experiences, pinpoint what went wrong, what needs fixing, what we improved on, and finally, looking forward to next week's match-up.
A Faulted Viewing Plan
For week 2, I was back in California, ready to start the viewing season after having recently moved to Santa Monica. My buddy JJ and I decided not to risk our luck by watching the game at my new place, so we watched it at his. Then I remembered all last season we never really watched any games at his place. It was either mine, my cousin Larry's, a friend's place, or a sports bar. Plus, I wore my home blue jersey instead of my away jersey. What I'm trying to say is, from a superstitious standpoint, I take partial blame for this one.
When half time finally rolled around, I'd had enough.  Thinking I might have more luck elsewhere, I headed back to my place to watch the second half (no offense meant JJ – gotta do whatever it takes to win).  We're going to need to establish a more secure plan to watch the game against Tennessee this Sunday.
To top it all off, I got completely obliterated in fantasy this week.  I don't care what defense he's playing – who can predict Chris Johnson would only get 2 POINTS?  Just my luck…
Melting Under the Spotlight
Primetime national TV makes a bad game look like a really, really bad game. Especially when it's hyped as the sibling rivalry of the millennium. Where it mattered most, we looked pretty bad.
Against a team like the Colts, you want to have the ball on offense as much as possible.  Starting the game on defense won't help that.  Our defense spelled it out with their overabundance of DBs that they were playing only the pass, and it was up to the Colts to prove they could run the ball against us.  And they did.  Well.  Starting with the ball, they drove down the field (primarily with their running game), finishing their drive with 8:16 left in the first quarter.  Nearly half the quarter, and our offense never left the sideline.  When we did get the ball, we went three-and-out and gave it right back.  We managed to trade scoreless drives for the rest of the first quarter.  Then, after a great punt by Matt Dodge at the beginning of the second quarter, the Colts marched 98 yards (might've been 99, actually) for a touchdown.  You can only trade punts with an offense like Indy's for so long.  Eventually, they're going to drive down the field, and they're going to score a touchdown.  They continued to move the ball, we continued to stall, and the halftime score was a depressing 24-0.
The second half saw some scoring, but also some serious miscues, and the end of Jacobs' day.  Brandon, you have to stop this tiptoeing.  You're a north-south runner.  I understand that you're trying to keep from getting your knees knocked out, but with your running style it's a risk you have to be willing to take.  Eli made a few great throws, but it was very hard for him to get any time back there, with Mathis and Freeney having a field day against our pass protection.  The most notable example of this came after we scored in the third quarter, got the ball back, and looked primed to drive the field again and continue cutting into their lead.  Unfortunately, Eli went back to pass, got crushed by Dwight Freeney, fumbled, and Maola picked up the fumble and tumbled in for a Colts touchdown.  It was already hard to think of the Gmen coming back before that play, but that really stung.
And I have to say it, another game played, another timeout wasted because of the play clock winding down.  Maybe the Giants should try a little no-huddle, if for no other reason than to give Eli more time at the line of scrimmage to read the defense and adjust the play.  I'd like to think that it's still early in the season, and the o-line still has kinks it's getting out, but maybe the age and injuries really are catching up to them.  Here's to hoping I'm wrong.
I read Antrel Rolle's comments earlier, and while I'm against players going to the media about stuff that could easily be settled inside the locker room, he made some legitimate points.  There appeared to be a significant lack of drive on our sideline, and I never once saw anyone getting in players' faces on the sideline when things were looking bad.  Someone needs to step up on the sideline and be that guy who wakes players up out of the apathy that comes with a huge deficit.  For a time, that had been Brandon Jacobs, but he was too busy looking for his helmet.
The lone bright spot, almost wasted in a blowout like that one, was the improvement of Matt Dodge's punting.  He did a great job back there, got lots of hang time, and directed his kicks well.  Now we just need to have all three phases of the team clicking during the same game.
Luckily, there are more than 2 games in the season…
Staying in the AFC South, we've got a tough game coming up against the Titans. And after seeing what guys like Joseph Addai and Donald Brown did to us, I'm sure Chris Johnson is licking his lips in anticipation of redeeming himself for his sloppy 34-yard, 2.1 yards/carry average, scoreless performance against the Steelers last weekend. That being said, the fan in me is seriously debating sitting CJ in fantasy this week, hoping the Giants contain him.
Yes, I'm upset about the loss.  We all should be.  The players and coaches should be furious.  But by no means is that to say we should give up hope on where we stand going forward.  It's a long season sports fans, and I'm positive a big win next week will go a long way in forgetting this debacle.  Remember how bad we looked the first few weeks of the '07-'08 season?  Exactly.  By the end of this season, hopefully, this loss will simply be one of just a few in our record.  This week we have to work on establishing the run, giving Eli time in the pocket, and getting guys in the backfield.
Non-Gmen Thoughts of the Week:
I know for some reason Giants fans are supposed to hate the Jets (I don't really hate them, just don't love having to share a stadium with anyone), but you can't help but feel happy for them regarding their big win over the Patriots. Sanchez looked great, and it's always great to see any team from New England lose in New York.
I don't know how I feel about all these in-game quarterback switches to give teams a boost. If he's your guy, then stick with him. If not, make a switch. But at least be concrete in your decision-making.
Yes, Vick played in the second half the week before against a Packers team that never really planned on facing so much of him. And he played great last Sunday. But it was against Detroit. I can't wait for our Gmen to play them, and beat them.
Boardwalk Empire is awesome. Can't wait to see next week's episode.
The same goes for Mad Men. They've still got it, and Don Draper is still the man!
That's all for this week.  Must forget the last game and think ahead to Tennessee.  If it helps, don't watch Inside the NFL, NFL Live, or any other highlight shows this week.  You'd be amazed at how much easier it is to swallow an embarrassing loss when you're not reminding yourself with bitter highlights and analysis from all media outlets all week.  Time to see who steps up and takes charge this Sunday.  You can e-mail me at gmensuperfan@gmail.com, and I'm on facebook under the name "Gmen Superfan."  Until next week, GO GMEN!