MIAMI - Phil Simms is certain he would not be playing a prominent role in Super Bowl XLIV if he hadn't won a championship with the Giants 23 years ago.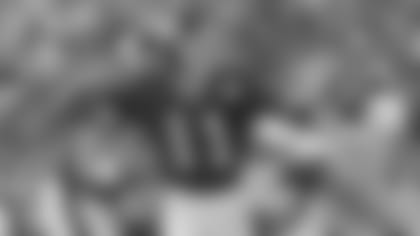 Phil Simms is certain he would not be playing a prominent role in Super Bowl XLIV if he hadn't won a championship with the Giants 23 years ago.


Simms was almost flawless in leading the Giants to victory in Super Bowl XXI. He completed 22 of 25 passes – including all 10 of his throws in the second half – for 268 yards, three touchdowns and no interceptions in a 39-20 rout of the Denver Broncos. Simms believes you can draw a straight line from that game to Sunday, when more than 90 million people will hear his comments as the lead analyst on CBS' telecast of the game between the Indianapolis Colts and the New Orleans Saints.
"Well, I'm glad it happened," Simms said of his splendid championship game. "It changed my life, no doubt about it. But I didn't realize that until...now. I didn't know it when I was doing it, when I got done playing. It took me a long time afterward to see all the things that have come because of that game. It would have been hard for me to be the lead announcer at any network if I didn't win the Super Bowl."
Simms believes he would have traveled a much different path had the Giants lost or not played in Super Bowl XXI.
"I would have been coaching football," Simms said. "I'd have gotten a head job, maybe two by now, and I would have been fired twice. I'd be really bitter."
Instead, he is happy with his life and very content with his job. Simms is proud of his career. He holds every major Giants career passing record, though Eli Manning is closing in on all of them. Few men enjoyed being football players as much as Simms. He spent countless hours watching tape, working on his throwing technique and just hanging out in the locker room.
Simms' final season was 1993 and he quickly moved into television. He has been with CBS since 1998 and this will be his fourth Super Bowl with the network. Simms loves football and still enjoys nothing more than visiting a team's headquarters, talking to coaches and watching tape before a game. He has often said, "I can hang out with the best of them."
When people spot Simms in an airport, hotel or other public venue, they often don't think of him as a former football player.
"(They see me) mostly as an announcer," Simms said. "I've noticed it more the last year or two. But this year, I don't know why, people think about me as an announcer. I would say 80 percent or 90 percent of the things that are said to me now are about announcing."
Simms can vividly recall many details about the Giants' first Super Bowl victory. He remembers passes, plays, thoughts and conversations. He can even recall what he did on Saturday night.
"I never slept much the night before games," Simms said. "I usually watched T.V. late and kind of walked around the room. I wasn't worried about it – if I fell asleep, I fell asleep. Some nights I'd stay up until two, three, four, get a couple of hours and I was fine.
"But that night before, I can remember I stayed up and watched Saturday Night Live. Joe Montana was the host, so I wanted to see him. I watched a movie. I remember getting up out of bed once and walking and thinking, 'It's 3 'o'clock, I guess I better go to sleep.' So I lay down. But I was not nervous. I wasn't a big nervous guy. I never really got nervous before any games. I don't know why. And now I don't get nervous. When they say we're going on the air live in 30 seconds, I don't care. I don't go, 'Oh my God.' I go, 'Okay, turn it on, I have a lot to talk about, let's go.'"
Simms' first pass in Super Bowl XXI was a 17-yard completion to Lionel Manuel. The next went for nine yards to Mark Bavaro. When the quarter ended, he had hit all seven of his passes for 76 yards, including a six-yard touchdown to Zeke Mowatt.
Simms threw his only three incompletions of the game in the second quarter. The Giants trailed at halftime, 10-9. Or, more accurately, they were winning at halftime, 9-10. The Giants dominated the last two quarters as Simms threw touchdowns to Bavaro and Phil McConkey (which first bounced off Bavaro), a 44-yard flea-flicker to McConkey and a 36-yard throw to Stacey Robinson to set up the last score.
"I don't ever remember thinking during the game that I was hot," Simms said. "I never knew that I didn't miss a pass in the second half. I was warming up for the second half and I looked at the board and it said, 'Phil Simms was 12 of 15 for whatever (yards).' Twelve of 15 – okay, I didn't know. That was the only time I thought about anything like that.
"I remember we hit the flea-flicker and thinking, 'We won the game, the game's over, because they'll never score three touchdowns on our defense.' And when I passed to Stacey Robinson in the fourth quarter down the left sideline, I'd wanted to throw the pass the whole game. So we finally called the play and I looked at Stacey and said, 'You're going to be open.' That's what I remember."
Simms had another Super Bowl experience that was not as pleasant. When the Giants beat Buffalo in Super Bowl XXV he was a sideline spectator. Simms suffered a broken foot in the 14th game of the season, also against the Bills. He watched as Jeff Hostetler took over and led the Giants to five consecutive victories, three in the postseason.
"Of course it was difficult," Simms said. "When you're hurt and not playing in the NFL, it's like you don't exist. You are not part of the team. People can say all they want – 'Oh, you helped get us here.' Big deal. I don't know if they mean it. They just say it because that's the line people say. It was awful experience. If I could do it again, I don't know if I would have gone to the second Super Bowl. You're just in the way. Everybody has their job to do and things to do. It was tough to play basically the whole year and miss the playoffs.
"I still like the second Super Bowl ring, though. And I had a lot to do with it – I know that. It's still something I'm very proud of."
Simms likes the ring, but he's not always certain where it is. He's just not a jewelry guy, so Simms often goes long stretches without seeing his championship rings.
"I looked for them about a month ago to make sure I had them," Simms said. "I don't know what hit me. I was looking for a watch that somebody gave me that meant a lot to me and I was afraid I'd lost it. So then I went, 'Where are my Super Bowl rings?' I went looking in the bottom drawer and they were there.
"If my children said, 'I want to wear your rings,' I'd say, 'Great, wear them.' Hopefully, one day they will. I hate rings. I can't wear them. I haven't worn a wedding ring in my life. Never. It drives me crazy. I can't do it."
As much as he enjoyed his 15 seasons with the Giants, Simms owns few mementos from them. Collecting jerseys and helmets is big business, but it doesn't interest Simms.
"I don't think about my career much," Simms said. "I have a lot of great memories and all that, but I don't have a lot of memorabilia. I have almost nothing. Sometimes I think I should have kept a few things. I have a couple of pictures. I have the Super Bowl trophy (the replicas that Bill Parcells had made for all of the players). But I don't know what else I have.
"There are times I wish I had more, but in this day and age, if I wanted it I could go get it."
What he does have is every one of his 174 regular season and postseason games on disks. A man he knew who ran a fan club had all of the games and Simms borrowed a few to fill in the gaps in his collection.
"Every once in a while, maybe once a year, I'll watch one," he said. "My kids love doing it. They like to do it when I'm around, because they like to make fun of me."
Like all football fans in America, Simms is very much looking forward to Super Bowl XLIV, particularly the opportunity to watch quarterbacks Peyton Manning and Drew Brees lead their teams. Simms never predicts the outcome of a game he is going to broadcast. But he and partner Jim Nantz have been in the booth for several Indianapolis games, and Simms has great admiration for the Colts.
"Bill Parcells used to say to me, 'Don't be a celebrity quarterback,'" Simms said. "He knew that would be bad for his football team. And really, it's a great thing for your whole football team. I use the Colts as a great example. If you watch a lot of sports on TV, who does fewer interviews than the Indianapolis Colts? I see more Jacksonville Jaguar players interviewed than I do Indianapolis. They've got a formula – don't let anything divide us. I know Peyton does a lot of commercials. But you don't even see Peyton interviewed a lot. Because that's just one more diversion to keep away, and it's worked for them."
If you'd like to submit a question or comment to Michael, click here.