EAST RUTHERFORD, NJ - When the 1986 Giants won Super Bowl XXI, Harry Carson was the universally acknowledged leader of the team. He was the sole captain, the man his teammates confided in and the player Coach Bill Parcells leaned on to solve problems in the locker room.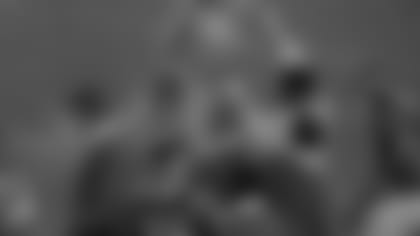 Carson is still the top dog as that most memorable of Giants teams prepares to commemorate its 25th anniversary. He has organized a celebration that will bring together the vast majority of the players and coaches from 1986. Giants fans will have an opportunity to join the festivities and mingle with those storied figures in franchise history on Sunday, June 12, at the Meadowlands Exposition Center in Secaucus, N.J., beginning at 8 a.m.
"For those guys I'll always be their captain," Carson said this week. "Ironically, I have a book coming out in August, and the title is, "Captain for Life."  It is not something that I gave to myself, but Phil McConkey and Jim Burt sort of tagged me with that years ago. They said, 'You will always be our captain for life.' And so I still feel like, especially after the Hall of Fame (Carson was inducted in 2006) and all of the situations that occur with players who might be having some issues that some people are not looking to address, I have been advocating on behalf of these players to get better benefits. And so in essence, I'm sort of a quasi-captain for them."
He has used that pulpit to organize what he believes will be the last large-scale reunion of the '86 champions. Carson has been thinking about holding such an event since the team's 10-year anniversary. In 1996, many of the players gathered without the coaches. Carson wanted everyone included this time. Because several players and coaches from 1986 are now coaching – including Bill Belichick, Maurice Carthon, Romeo Crennel and Pepper Johnson – the event had to be held in the spring.
"I wanted to make certain that we did something in a way that would be memorable to everyone," Carson said. "But I also wanted everyone to be included. And in order to do that, you can't do it during football season, because once you opt to do it during football season, you are going to miss out on a certain number of individuals.   I know the Giants are going to do something during football season.  But I wanted everybody to be a part of it.
"That was really a very unique team. And it was a special team. It was one of those things where I felt like I needed to step up and try to at least initiate it and make certain that everybody was a part of it as opposed to a few guys. And it was about having that whole team mentality once again, because everybody from that team will tell you that no one individual made it happen by himself, that they had to have help. And so that is the concept that we are going off of.  Everybody pulled their share of the load and made it possible for everybody else to win a championship and for all of us to be able to wear a Super Bowl ring."
Carson particularly wanted to ensure that key figures from the team like Parcells, Belichick (who was the defensive coordinator on the '86 Giants), fellow Hall of Famer Lawrence Taylor and quarterback Phil Simms would participate.
"The first person I called was Parcells, to make certain that he was available," Carson said. "And then I reached out to Belichick. Parcells and Belichick basically said the same thing – 'Had it not been for those guys, I would not be where I am right now.' So they are very appreciative of that.  I had an interesting conversation with Fred Hoaglin, who was the offensive line coach. Fred said that whenever he would drive into practice he felt so lucky that he had the guys that he had, because they made his job so easy. He said they were the best group of guys that he ever coached.  That is the way that we were – we all worked together. We were on a single mission and that was to win a championship.
"I had already spoken with Simms because we are neighbors.  Lawrence was the last one that I spoke to of those four. And Lawrence didn't have a choice. I said, 'Listen, I'm not going to ask you to do another thing for the rest of my life, but you are going to be there.' And he said okay. So from that point I reached out to all of the players and coaches. It has been very interesting. I was telling my wife, I'm really getting the benefits out of this because I get to talk to everybody or communicate with them via e-mail. I'm sort of like a sociologist now in that I know where they are in life.  I know what is going well, what might not be going so well. And all of them have really shown their gratitude and have thanked me for spearheading this. Because they know that had it not been for me doing it, some of them would have been forgotten. So they are very appreciative. And I appreciate them, because I was their captain and I wanted everybody to be a part of it."
Only a few can't be. Jeff Hostetler, a backup quarterback in 1986 who led the Giants to the victory in Super Bowl XXV, will be in Africa on a church mission. Running back George Adams will be taking his son to LSU. Secondary coach Len Fontes had a fatal heart attack at age 54 in 1992. Defensive line coach Lamar Leachman is ill. Ray Handley, the running backs coach in 1986, declined Carson's invitation to attend, continuing his practice of avoiding any connection with the team he has maintained since being fired as head coach following the 1992 season.
Carson is close to several of his former teammates, notably Taylor and George Martin. But it has been particularly enjoyable for him to re-connect with players he has rarely seen or spoken to in recent years.
"There are guys – just to hear their voice and to hear the sound of their voice, it just makes me feel good," Carson said. "Like Jeff Rutledge or George Adams. I contacted George Adams about two or three weeks ago. I wouldn't say we had a close relationship, but we were friendly. And to hear his voice took me back someplace where I certainly appreciated it. And I just enjoyed feeling that connection or that re-connection with one of my teammates. I'm the fortunate one because I have been able to communicate with these guys."
Carson had been unable to locate Brian Johnston, a seldom-used backup center on the team, until a sportswriter he spoke with tracked him down. Johnston now plans to be in Secaucus on June 12.
"It was very gratifying to hear his voice, and to be re-connected with these guys," Carson said. "We were brothers, for the most part. It is so interesting to be a part of guys who went to different schools, different backgrounds, different races, different social classes, different religions – you are all thrown together. And you are working for that one goal and that is to win.  You don't see color, you don't see political affiliations, you don't see anything except that guy next to you is your brother. And then once you play and it is over and done with, the chances are that you will never see that person again.  And so with this, it was so unique to win a championship, I want to be with every guy who was on that team, because I know it is going to be the last time that we will be able to do that. If I was a billionaire, I would call everybody up and say, 'Let's go on a cruise and let's have a good time.' But it seems like everybody has their own lives to live and I would just love to re-connect with these guys one last time."
Carson has also developed relationships with numerous Giants fans both during and after his career. He is particularly excited that so many of them will be able to share in the reunion of the team that gave them their first Super Bowl victory.
"There are people who really build their life around the Giants and they have lived their life around Super Bowl XX1, the '86 team," Carson said. "It means something to them. So hopefully they will be able to enjoy the experience. And hopefully they will be able to reminisce about great Giants football and their favorite players over the years."