EAST RUTHERFORD, NJ - He wore the white helmet of the Tennessee Titans for 10 years, but Keith Bulluck said it will be business as usual when he faces his former team for the first time Sunday in the New Meadowlands Stadium.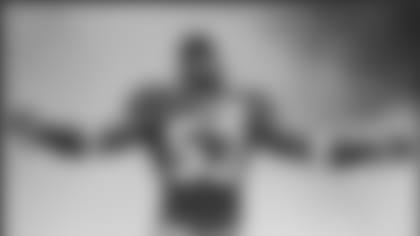 "It won't be strange at all," said Bulluck, who joined the Giants a week before training camp opened. "They already know they're going to get my best. So it's not like it's a hidden agenda and they don't know what they're going to get. I practiced just about every day in Tennessee. I played every game with this group of guys that are there. So they've seen me. They've seen me at my best. They've seen me at my worst. They've seen me on the field and off the field. There are no secrets.
"They are used to me out there talking (crap) and running my mouth playing against them. Now, it counts for something and I'm looking forward to it. I know how hard these guys worked and how much the game means to them, and they know it means the same to me. This game will definitely be fun, and no holds-barred."
Bulluck was a first-round draft choice in 2000, a Pro Bowl linebacker three years later and the third-leading tackler in Houston Oilers/Titans franchise history after a decade with the team. In a perfect world, Bulluck would have spent his entire career in Tennessee. But he was realistic enough to know it was unlikely to happen. Bulluck had seen standout Titans like Eddie George, Jevon Kearse, Derrick Mason, Albert Haynesworth and the late Steve McNair leave the franchise to play elsewhere.
A torn ACL suffered in the 14th game of the 2009 season likely sealed Bulluck's fate with the franchise, though he insists his health had nothing to do with his departure.
"I would have loved to stay in Tennessee and finished it out and played with the team that brought me into the NFL," Bulluck said. "Just being there, I know how that organization works, and no one finishes their career there. I was definitely prepared for that. In my situation, it stinks how I left, because I did have an injury. The last time I left the field in a Tennessee Titans uniform, (head athletic trainer) Brad Brown and (assistant athletic trainer) Tom Mosley were helping me off the field.
"Even if I was healthy, I don't think I would've been back there. At the beginning of the year before the season started, they didn't sign me back. At the midway point, when I was playing good football, they didn't sign me back. I think the writing was on the wall, which is fine. It's definitely part of the game."
Bulluck's separation from the Titans was congenial, though they have publicly disagreed this week about whether the organization made overtures to keep him. But he and Jeff Fisher, Tennessee's head coach during Bulluck's entire tenure there, have mostly traveled the high road.
"Obviously, Keith and I got to be very close and we enjoyed some great times and endured some difficult times together," Fisher said. "He had a great run here, and we just weren't able to get him back. He worked out a deal with the Giants. I put the tape on, and I'm really happy for him. He's playing well, and there was no doubt in my mind that he would come off this injury because he has been healthy his whole career, and he is a quick healer. I'm so happy for him that he's playing again, and playing at a high level."
Bulluck was just as complimentary toward Fisher.
"He's pretty consistent in his production as a coach," Bulluck said. "His teams are pretty consistent. His teams are always tough teams, physical teams that are very competitive in this league regardless of their record. So I think that attests to the head coach."
Giants players and coaches who work closely with Bulluck believe this is a special game for him.
"He's on edge this week," said defensive coordinator Perry Fewell, "because obviously if you've worked somewhere for nine or ten years and now you have a chance to compete against that opponent, you want to win badly. As a man and as a football player, you have something to prove, so I think that he will come out. He has a role, he has a significant role in our defense this week, and he'll come out and he'll play good football. He'll want to play good football."
Bulluck is eager to show the Titans he can still perform to the same high standards he consistently displayed in his decade in Tennessee. He hurt his knee last Dec. 20 against Miami and missed the Titans' final two games of the season. But Bulluck passed the Giants' physical seven months later and was on the field for the beginning of training camp.
Fisher said he was not surprised that Bulluck recovered so quickly.
"The injury took place with three or four games left, and I know Keith very well and that he was going to work," Fisher said. "He's worked to keep himself in great shape over the years. He's overcome a lot of minor things that might keep a player out a week - he seemed to bounce back every single week. It's not surprising to me that he was able to bounce back."
For Bulluck, the biggest adjustment early in the season has not been wearing a new uniform, but his reduction in playing time. With the Titans, he seldom left the field. Thus far with the Giants he has been more of a situational contributor, playing mostly on running downs. He didn't start last week's game in Indianapolis, where he gave way to an extra safety, Deon Grant.
"I would love to be on the field and never come off, but here we do things differently," Bulluck said. "Hopefully, I can get more playing time as things go on, as the season goes on, but this is a big game for both teams. Both teams are at 1-1 and both teams had a performance last week that they're not proud of (the Giants lost, 38-14, while the Titans fell to Pittsburgh, 19-11). So I know that we as the New York Giants are definitely trying to rectify the situation from last week and show improvement that we are - and will be for the rest of the year - a physical football team that gets after it run or pass."
Bulluck expects to see the same kind of team in the Titans. He remains friendly with many of his former teammates and spoke to several of them this week.
"A lot of those guys, I've seen them go from young pups to big dogs," Bulluck said. "I've seen them go from rookies not knowing anything to experienced vets and become very good football players. So yeah, I still talk to my friends over there."
So how much is he looking forward to playing against people he knows so well?
"Nothing really needs to be said about that," Bulluck said. "Those guys know how I get down. They've been around me for so long, and I know how they get down. So nothing really needs to be said about that. It'll all pan out on Sunday given my opportunities.
"It was the team I was with for the last decade. I'm familiar with them. They're familiar with me. So probably it's going to be a lot of fun, actually."
Well, for one side it will be.
*Center Shaun O'Hara (ankle/Achilles) did not practice again today and Tom Coughlin did not know if he would be available tomorrow. Could O'Hara play in the game against Tennessee without practicing?
"It's tough. It's hard," Coughlin said. "There are people that have done it. Plaxico (Burress) did it that year (2007). And (Ahmad) Bradshaw did it. But there is always something missing from your game when that happens. You need the work."
If O'Hara can't play, fourth-year pro Adam Koets could get his first career start at center. Koets has played in only five regular season games, including both this season. He started for the first time at Indianapolis as the second tight end.
Koets was drafted as a tackle, but has been an interior lineman since last season. The Giants could also slide Rich Seubert to center and play Shawn Andrews at guard.
"We have to be ready with everybody," Coughlin said.
"A lot of things enter into that," offensive coordinator Kevin Gilbride said. "We could stand here for an hour and a half, because that's about how long the discussion goes on - hours to decide what's the best way to do it. I think we felt that Adam has been playing well enough that he deserved the chance to start because by doing that, we've made less overall changes. It's one person, so rather than changing three, you're changing one. If we didn't think he could do the job or he hadn't been playing well when we've asked him to do it, you couldn't make that decision, but he's earned it. There's no question he's earned the chance to get an opportunity and we're optimistic that he's going to play well and confident that he will. We'll see."
Koets has waited patiently for his opportunity and is prepared to take advantage of it.
"I've been around here a long time," he said. "This is what I've been waiting for and preparing for. I've been preparing myself since the start of training camp for this opportunity."
O'Hara's injury first surfaced at the start of training camp and has bothered him intermittently since. He missed the first two preseason games and Koets got many of the summer reps, both in practice and games.
"It's been a hell of a deal to be a part of this offensive line unit," he said. "…They've played together for so long and I haven't had the opportunity to play as much. But now, when you're needed, you've got to step up and play. So that's what I'm getting ready for Sunday."
*Safety Michael Johnson (back) and linebacker Phillip Dillard (hamstring) also did not practice. In addition, tackle Will Beatty will not play after undergoing foot surgery last week.
*Linebacker and special teams captain Chase Blackburn (knee) returned to practice on a limited basis.
"Just still a limited fashion, but still hoping to be back on Sunday," said Blackburn, whose streak of playing in 65 consecutive regular season games ended in Indianapolis. "Hopefully, tomorrow I'll get more reps. And as time goes on, keep getting more and be ready for Sunday."
*The series between the Giants and the Oilers/Titans has been a bit unusual. The Giants were a perfect 5-0 in the series when the Titans franchise was in Houston and the team was called the Oilers. But they are 0-4 since 1997, when the Oilers moved to Tennessee and later changed their name to the Titans. A Giants victory Sunday would be their first in the series since a 13-10 Monday night triumph in the Astrodome on Nov. 21, 1994, Jeff Fisher's first game as head coach of the franchise. Since then, the Giants lost to the Oilers in Memphis (10-6 on Nov. 9, 1997) and to the Titans in Nashville (28-14 on Oct. 1, 2000 and 24-21 on Nov. 26, 2006) and in Giants Stadium (32-29 in overtime on Dec. 1, 2002). In the most recent meeting, the Giants led 21-0 in the fourth quarter before allowing 24 unanswered points in the fourth quarter.
*The Titans have a nine-game winning streak vs. the NFC dating back to 2007.