EAST RUTHERFORD, NJ - On Oct. 11, 2009, the Jacksonville Jaguars faced the Seattle Seahawks in Qwest Field in what, to most NFL fans, was a relatively non-descript game between two franchises meeting for only the sixth time.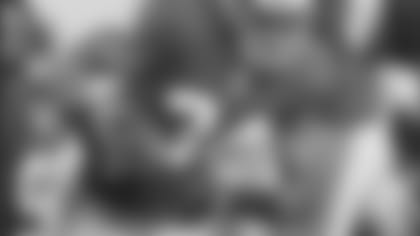 But for Deon Grant, it was so much more. He was a safety for the Seahawks and it was his first game against Jacksonville after starting every game for the Jaguars from 2004-06. Grant was eager to show his old friends and franchise that he was still at the top of his game.
"That was my first time facing Jacksonville since I had left," Grant said today. "So I made sure that those guys brought extra energy to that game and made sure I was telling them the keys I knew about each player and that we were going to do everything in our will to win."
The final score was Seahawks 41, Jaguars 0.
"So that," said Grant, "is my mentality when I face old teams."
He gets another shot at one this week. Grant joined the Giants this season after three years in Seattle. On Sunday, after a bye week respite, the Giants will make the cross-country trip to Seattle, where they will put their four-game winning streak on the line. Grant, who started every Seahawks game the previous three seasons, has the same motivation and is seeking the same result he enjoyed a year ago.
"This game is definitely a little special," Grant said. "I'm going back and just playing in that old stadium, that's on the other side of town. You really don't know, given where I am in my career (this is his 11th NFL season) when I might have a chance to go back out there. So I'm going to go out there and make the best out of it."
Although his streak of 144 consecutive starts ended on opening day, Grant has been a regular and vital contributor to a Giants defense that is ranked second in the NFL. He has played in all seven games with four starts and he gets more time on the field than some first-teamers because the Giants frequently use a three-safety alignment with Kenny Phillips, Antrel Rolle and Grant.
He has harassed opposing offenses both front and back and has 28 tackles (18 solo), two tackles for losses, a sack, two quarterback hits, two interceptions, a forced fumble and two fumble recoveries.
The Seahawks made sweeping changes in their front office following a 5-11 finish in 2009. Most notably, former USC coach Pete Carroll was brought in as vice president of football operations and head coach. Carroll has overhauled the roster; 29 members of the current 53-man roster are new to Seattle this season.
"I don't have any bad feelings toward them," Grant said. "They gave me an opportunity when I was a free agent to come up and they paid me a lot of money and we were ranked number one on defense when I was there my first year. So I don't have anything negative to say about Seattle. Now we're going up there and getting a victory and giving them hell - that's the only thing I look forward to, and reuniting with the guys up there. But other than that, I really didn't think twice about it.
"I understood their move. I had to make a good penny this year. We just came off a losing season, they got a new G.M., a new head coach, a new staff. So I understand that me having years and all that other stuff (that they wouldn't retain him)."
Despite the roster revamping, the gregarious and outgoing Grant still has many friends on the Seahawks. And he's going to tell his new coaches and teammates as much as he can about the players he lined up with last year.
"Some of the main guys are still there," Grant said. "You have the defensive core and you have the guys that run the offense like Matt (Hasslebeck), (Justin) Forsett and Deon Butler and (John) Carlson. So those types of guys I knew a lot about and I can share information about with my team. One of my closet friends - Deion Branch – left (traded to New England). I've known him since high school. (Linebacker) Lofa Tatupu, that's a brother. Jordan Babineaux, Kelly Jennings, Aaron Curry - I'm tight with a lot of them. I talked to all of them before the season started, and they call me 'Big bro, big brother, big bro.' So I'm tight with a lot of them."
Grant said the bond won't be temporarily broken this week, though the game between the 5-2 Giants and 4-3 Seahawks matches up two division leaders. He's placed no moratorium on phone conversations with his former teammates.
"I call them," he said. "They called and we're probably going to grab something to eat beforehand, and they know we're going to talk junk to one another. They know what time it is with me. So I'm going to go eat with them. I know how to be a friend and a businessman at the same time. We're friends while we eat. After that, straight business, and they understand that I'm going for them and they're going for me."
While Grant is spending this week studying the Seahawks' offensive schemes and personnel, he can also help the Giants with his insights on Seattle's defense. He did, after all, line up with them for 50 games, including two in the playoffs, the last three years.
"I know them," Grant said. "I guess that's the good thing God blessed me with, not just knowing my position and knowing what I have to do on the football field, but I pay attention to everybody on my side. From the defensive end to the D-tackle to the linebackers to the cornerbacks to the other safeties, that's just something about me. I pay attention to everything, and they know it. So as far as a guy's weakness and what his weakness was and what his strong point was, I've got a good bead on it."
Whenever anyone suggests to Tom Coughlin that any particular Giants game is bigger or more significant than any other, he always responds by saying that all games are important. But for Deon Grant, there's no hiding the fact that Sunday in Seattle will be special for him.
"I'm going to be hyped playing against my old guys," he said. "A lot of them on the team are like brothers. I still talk to them like every day. So they know the type of talent I have. They know I'm coming 110 percent, full speed. But it's going to be fun. I have fun regardless of who I'm playing, but especially there. I have nothing but great memories in Seattle - other than the losing in the last season and all that, but as far as what I established there, what we established there when I was there, I have nothing but great memories. So I'm going to go back like a reunion and have a good time.
"It was hard for them to do what they did just like it was - I'm not going to say it was difficult for me to leave, because it could have happened in other ways. But I feel like me going there to face them, it's got me amped and I can't wait. I can't wait until Sunday, one o'clock."
*Four Giants did not practice today: center Shaun O'Hara (foot), tackles Kareem McKenzie (illness) and Will Beatty (foot surgery), and defensive end Osi Umenyiora (knee).
O'Hara was hurt in the Giants' most recent game, nine days ago in Dallas.
"It feels a little better," O'Hara said. "We're hoping for the best, and I'm doing everything I can to get back out there."
Fullback Madison Hedgecock (hamstring) was limited. Linebacker/special teamer Gerris Wilkinson practiced fully with a fractured hand.
Tackle Will Beatty (foot surgery) is not ready to return to practice.
Coughlin has not decided when or if offensive lineman Kevin Boothe will be activated off the physically unable to perform list. The team has until November 11 to make that determination.
*This is the second time in three seasons the Giants' first game after their bye is against the Seahawks. In 2008, they crushed Seattle at home, 44-6. Last year, they defeated Atlanta in overtime, 34-31, following their bye. The Giants are 3-3 under Coughlin and 6-15 overall following a bye.