EAST RUTHERFORD, N.J. –** The Giants' practice today ended with a big-play touchdown that represented progress for the player who scored it and derailed Tom Coughlin's meticulous plan.
On the first play of the two-minute drill, Eli Manning threw down the field to tight end Brandon Myers, who caught the ball for what likely would have been a 69-yard score. Coughlin would have preferred to run a few more plays, but had to concede that wasn't practical.
"That's not supposed to (end on one play)," Coughlin said. "I'm trying to do the drill and get all we can out of it, but we'll do it again."
No-Name Linebackers motivated](http://www.giants.com/news-and-blogs/article-1/Linebackers-motivated-by-no-name-status/37505634-6f62-4716-b5fb-e70ee9745e51)
Linebackers Coach Jim Herrmann sets expectations for the linebacker corps...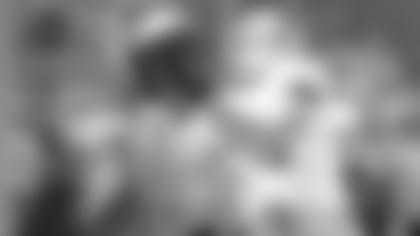 Photos: Training Camp Practice](http://www.giants.com/photos/photos/Giants-Training-Camp-Practice---804/8954d7c2-8815-48cc-b1c9-a50d4e376061) Since he is, after all, the head coach, Coughlin could have directed the offense to take a few more snaps.
"Yeah, but there's two sides to that way," he said. "What is the objective? The objective is to get the ball to a certain point for a field goal. They got it there, so now what am I going to do? Change the objective? Change the game? Change the rules? I don't usually do that."
For Myers, it was a big practice moment. He caught 79 passes for the Oakland Raiders last season, but is still learning the nuances of the Giants' offense and where Manning wants him to be. He hopes their end-of-practice connection is a sign of things to come.
"Well, it's about time I get that read right," Myers said. "I had the same play, actually, earlier in practice and I got it wrong. It's just one of those things that take time to kind of get used to it and luckily we were both on the same page and he found me."
Is the play indicative of what Myers can bring to the offense?
"I hope so," Coughlin said. "Nice adjustment. When (Eli) threw it, he threw it obviously where the defender wasn't, which made him really make a very...I thought it was a radical adjustment because of the wind and he made the catch there. It was good. Better yet though, he reacted the way he should react as he read the coverage."
Myers believes the play will help hasten the process of getting in sync with Manning.
"Every day that's the goal, to grow in the offense and then grow in the understanding of each other and what we're thinking," Myers said. "Once you get that chemistry, it's pretty special. You can, if he's in a bind or something like that, he knows that you're going to be where you're supposed to be and make the right read."
The big play was particularly significant to Myers because it came at the end of practice.
"Coach always talks about finishing strong, either in the weight room, the meetings or in practice," Myers said. "Obviously, we have a lot of work to do, not just me. I actually have a lot of work to do, but as a team, you know, he just says, 'Keep finishing strong.' It obviously feels good to finish practice like that."
*Coughlin was still excited today about his visit to Canton, Ohio for yesterday's Pro Football Hall of Fame induction ceremony. He traveled there yesterday to support his friend, former Giants coach Bill Parcells, who was one of those enshrined. But he was also moved by the speeches of the players who were honored – Jonathan Ogden, Dave Robinson, Larry Allen, Curly Culp, Cris Carter and Warren Sapp.
"It was a very, very good experience from the standpoint that, you know when you listen to the honorees, those who have been inducted, their discussions are very much in recognition not only of their own ability, but all those who have contributed to their being in that spot," Coughlin said. "When you talk about that, you're talking about someone who becomes more and more humble as he talks about this wonderful honor. That, to me, was huge, because our game is the greatest game of all, but it takes 11, okay. No one person does it all by himself. The more you understand that, the more you have the opportunity to understand when it comes time, when this tremendous honor comes to these players and coaches etc. who are inducted, they take the time to thank those along the way and in so doing they really do grasp the idea that you can't possibly do it alone, you have to be able to - there are others that contribute along the way.
"You listen to the players and they talk about their coaches. They talk about people who have mentored them. Larry Allen talked about being mentored by different offensive linemen. And you also understand the emotion, the tremendous emotion. When you listen to Cris Carter, or to Warren Sapp, toward the end of the evening there, they were really emotional. They were very emotional about being able to be there and to receive this incredible honor, so I thought that was great."
Coughlin very much enjoyed Parcells' speech, particularly the segment about bringing together players from a variety of environments and backgrounds and bringing them together so they work toward a common goal.
"What he did at the end when he talked about the locker room, that was a huge message there," Coughlin said. "Not only for athletics, for life, for the world that we live in. You know, you have all different kinds of guys from all different backgrounds, all different races and creeds, and they come together and the one thing that works is if everybody's there for the same purpose, for the common good. I thought that was a very, very good statement. He went further when he talked about the dark side, when you had the pockets of people in that situation in the locker room that won't let things progress because they're constantly pointing the blame at somebody else rather than right back where it should be. So I thought it was a good experience."
*Wide receiver Hakeem Nicks (groin) and cornerback Corey Webster (groin) again missed practice, though Nicks did some running and pass catching drills with the training staff on the side.
*First-round draft choice Justin Pugh remains sidelined with a concussion, though he did visit the practice field.
"He felt a little better," Coughlin said. "He came out and just really observed. Hopefully, he will come along."
*The players are off tomorrow. The Giants' next practice is scheduled for Tuesday at 1:30 p.m.