Brandon Myers was held out of practice today with a groin injury, but the tight end doesn't appear to be in danger of missing his first game of the season. Giants coach Tom Coughlin expects to have him back on Friday for the team's final practice before heading to San Diego.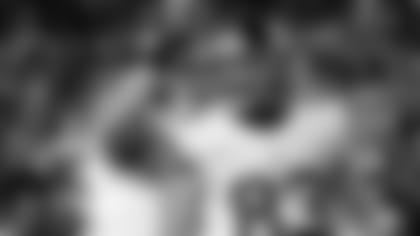 "Yeah, I came back yesterday and I was just a little sore," he said in the locker room after Thursday's practice. "Just giving it a little bit of rest and I'll be back at practice tomorrow."
Adding that he'll be "full-go," Myers doesn't want to derail what he has had going with quarterback Eli Manning in recent weeks.
The two have connected on 16 of 22 targets for 226 yards in the last six games, five of which have been victories. The increased production came on the heels of Manning, Myers, and the entire team bottoming out at 0-6.
Since then, the Giants gathered themselves to keep any bit of playoff hope alive, and Myers has caught key touchdowns in back-to-back weeks.
"Yeah, we're just connecting," Myers said. "When my number's called you always just try to make the play. There's obviously some unfortunate things that went on early in the season that you can't really control. Now you've just got to move on and make plays."
Prior to the turnaround, Myers was not targeted in two of three games, which put him a long way from the 79 catches for 806 yards he had last season in Oakland.
"It just kind of depends on the week, when certain pass plays are called, what the coverage is, and he's been doing a good job of winning his one-on-one matchups," Manning said of the first-year Giant. "He's done a good job of getting open when we need him to and that's good. That's a big part of our offense, getting that tight end more involved, and he's done a good job."
Myers was asked if it took time to gain the trust of his quarterback.
"I don't know, maybe, maybe not," Myers said. "I'm not sure. It's more they ask the tight ends to block and pass protect and stuff like that. It's not like it's that he wasn't going to look my way."
From an offensive coordinator's point of view, Kevin Gilbride spoke about the process of building the rapport.
"I don't think it's too simplistic, but I don't know that it is necessarily applicable here," Gilbride said when asked if it has taken time for Manning and Myers to develop a connection. "I think certainly he has really done a nice job for us the last couple of games. I think a lot of it is always what they're doing defensively, who are they ganging up on and who do they give opportunities to. When you have those opportunities, it's how you're doing and I think he's had some the last couple of games and has made some great plays for us."